Details of VP Kamala Harris' Seattle visit Tuesday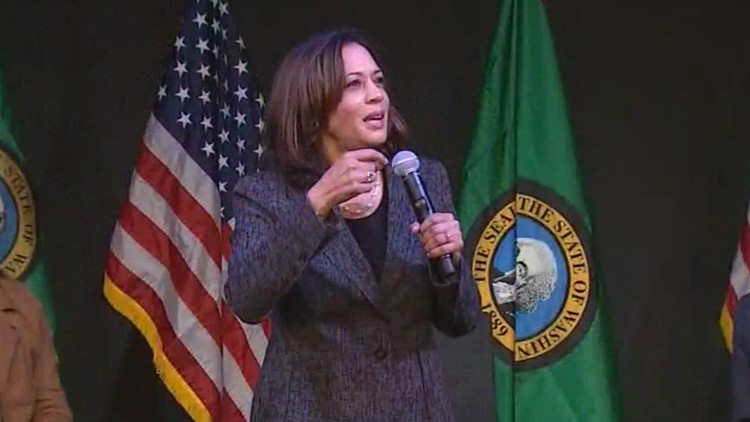 The Vice President will make several stops in western Washington during her visit.
SEATTLE — Vice President Kamala Harris arrived at King County International Airport late Tuesday morning for her first visit to the Seattle area since last October.
Harris landed at Boeing Field around 11:15 a.m. VP Harris was greeted on the tarmac by a group of the state's most notable politicians, including Governor Jay Inslee, Attorney General Bob Ferguson, Mayor of Seattle Bruce Harell and King Dow County Executives Constantine.
The Vice President will speak on the occasion of the one-year anniversary of the Inflation Reduction Act being signed into law. Congress voted to pass the law on August 16, 2022.
Harris, along with Second Gentleman Douglas Emhoff, will highlight the impact of the Inflation Reduction Act on western Washington and communities around the country.
McKinstry will take Harris on a tour of the Seattle facility to highlight energy-saving upgrades the company has made, which the company says was made possible thanks to the Inflation Reduction Act.
Harris is also expected to make remarks at the campaign reception, before heading back to King County International Airport and leaving Seattle around 3:35 p.m.
This will be Harris' second visit to Seattle since taking office. The vice president was in Seattle on October 26, 2022 to announce a $1 billion grant for electric buses.
Nearly 400 school districts spanning all 50 states and Washington, DC, along with several tribes and territories of the United States, are expected to receive approximately $1 billion in funding to purchase approximately 2,500 "clean" school buses under a new federal program.
The Biden administration says it's providing the grants as part of a broader effort to speed things up transition to zero-emission vehicles and reduce air pollution near schools and communities.
"Who doesn't love a yellow bus?" Harris said at Lumen Stadium in Seattle, with an electric bus behind her. "It's part of our experience growing up. It's part of the nostalgia and memory of the excitement and joy of going to school — meeting our favorite teachers, being with close friends. and learn. The bus takes us there."