Discipline is key for David Moyes as West Ham promise fair play in Prague final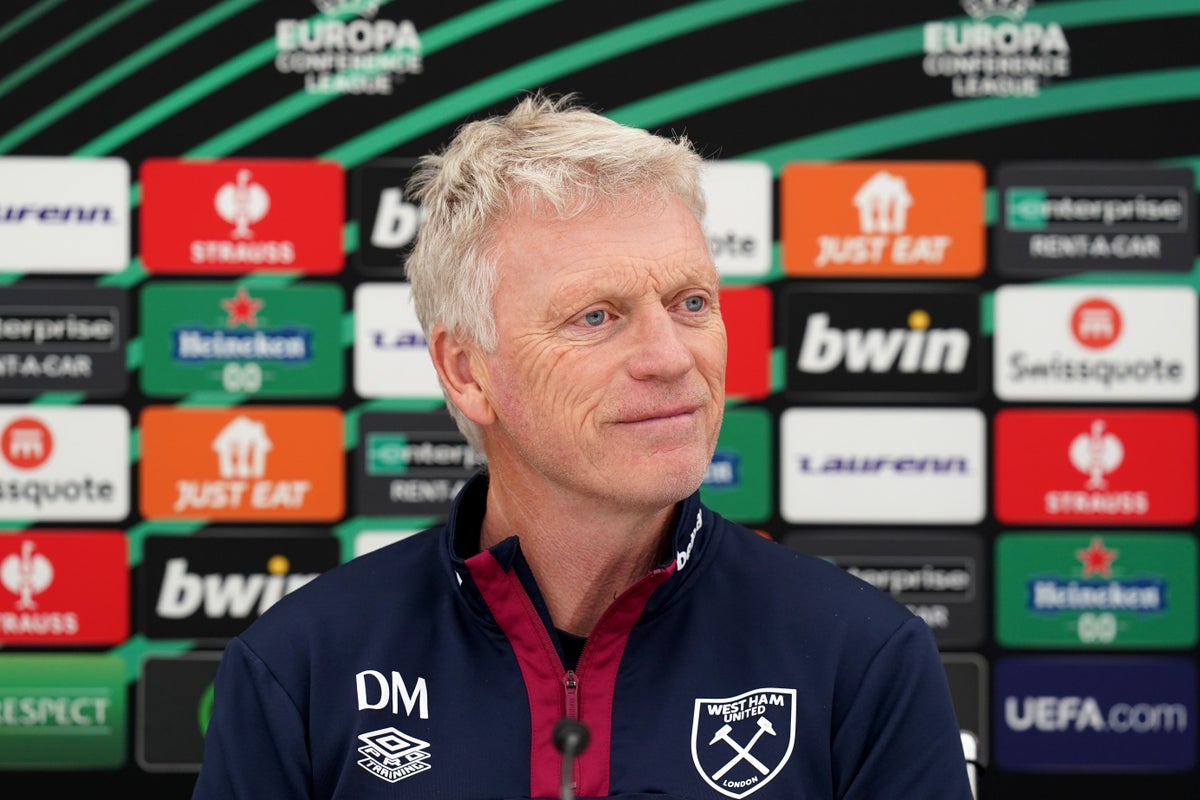 David Moyes insists West Ham will not resort to the use of dark arts after Fiorentina admitted they will use tactical fouls in next Wednesday's Europa Conference League final.
Serie A club boss Vincenzo Italiano has laid out his strategy for the Prague final, saying it will be necessary to tackle the Hammers' biggest threat.
"We'll try not to give them dangerous balls and work on tactical fouls and pre-emptive tackles to avoid counter-attacks. Those are the countermeasures to counter that attitude," Italiano said.
But Moyes promises West Ham, who are looking to lift their first trophy since beating Arsenal in the 1980 FA Cup final, will stick to the rules.
"It's up to the umpires to sort that out, not us to have a big opinion on it," he said.
"We will try to play a fair game and from my point of view that is always the best way to achieve that."
West Ham have finished the Premier League season without a single red card and also suffered the lowest number of yellow cards in the competition at 43.
"I didn't know that statistic and it's obviously a good statistic. You always want to be disciplined in the finals and in all games. Hopefully it stays that way," Moyes said.
"They also hope that the umpires will look at that and say, 'This is a disciplined team that's doing their job right'." Hopefully they're doing their homework too."
Moyes has refused to commit to his own future amid speculation about a possible departure, despite having one year left on his contract.
The Scot faced demands from fans to be sacked after a disappointing Premier League season ended in 14th place despite making it to a European final. However, Moyes is proud of his three seasons as manager.
"The only focus I have right now is to win the game and play as well as I can. I'm certainly not thinking further into the future," he said.
"I'm not sure that if someone was told that we were going to finish sixth and seventh in the Premier League, we were going to reach the semi-finals of a European competition and then a year after we would reach the semi-finals of a European competition …if you told people that before I walked in, they probably would have said, "No, that's not true."
"In a way, a lot of really good things are happening. We've given a lot of West Ham fans and the West Ham club some really good times. And may it continue like this for a long time.
"We have to try to keep it going, we want to grow it and keep having those moments.
"To be in a cup final is special, especially for West Ham as it's been a while since we've been there."
Moyes insists only time will tell if the Hammers' ten-day break ahead of the final will be beneficial as Fiorentina's last game is on Friday night.
"I don't think there's any reason to say that one is better than the other, but in my opinion Fiorentina have such a large squad that they could change their players," said Moyes.
"It can be helpful or detrimental, we're not sure what the outcome will be. The result gives an impression.
"For all football clubs, whether in Italy or England, the season has been really long because of the World Cup. It's been a long season for all teams."