Doctor rescued during PDX triathlon after cardiac arrest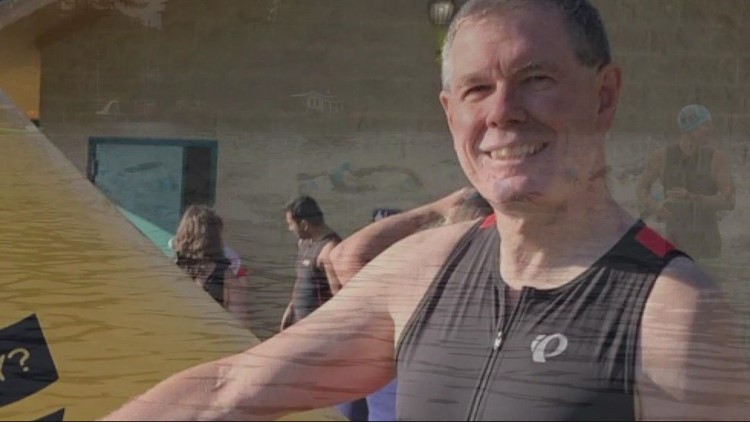 Competing in the PDX triathlon has become a tradition for Ryne Suppitt and his father, Bill. It might have ended last weekend if it wasn't for the quick reaction of others.
PORTLAND, Ore. – A local doctor was rescued after suffering cardiac arrest during the swim portion of a triathlon. It happened last weekend at Blue Lake Park in Fairview, where thousands of athletes competed in this year's PDX Triathlon.
For the past three years, Ryne Suppitt and his father, Bill, have competed in triathlons. They've both been training for months for last weekend's event, the younger Suppitt said.
On Sunday, Bill Suppitt – who has been a doctor at the Vancouver Clinic for almost 30 years – suffered cardiac arrest while swimming in the middle of a triathlon in Blue Lake.
"He started his race around eight o'clock, I was a few minutes behind him so I was in the water when it all happened," Ryne said.
RELATED: AMR lifeguards are honored on their return to Glenn Otto Park in Troutdale
Ryne said it didn't take long for people to help his father out of the water. Almost immediately, bystanders and other participants in the race were able to pull the 67-year-old out and begin CPR on him.
"We're just eternally grateful for everyone that was there – the paramedics, Why Racing … and the logs they had – mostly the bystanders, the civilians who just saw him and jumped into action," Ryne said.
His father has remained in intensive care and on a ventilator since he was hospitalized on Sunday. He opens his eyes on command and also shakes his hands on command.
RELATED: 'I'm a very lucky man': Portland man survives after two 'guardian angels' perform CPR
Although Ryne knows it will be a while before they compete in triathlons again, he is grateful for the people who saved his father's life. He also urges everyone to get certified in CPR as it can save someone's life. Ryne said his father always told people how important it was to be able to perform CPR – because you never know when and where you might need to help someone.
https://www.king5.com/article/news/local/triathlon-rescue-doctor-cardiac-arrest/283-37c5d4d5-e376-46c7-8f25-6931d58e69ea Doctor rescued during PDX triathlon after cardiac arrest