Drake talks about being high for the Degrassi audition
"Maybe I'm still high, maybe I'm in a coma," mused Drake.
drake reflects on his life and "how surreal it feels sometimes" while recounting the time he was high before he auditioned Degrassi: The next generationthe Canadian television series that launched his career.
The rapper took to Instagram about it Share a voice memo his current reflections, including the notion that he's "still high" or "kind of in a coma."
"Someone asked me the other night what my biggest fear is and I never really had a good answer for that, but my answer was that it's all for nothing," shared the 36-year-old.
He noted that this question sent him into a "thought spiral" as he reflected on how "surreal" his life felt at times.
"I remember the day I was 13 or 14," continued Drake. "I had an audition for a TV show that ultimately shaped my life, and before my audition I went to this kid's house. And I, probably out of a desire to be accepted, succumbed to peer pressure and, "I got high with these kids right before my audition."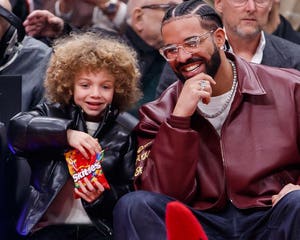 Getty
Drake's son Adonis calls him a 'fun dad' in an adorable joint interview.

view history
Waiting for your permission to load the Instagram media.
"I kind of wonder if something bad happened that day or, you know, maybe I'm still high, maybe I'm in a coma. And that's just like living my ideal life," he added.
"And yes, this concept has stuck in my mind for many years. I mean it feels like reality, it feels tangible. But I definitely wonder sometimes."
Maybe it's Drake's world and we just live in it!
The rapper is currently on his It's all blurry Tour with 21 Savage that started in Chicago.