Eagles QB Jalen Hurts earns master's degree from Oklahoma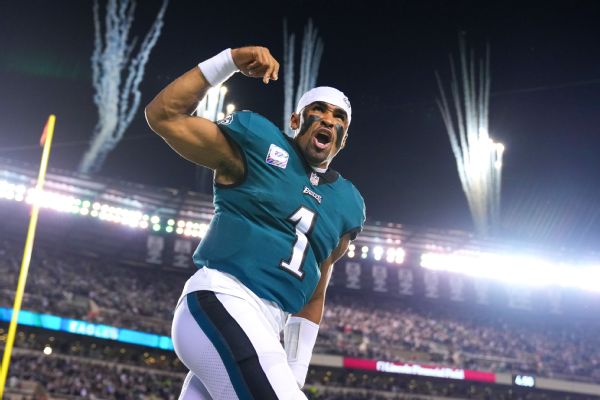 As if taking his team to the Super Bowl and signing a massive contract extension weren't enough, Philadelphia Eagles quarterback Jalen Hurts decided to extend his outstanding year with a master's degree.
According to a social media post by the university's vice president, Dr. David Surratt, Hurts, 24, received his Masters in Human Relations from Oklahoma on Friday.
Hurts began his college football career in Alabama, where he earned a bachelor's degree in communications and information after just three years. He relocated to Oklahoma in 2019 and began work on his master's degree.
𝗦𝗼𝗼𝗻𝗲𝗿 𝗙𝗼𝗿 𝗟𝗶𝗳𝗲

congratulations to @JalenHurts to complete his master's degree at the OU! 🎓#OUDNA pic.twitter.com/c0DVkA8JCh

— Oklahoma Football (@OU_Football) May 13, 2023
Hurts has said in interviews that he was inspired by his mother, who was a special education teacher during his freshman year, but saw colleagues around her being laid off and decided to be proactive.
"She went back to school and got her masters to be a counselor," Hurts told Essence in April. "That is a living testimony to me."
The acquisition of his master's degree crowns an eventful first half of 2023 for the Houston native.
In February, Hurts led the Eagles to Super Bowl LVII in Glendale, Arizona, where they lost to the Kansas City Chiefs. The game included a controversial call against the Eagles with less than two minutes left that opened the door to the Chiefs 38-35 victory.
In April, Hurts signed a five-year, $255 million contract extension, making him the highest-paid player in NFL history on an annualized basis.
The Eagles open the season September 10 away against the team they beat to win Super Bowl LII, the New England Patriots.