Egypt, gold bars and $15k in a parking lot: The sprawling allegations of corruption facing Robert Menendez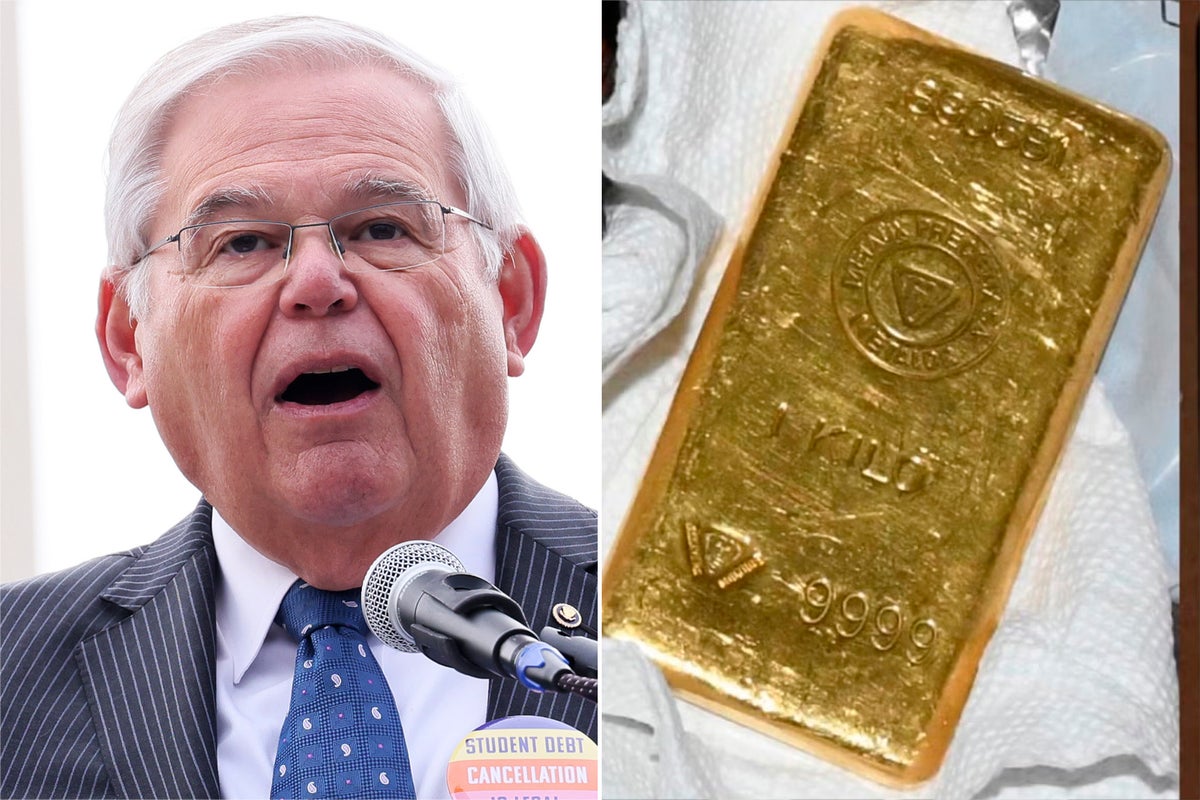 An extensive federal indictment on serious corruption and bribery allegations against the Egyptian government and New Jersey Businessmen have targeted a sitting U.S. senator who heads a powerful committee that controls American foreign policy and global financial aid.
That senator, Robert Menendez, has resigned as chairman "until the matter is resolved," according to Senate Majority Leader Chuck Schumer, as the longtime New Jersey Democratic official faces calls for his resignation amid another federal investigation.
A grand jury indictment unsealed on September 22nd accuses Mr. Menendez and his wife and three New Jersey businessmen and associates of allegedly participating in a bribery scheme in which political favors were exchanged for cash, gold bullion, a Mercedes-Benz convertible and other gifts.
According to the indictment, authorities seized $100,000 worth of gold bars and more than $480,000 in cash, most of which were stuffed into envelopes and hidden in clothing, closets and a safe at their home. Photos in the indictment include jackets with Mr. Menendez's name on them and government seals stuffed with strapped bills.
Mr. Menendez and his wife, Nadine Menendez, face three counts, including conspiracy to commit bribery, conspiracy to commit honest services fraud and conspiracy to commit extortion under the guise of official rights.
Fred Daibes, Wael Hana and Jose Uribe are charged with the first two counts.
The indictment details the senator's role in several alleged criminal schemes, including leaking "sensitive U.S. government information" and other moves to secretly benefit the Egyptian government, pressuring U.S. officials to sign an exclusive business contract with one of the co-defendants and pressuring state and federal prosecutors to drop the investigation – all in exchange for hundreds of thousands of dollars in cash, gold and gifts.
Egypt, military aid, "highly sensitive" government information and a halal monopoly
The senior Democratic official allegedly used his influence and access to give classified government information to an Egyptian-American businessman, then secretly wrote a letter on behalf of the Egyptian government calling on the U.S. to unblock aid to Egypt.
Senator Menendez accepted cash, gold and cars as bribes for information, prosecutors allege
He allegedly met with Mr. Hana on the same day in 2018 when he asked the U.S. State Department for "highly sensitive" details about the U.S. Embassy in Cairo, which he then allegedly passed on to his wife, who passed the information on to Mr. Hana – who then, according to prosecutors, gave it to an "Egyptian government official."
That same month, the senator gave Mr. Hana "nonpublic information" about U.S. military aid to Egypt, after which Mr. Hana allegedly told an Egyptian official that "a ban on small arms and ammunition for Egypt has been lifted." That means sales can begin. These include, among other things, sniper rifles."
Mr. Menendez later wrote a ghostwritten letter on behalf of the Egyptian government urging his own Senate colleagues to lift the block on $300 million in U.S. aid to Egypt, then deleted an email, according to prosecutors, in which his wife asked him to do so.
The indictment also alleges that he asked a U.S. Department of Agriculture official to ask the agency to end its opposition to the Egyptian government's approval of a company operated by Mr. Hana to have a monopoly with Egypt.
Egypt had granted IS EG Hala exclusive rights to certify halal food exports to Egypt.
It's unclear how he got the contract, but prosecutors' files suggest his ties to the Menendez family were crucial to the agreement.
The senator's maneuvers allegedly followed Mr. Hana's passing on information from Egyptian officials to Ms. Menendez over the USDA's objections. She then shared this information with her husband, who later deleted the text messages.
"Seems like Halal came through. It could be an amazing 2019 all around," Ms. Menendez texted Mr. Hana, according to the indictment.
Mr. Hana then began paying Ms. Menendez, including a $23,000 mortgage payment through his company.
Interference in a criminal case, $15,000 in a parking lot and a Mercedes-Benz
In 2019, Mr. Menendez allegedly attempted to interfere in a criminal investigation related to Mr. Uribe's trucking business, which was being investigated by the New Jersey Attorney General's Office.
The now-convicted New Jersey businessman then arranged to sell a Mercedes-Benz convertible to Ms. Menendez after handing her $15,000 in cash in a parking lot, the indictment says.
She then allegedly used $15,000 for a down payment and lied on an application to secure loan financing. Mr. Uribe later arranged monthly financing payments that were routed through his partners or a company he controlled, the indictment says.
A Federal Prosecutor and the Internet Search for "Kilo Gold Price"
In Mr. Daibes' case, the senator allegedly agreed to interfere in a pending federal case involving his co-defendant in exchange for cash, furniture and gold bullion – and also recommended the presidential nomination of a candidate for U.S. attorney in New Jersey The senator believed he could mitigate prosecution of his longtime fundraiser.
The New Jersey real estate developer was indicted in October 2018.
Mr. Menendez reportedly sought Senate confirmation of a nominee for U.S. attorney in New Jersey who would go easy on Mr. Daibes. That candidate, Philip Sellinger, ultimately withdrew from the case.
In January 2022, Mr. Daibes' driver allegedly called Ms. Menendez and texted Mr. Daibes: "Christmas in January." The senator then called an official US Department of Justice Supervising the criminal prosecution of Mr. Daibes.
At one point, the senator allegedly conducted an internet search for "how much is a kilo of gold worth" and later "kilo gold price."
In March 2022, according to the indictment, Ms. Menendendez took two one-kilogram gold bars to a jewelry store. Prosecutors claim the serial numbers indicate they formerly belonged to Mr. Daibes.
New Jersey officials and congressmen call for resignation
Mr. Menendez, who was first appointed and then elected to the U.S. Senate in 2006, served as chairman of the Senate Foreign Relations Committee from 2013 to 2015 and again since 2021, holding Democratic control of the upper chamber of Congress.
The indictment is the result of a lengthy investigation, some six years after a trial on various corruption charges resulted in a jury verdict.
Governor of New Jersey Phil Murphy has called for the senator's "immediate" resignation.
If he resigns, the governor would appoint a successor to serve the remainder of his term.
The primary election is scheduled for June 4, 2024.
Democratic U.S. Rep. Andy Kim of New Jersey, a three-term congressman and one of the first congressmen to call for the senator's resignation, said the allegations outlined in the indictment were "serious and alarming."
"I am not convinced that the senator is able to properly focus on our state and its people while dealing with such an important legal matter," he added. "He should resign."
Former U.S. Attorney General Eric Holder, who served during President Barack Obama's administration, said that "the nation would be better served if he steps down and allows a transition that best serves the people of New Jersey."
"It is time for Senator Menendez to resign," former prosecutor and president of the Washington government watchdog group Citizens for Responsibility and Ethics, Noah Bookbinder, said in a statement. "The conduct and evidence presented in today's indictment are even more damning. The people of New Jersey shouldn't have to constantly wonder whether one of their senators is acting for them or lining their pockets."
The senator's response – and his refusal to resign
In a statement shared by his office, the senator accused "forces behind the scenes" of trying to dig his "political grave" with a smear campaign that "creates an air of impropriety where there is none."
"The excesses of these prosecutors are obvious. You misrepresented the normal work of a congressional office. "Moreover, not just making false allegations against me, they also attacked my wife for the long-standing friendships she had before she and I even met," he added.
The senator will "remain focused on continuing this important work and will not be distracted by unfounded allegations."
"They wrote these charges the way they wanted; The facts are not as presented. "Prosecutors did this last time and will see what a trial shows," he added. "People should remember this before accepting the prosecutor's version."