England may have unearthed a gem in Josh Tongue – but must be more clinical in Ashes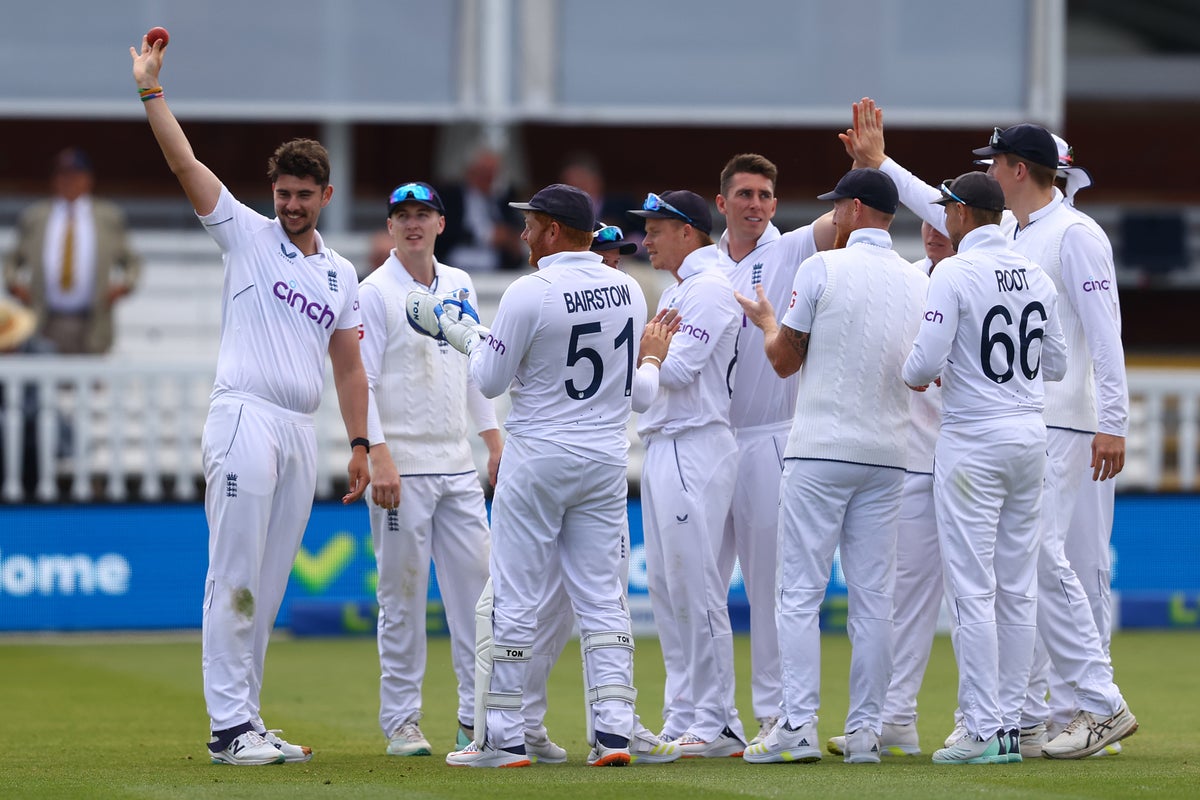 England will hope to have unearthed a gem in Josh Tongue, who secured a spot on the Lord's roll of honor on his debut.
Standing at 1.80m tall, Tongue brings a new depth to England's attack of pace, with an extra lick that sets him apart from the likes of James Anderson, Stuart Broad and Ollie Robinson.
Tongue was chosen over Chris Woakes and has earned a longer chance to impress after performing well in his first game in the home of cricket, scoring five for 66 in the second inning as England won by a ten-wicket margin.
The Worcestershire paceman had bowled into the net just once before being called up for his debut by Brendon McCullum and was called up to England's 16-man squad for the first two Ashes Tests on Saturday.
In the afternoon of day two, Tongue struck immediately after replacing Broad, taking the wickets of Peter Moor and Andrew Balbirnie. Paul Stirling then became Tongue's third Test scalp, and the fourth came when Harry Tector was bowled just after reaching his half-century. With England forced to work on the field, Tongue captured the eighth wicket from Fionn Hand before holding the ball up to applause from the crowd.
In the end he was the bowlers' first choice, although he looked a lot more menacing throwing the ball up rather than bowling short as he did with little success in the first innings, but Ben Stokes was full of praise for the latest signing the Team.
"To bring someone like him into the squad and have the skills that he has in terms of the pace that he offers," Stokes said.
"I told him the role I thought he would play on this team as our third sailor and used it in a way to get different types of spells out of a bowler."
There will be an inescapable feeling that England slacked off as they attempted to take the final wickets and eliminate Ireland on day three. There was a streak of sloppy fielding, including some slightly playful falls and erratic bowling, which will need to be addressed ahead of the June 16 clash with the Australians at Edgbaston.
Ireland also showed resistance that should boost their confidence in the Red Ball format after a dismal first inning. Tector, Mark Adair and Andy McBrine performed half the centuries, with McBrine finishing unbeaten at 86 as England took the last wicket.
The McBrine and Adair duo scored Ireland's highest partnership on Tests (162 runs) in the seventh wicket. Ireland were already a player behind after James McCollum retired on Matchday 2 with a serious ankle injury, but England struggled in the afternoon.
Adair's 88 took the game into the second session, but he fell behind Matthew Potts and painfully denied what would have been a memorable first century of the Test. In a way it was a shame Ireland couldn't run their first innings in the same way as their second, otherwise viewers might have lamented the lack of a fifth day rather than a game that ended in just three games .
Ireland had done near-impossible with 362 points, enough to get England batting again, but it was all over after just four balls and Zak Crawley found three boundaries in the first over of the fourth inning.
Ben Stokes caused a moment of concern for England fans in the afternoon. He took a sharp breath as he made the catch for Ireland's sixth wicket.
The England captain seemed to wobble slightly on his often troublesome left knee and hopes that isn't a sign of anything serious, but he looked uncomfortable for the rest of the game, especially when bouncing around the pitch.