England save their best batting performance for last as they dominate Australia at the Oval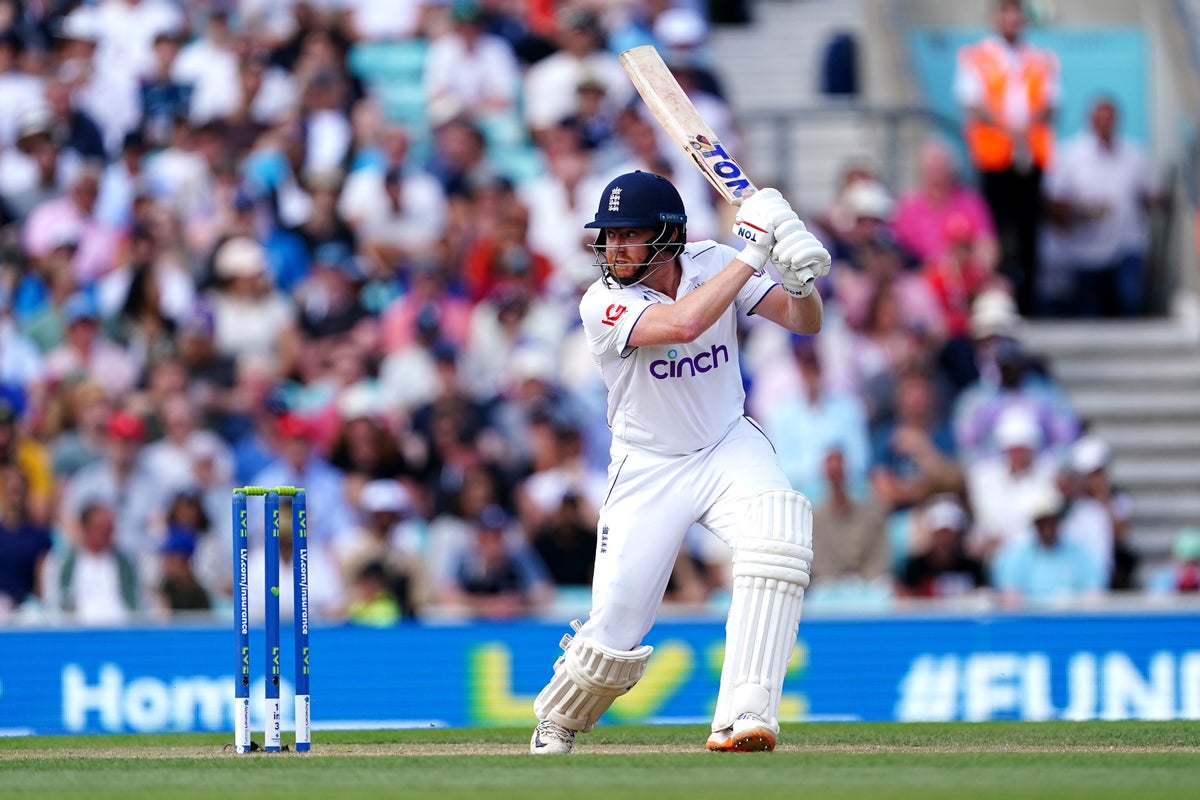 It wasn't a day of centuries or individual heroics but rather an overall performance of the side as England put Australia under heavy pressure with 389 runs in one day and a 377 lead.
The start of England's second inning on the morning of day three could not have been more different than Australia's the day before.
Standing tall, Zak Crawley hit a wide Mitchell Starc half-volley to cover and England were on the rise, much like he had played the first ball of the series, strong and on the attack.
From then on, the hosts never looked back. Starc's first over went 13 runs and they had already built up a lead after both sides batted once and were 12 runs behind.
For a team that loves to break records, there was one in the afternoon that is sure to put a smile on Ben Stokes' face. When Joe Root shot Mitchell Marsh over Alex Carey's head for the sixth time, it was England's 41st of the series, beating the previous record for most players in an Ashes series which was 40 and set by Australia during the 2013/14 Ashes had been set up.
There were field errors from Australia as Crawley and Ben Duckett capitalized, scoring more runs in just 9.5 overs and before the drinks break than Australia had in the entire morning session.
Whilst the morning of day two was seen as dull and icy paced, there was no doubt Bazball England would be looking to attack from the start.
For a side that have a history of aggressiveness and pride in showing their opponents the game, it was a slightly odd sight in the oval, where it felt like the game was going to befall Australia and they struggled to assert themselves.
There were good balls from the Australian bowlers, particularly Harry Brook's, who was down by just seven margins, but England were never as oppressed as their opponents, nor did it feel like they really needed to take the pressure.
Crawley reached 73 before retiring just after lunch with an attempted drive that went straight to the slip cordon, and he received applause from the field after hitting 480 runs at 53.3 in the five Test games.
After the wickets of Crawley and captain Ben Stokes it was the turn of the two Yorkshire players Jonny Bairstow and Joe Root.
Root played a typical inning, including the reverse scoop that was one of the series' throws, and hit 50 from just 42 deliveries when England had 213 for two.
The former England captain was finally out on 91 from 106 when a ball from Todd Murphy spun and held low to throw Root. But while in the olden days a big wicket might trigger a collapse, the team just carried on in the same way.
In the last hour of the day, England tried to score as many runs as possible, with Mark Wood scoring a reverse scoup and all the bottom players trying to score with their first ball.
When James Anderson walked into the middle, he earned a standing ovation and all corners of the field chanted his name. It seemed as though many in the crowd felt it could be his last time playing for England bat-in-hand, although he was adamant he wanted to continue playing.
But one thing could be that it's a last inning in an Ashes Test, the next one won't be for a year and a half and it will almost certainly be his last home Ashes. His two boundary shots were acclaimed more than any other shots played, and England finished the day 389 shots to nine.