Erdogan looks to extend his rule in presidential run-off
ANKARA, Turkey – It's one of the most competitive presidential elections in recent memory, but the mood was calm, orderly and serene at the Arjantin İlkokulu elementary school in the Turkish capital Ankara.
There was no jostling and jostling as voters waited in short lines to decide whether the country's longtime leader Recep Tayyip Erdoğan will extend his rule into a third decade or be succeeded by his challenger Kemal Kilicdaroglu, who has promised restore a more democratic society. continuity or change?
"I hope it will be good for Turkey," said 67-year-old geologist Salami Toprak shortly after his vote. "Let's see what comes out of it." He added that when he votes, he has the next generation in mind.
From Washington and Kiev to Moscow and Beijing, the runoff election marking the centenary of the Republic of Turkey is being watched closely after neither candidate got more than 50% of the vote in the first round on May 14, with Erdoğan just behind Crowd.
74-year-old Kilicdaroglu described the runoff as a referendum on the future of the country. The leader of the secular centre-left Republican People's Party (CHP) since 2010 is a very different figure from Erdoğan, who is known for his bombastic speeches. With a soft voice, he is considered a bridge builder.
In addition to returning the country to parliamentary democracy, Kilicdaroglu and the coalition have pledged to establish judicial and central bank independence, introduce checks and balances, and reverse democratic backsliding and the repression of free speech and dissent.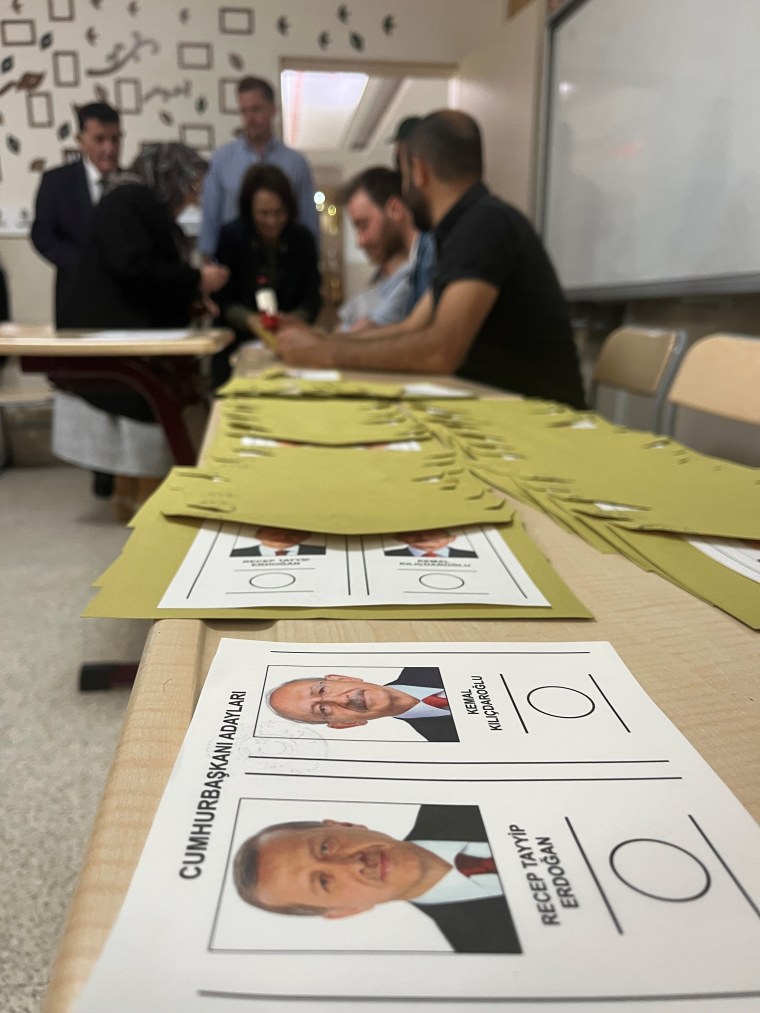 But Erdoğan has a chance of victory after his ruling Justice and Development Party (AKP) retained a majority in parliament in elections earlier this month.
However, he initially lagged behind in opinion polls as the campaign was dominated by the aftermath of the devastating earthquake that killed over 50,000 people earlier in the year and the country's economic turmoil.
Erdoğan hiked wages and pensions and subsidized electricity bills and gas bills ahead of the first round of elections to win voters facing a high-cost-of-living and currency crisis prompted by numerous government interest rate cuts to boost exports.
Immigration was also high on the agenda and both candidates sought to bolster their nationalist credibility ahead of the runoff.
Before the first vote, Kilicdaroglu said he wanted to return the refugees within two years by creating favorable conditions for their return. However, he has since toughened his stance, vowing to send any refugees home after his election to the presidency.
Erdoğan, meanwhile, courted and won support for nationalist politician Sinan Ogan, the former academic who was backed for the presidency by an anti-migrant party but dropped out after coming third in the first round. During the campaign, Ogan said he would consider forcibly returning migrants if necessary.
While the economy and migration are important issues, "Erdoğan managed to secure the elections and convince his base that national security was at stake," said Dimitar Bechev, lecturer in Turkey at Oxford University in the UK and author of "Turkey under Erdoğan". He added that "identity politics around ethnicity and religion" determined much of the vote distribution.
The results will also have myriad implications outside of Turkey, which enjoys a strategic location at the crossroads of Europe and Asia. Turkey has the second largest armed forces in NATO after the US, controls the important Bosphorus Straits and is widely believed to have US nuclear missiles on its soil.
Although the country is a NATO member, it has close ties with Russia and has blocked Sweden's membership in the western military alliance.
An Erdoğan victory would likely deepen the country's ties with Moscow, according to Nilgun Arisan Eralp, director of the Center for EU Studies at Turkey's Economic Policy Research Institute in Ankara.
"Given the difficult state of the economy, Russian money is needed for the regime's continued existence," Eralp said, adding that he would likely continue to oppose Sweden's membership of NATO, damaging relations with the United States and taking a toll on the country would pull closer to the Kremlin.
Ankara has long accused Sweden of harboring militants from the banned Kurdistan Workers' Party, which is considered a terrorist group in Turkey, Sweden and the United States.
Ahead of the vote, Ergun Yayla, a taxi driver from Istanbul, said Saturday that he plans to vote for Erdogan.
"I think maybe some political change would be good in our country, but as I don't think there is anyone who is honest and could be successful," said Yayla, 55.
"The opposition is very weak and it will never win."
Matt Bradley and Paul Goldman reported from Ankara. Leila Sackur reported from London.
Neyran Elden contributed.