Erik ten Hag backs David De Gea after costly mistake at West Ham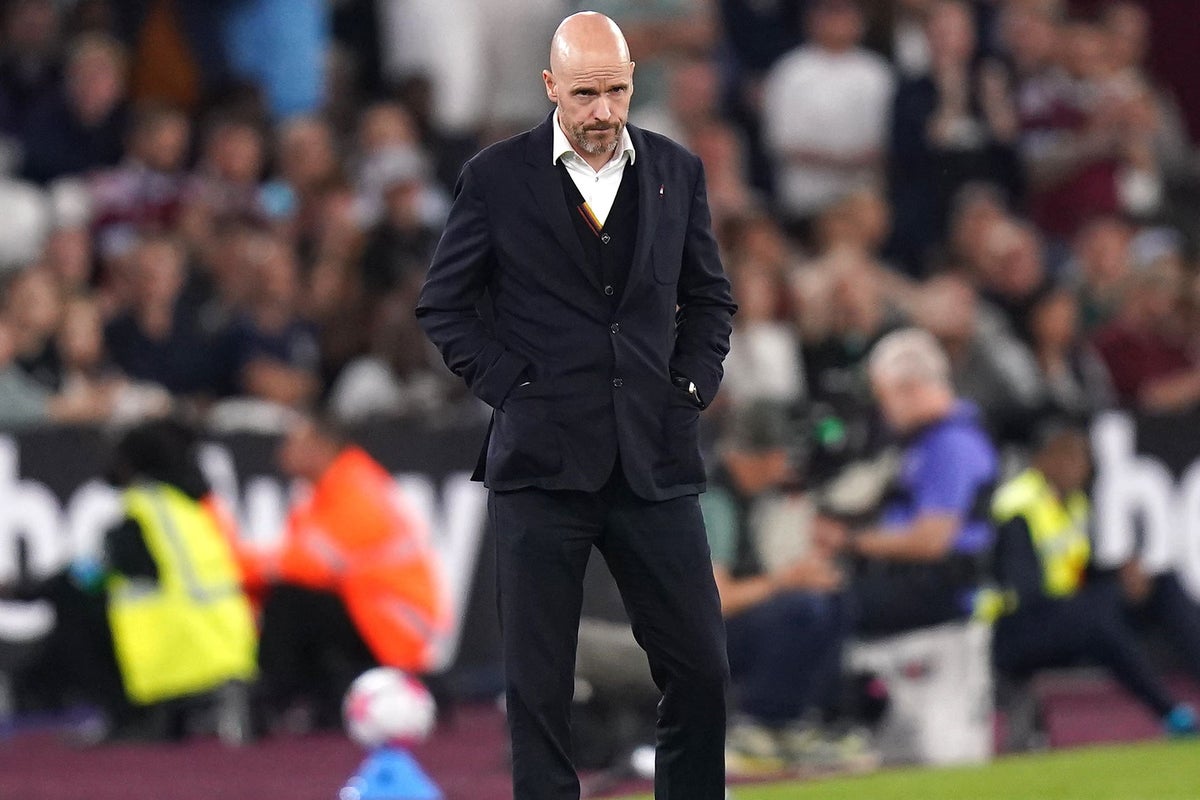 Erik ten Hag threw his support behind David De Gea despite the slip that loosened Manchester United's grip on last place in the Champions League.
Goalkeeper De Gea is in talks over a new deal at Old Trafford but he didn't exactly improve his negotiating position after letting Said Benrahma's hopeful shot from 20 yards bounce over his glove to send United to a 1-0 defeat at West Ham judged.
They are now just a point clear of fast-rising Liverpool, albeit with a game in hand, after an eighth away defeat this season and a second in four days after last-second defeat at Brighton.
"Frustrating? Yes, I saw that the same way. I think we started well, dictated the game, created chances, didn't take them and then made a mistake," said United coach Ten Hag.
"Two individual errors and you lose games. But it is what it is. Now we have a full week, we need to reset, reload and move on.
"(De Gea) has the most clean sheets in the Premier League, we wouldn't be in this position without him. No concerns. It happens, but as a team you have to deal with it, show character and perseverance.
"We want him to stay and extend his contract."
Lukasz Fabianski made late saves against Marcus Rashford and Anthony Martial but Ten Hag's side offered little in their 57th game of a grueling season that, like Liverpool, may be catching up.
But Ten Hag insisted: "Nothing has changed. We could have made it easier with a win. We need three wins from four games, everything is in our hands.
"Fatigue is in your head. If you are willing, you can take it. It's up to the players and staff to be together to get the willingness that we can take it.
United's defeat could prove as costly for the visitors as it was priceless for West Ham, who climbed seven points above the relegation zone and are now safe.
For Hammers manager David Moyes, it was his first win over his former club since he was in charge at Everton in August 2012 and a huge boost ahead of this week's Europa Conference League semi-finals against AZ Alkmaar.
"It's a huge step, to get three points is great against anyone but against Manchester United it was huge for us," said Moyes.
"It's a great result ahead of a European semi-final and we'll take a lot of confidence from it. We have another big challenge and we look forward to it."
Hammers skipper Declan Rice put in another great performance and showed why the likes of United, Arsenal and Chelsea are constantly being associated with him this summer.
"He was outstanding tonight. He's great on the ground, very fast. I'm pleased but not surprised," added Moyes.
"That's why he's probably the best England midfielder around – and he gets extremely expensive if someone steps in for him."