Erik ten Hag to make decision on Marcus Rashford's fitness before Sevilla clash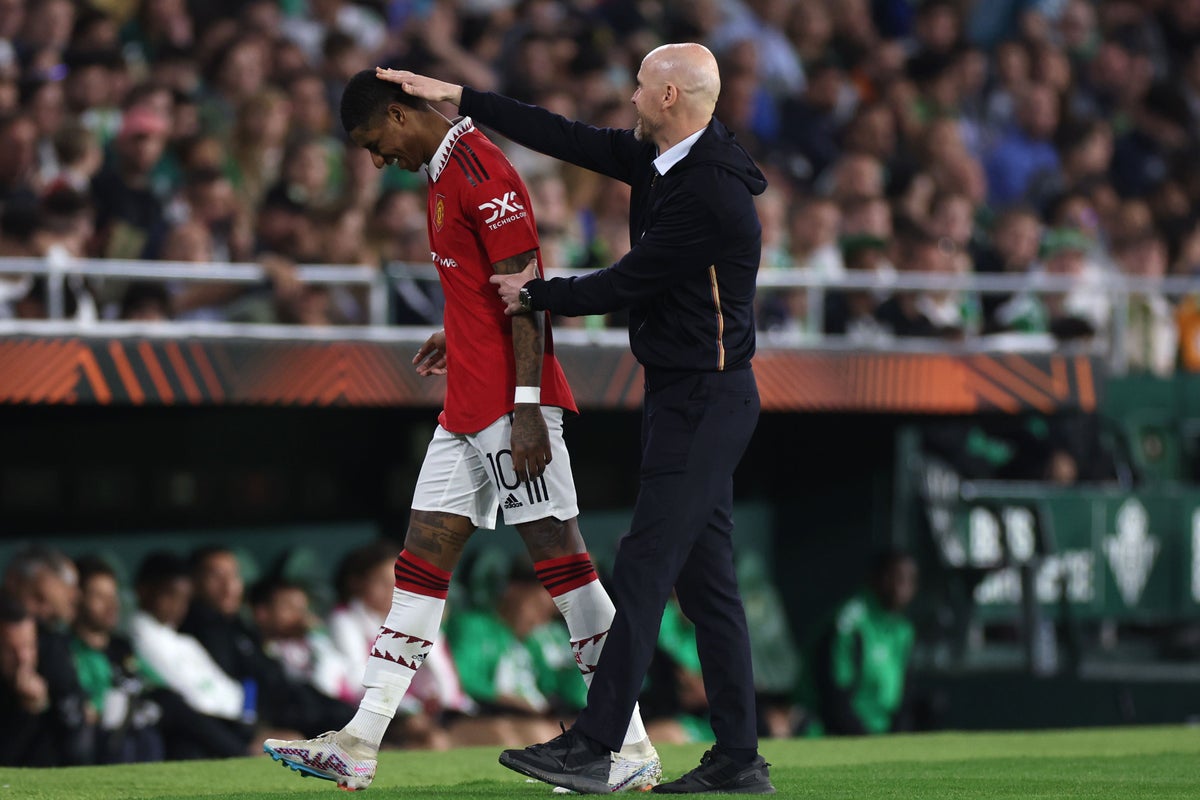 Erik ten Hag will make a final decision on Marcus Rashford and his other returning stars on the day of Manchester United's Europa League clash with Sevilla.
The 25-year-old has scored 28 goals in a scintillating season that some feared could be cut short by a prolonged break after pulling himself up at the groin against Everton 11 days ago.
United allayed concerns by announcing Rashford was only expected to miss "a couple of games", although Ten Hag admitted last week he wasn't sure how much time the striker would miss.
The England international sat out the chaotic 2-2 first-leg draw with Sevilla and Sunday's 2-0 Premier League win over Nottingham Forest but bounced back quickly.
Rashford trained with his team-mates at Carrington on Wednesday morning and was part of the group of 21 traveling to Spain for the quarter-final second leg.
Luke Shaw, Tyrell Malacia and Marcel Sabitzer were also included in the squad after recovering from injury, with Ten Hag saying of the quartet: "They're available because that's why they're on the plane.
"But I will make my decisions tomorrow. Today we had training, we'll see how the reaction is and then we'll make the decision tomorrow."
Pressed for Rashford, the United boss said: "All players, you want to keep all players fit, so that's always a goal alongside of course the main goal of winning the game.
"He's had one session with the team but he's had a few sessions individually before that."
The quartet's return to the squad is a welcome addition to a side traveling to Spain without a number of key players.
Bruno Fernandes is suspended after being booked in last week's first leg which left first-choice centre-back Raphael Varane and Lisandro Martinez injured.
Seville capitalized on that break, bouncing from a shocking start to secure a last-minute draw thanks to late own goals from Malacia and Harry Maguire.
Abolishing away goals softens the blow, but now United must step up their performance against six-time Europa League winners Sevilla at hostile Estadio Ramon Sanchez-Pizjuan.
"It's a tie for two legs," said Ten Hag. "I think we play quite well over 60 minutes and then in the last 30 minutes we lowered the level and became passive.
"That's not acceptable, we know that and you see what happens when you only play a game for 60 minutes.
"You can't do it and if you do you will be punished, so we have to be aware of that.
"We have to use emotions as a tool, but you also have to control them.
"You have to use it at the right moment, so timing it is important, and that's especially true in big games, you have to know when you're using it and when you're definitely not using it."
Key figures this season include David De Gea, who has impressed between the posts despite ongoing questions about whether he would fit Ten Hag's preferred style.
The long-serving 32-year-old's contract expires in the summer and it has been reported that the Spain international is close to a new deal.
When asked what he thinks are the best qualities in a goalkeeper, Ten Hag said with a laugh: "Goals stop! That is the main task of a goalkeeper.
"You can do it in many different ways, everyone has their own style.
"Now possession of the ball has become more and more important, especially at the top level I think because you can take control, it makes it harder for an opponent to put pressure on it, so you don't allow as many chances.
"But at the end of the day, it's about stopping goals – stopping shots, stopping crosses, stopping one on one.
"It's more like a classic goalkeeper. I think David is a really multifunctional, a really complete goalkeeper, so we're really happy with that."