Eurostar could face competition to drive down fares, government says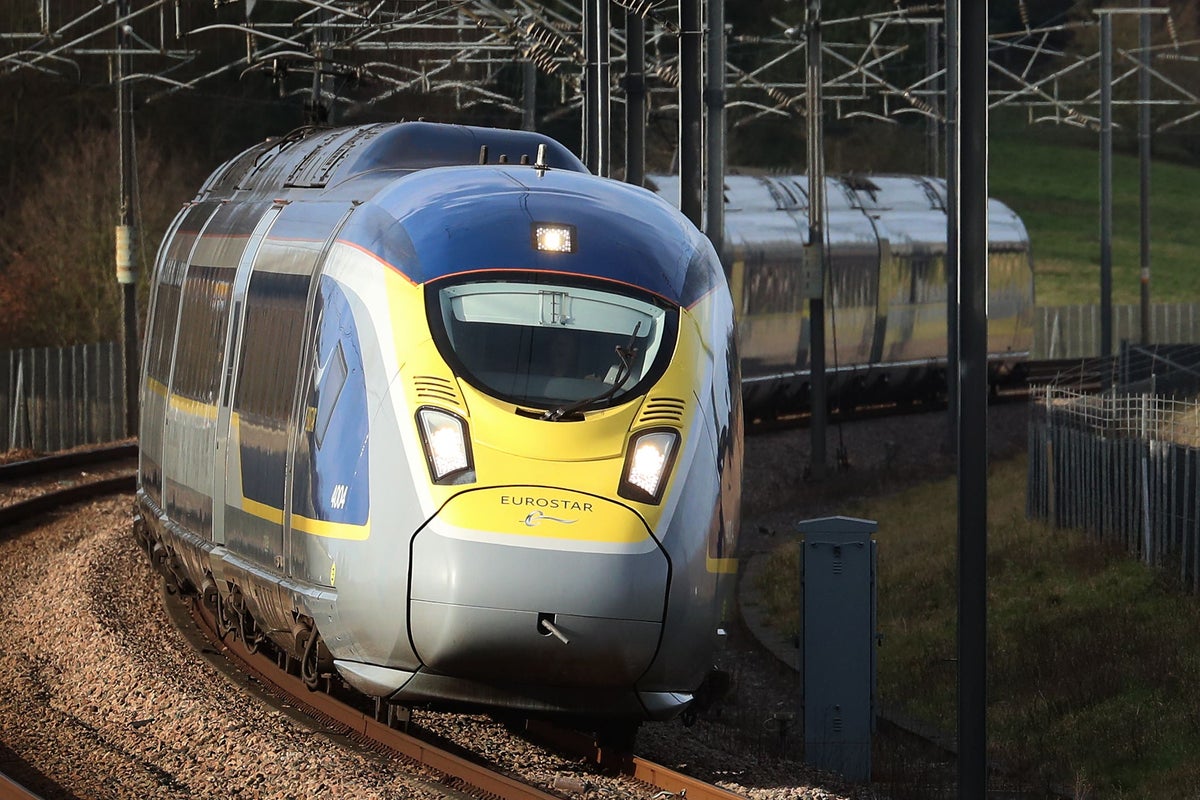 Eurostar could soon face competition running international rail services through the channel tunnel, under plans being worked up by the government.
Rail minister Huw Merriman said on Wednesday that the government would set out steps to encourage other companies to run services to the continent in a bid to drive down ticket prices.
Ministers are hoping to emulate the effects of competition on the east coast mainline, where challenger operators like Lumo have driven down fares while increasing ridership.
Mr Merriman said High Speed One, the rail link to the channel tunnel, had plenty of spare capacity and that the Department for Transport was having "conversations" about how to use it more effectively.
This could include changes to the contract to run the line, he hinted.
But previous attempts by non-Eurostar operators to run services through the tunnel have failed to get off the ground, stymied by the UK's strict border rules and the complexity of using the undersea tunnel.
The minister told the transport select committee competition would be "key" for getting fares down on international services.
"The only way we're actually going to bring prices down, get more people on, it's getting more operators on there. And I think that's my ambition for it," he said.
"That will actually come into conversations about how we see the actual High Speed 1 infrastructure used as well, because there's a lot more space there that we'd actually like to see used."
He added: "The difficulty is it's not just down to this country because obviously it's a route that goes abroad, but we are looking to set out some steps as to what we actually see is possible with that line, because there was a lot more space on it.
"That will come into conversations about the existing contract of that line as well. So it's something that we're working on."
An increase in competition running services through the tunnel would come at a difficult time for Eurostar, whose finances have also already taken a double beating from the Covid-19 pandemic and Brexit.
The cross-channel operator did not benefit from the same Covid-19 bailout as other UK train companies and did not receive the same help as airlines – forcing it to take out loans at commercial rates which it is now paying back.
It also also been forced to run services with some seats empty because new Brexit border bureaucracy has restricted its ability to process passengers through passport control fast enough to fill trains.
As a result the train company has mothballed suburban stations in Ashford and Ebbsfleet and cancelled a longstanding direct service from London to Disneyland Paris. The company has increased ticket prices and says it is focusing on its core routes while it pays down the debt.
The minister did not elaborate on how competition could circumvent physical constrains on capacity at the border.
Speaking at the same hearing Mr Merriman rejected emulating France's ban on domestic flights for routes possible by train in under two and a half hours.
"If you bring a policy in like that, then it means that the costs of trains can end up going up even more, because you haven't got the competition from flights," Mr Merriman said.


UK news in pictures
Show all 50
"It's aviation that provides that competition that should actually then ultimately focus the train operator on the passenger cost. Otherwise, people will just move from an expensive train to a cheaper flight. So that continues to be our policy. The French obviously took a different approach."
Labour MP Ben Bradshaw who sits on the committee said there had been talk of competition through the channel tunnel for "years if not decades".
The most high-profile attempt was by German state rail company Deutsche Bahn, which in 2010 said it wanted to run services from London to Amsterdam, Cologne and Paris.
But despite a high-profile launch which saw the operator send one of its sleek trains to London for a publicity event, the project never got off the ground. The Independent revealed in 2018 that the plan had been shelved due to "changes" in the "economic environment" and that they would "not be on the agenda in the foreseeable future".
Other so far unrealised plans to run trains under the channel have come from Spanish state operator Renfe, which in 2021 said it could run "viable and profitable" services, and from the owner of the tunnel itself, GetLink, which has suggested it could procure its own train fleet to facilitate competition.