Ex-UN Secretary-General Ban-Ki-moon on surprise Myanmar trip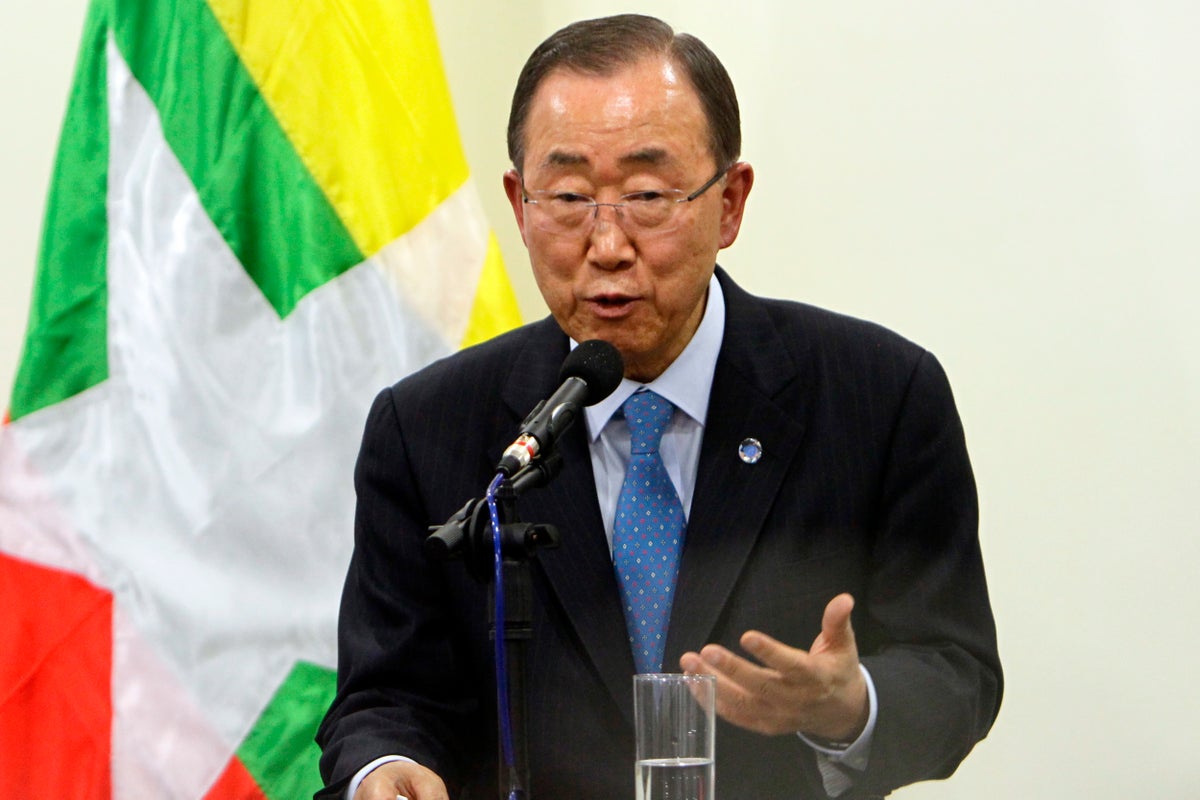 Former UN Secretary-General Ban Ki-Moon is on a surprise visit to military-led Myanmar on behalf of a group of senior statesmen championing peace and human rights initiatives around the world, a South Korean diplomat said Monday.
The arrival of Ban, vice chairman of The Elders, in the capital Naypyitaw was announced by state television MRTV on Sunday evening. He arrived with a small delegation and was greeted by the deputy defense and foreign ministers.
"This visit by Mr. Ban Ki-moon was fully planned by the elders. We are not involved in this process," said a South Korean embassy official, speaking on condition of anonymity as he was not authorized to speak to the media. "This is not the official visit. It's probably a two day visit. He will be leaving tonight."
Ban is a former South Korean foreign minister.
Elders have not yet released details of Ban's visit and no further information has been given by the military government, but it appeared safe to deal with Myanmar's ongoing political crisis. The group was founded in 2007 by Nelson Mandela.
An official in Naypyitaw said Ban will have a meeting with the country's supreme leader, Senior General Min Aung Hlaing, and a tour of the national museum on Monday morning. The officer also spoke on condition of anonymity as he is not authorized to release any information.
Violent unrest has gripped Myanmar since the army ousted the elected government of Aung San Suu Kyi on February 1, 2021. Taking over the army prevented Suu Kyi's National League for Democracy party from running for a second term.
The takeover met with massive public opposition, which security forces used deadly force to put down and has since turned into widespread armed resistance.
Outside efforts to broker peace have been unsuccessful, even when they came from parties sympathetic to the military rule, such as the 10-member Association of Southeast Asian Nations. The government condemned most of the pressure to negotiate as a violation of Myanmar's sovereignty and generally labeled most of the pro-democracy opposition as terrorists.
Ban has a long history of working with Myanmar. As UN Secretary-General from 2007 to 2016, Ban traveled to Myanmar to urge the country's then-ruling generals to allow a free flow of foreign aid and experts to the survivors of Cyclone Nargis in 2008, which killed an estimated 134,000 people. He also urged the military to embrace democracy.
He also attended a peace conference in Naypyitaw in 2016 aimed at ending decades of armed conflict involving ethnic minorities.
Two months after the military took power, Ban called on the UN Security Council and Southeast Asian countries to act quickly and forcefully to stop the deadly crackdown. He then attempted a diplomatic visit to Myanmar to meet with all parties to try to de-escalate the conflict and promote dialogue, but was told by the Myanmar authorities that this was inconvenient at the time.