Extreme heat, heavy rainfall challenges for Washington farmers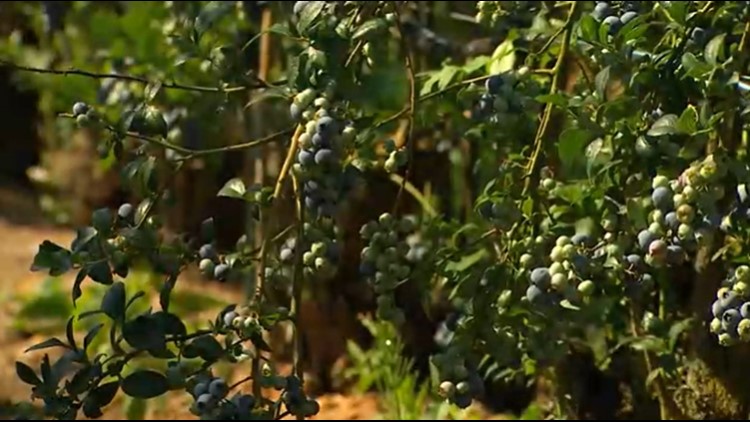 Whether it's extreme heat or unprecedented rainfall, Washington farmers are adapting techniques to keep crops on track.
SNOHOMISH, Wash. – It's peak picking season at Mountainview Blueberry Farm in Snohomish.
"There are many ways to make a living as a farmer, I think we've picked the best way," said Keith Stocker. "To see families enjoying what they're doing out here is just amazing!"
Stocker is a co-owner of Mountainview Blueberry Farm and President of Stocker Farms in Snohomish.
Blueberry season came later than normal this year due to one of the wettest and coldest springs on record.
"It just meant we couldn't get to our fields as quickly," Stocker said. "Many of the crops were planted four to six weeks late. It's affecting things like our pumpkin crops, you know, a lot of that acreage was too wet to plant, so it's late. So things will lag behind."
>> Download KING 5's Roku and Amazon Fire apps to watch live newscasts and videos on demand
Not only the cold has made this year a challenge, but also the heat wave.
"Today there are already dozens of families out here trying to stay ahead of the heat that we're having," Stocker said Thursday morning as he stood in the middle of his blueberry farm.
The temperature was almost 80 degrees at 9 a.m
Chris Benedict, who works for Washington State University's research extension and focuses on horticulture in western Washington, said extreme weather events are often bad for plants.
"It really depends on how, when and where that stress occurs, whether it's cold, damp, too much, too little or heat," Benedict said.
The sudden switch to heat has its own impact on crops.
"Basically, heat is a massive stress on a plant, and if it can't handle it, it may have to sacrifice part of its plant," Benedict said.
The effects can be far-reaching.
"Things like last June when we had this massive heatwave had an immediate impact on things, but we're still seeing something potentially evolving from that," Benedict said.
Stocker is now looking to the future and how he can best prevent setbacks.
Five years ago, with the help of a grant, he switched his irrigation technique to drip irrigation to ensure his blueberry plants get enough water, especially during times of extreme heat.
"We're taking steps because it's part of where the future is headed, and whether it's choosing strains that are a little more drought tolerant or finding more efficient ways to maintain crop health, we have to do it ' Stocker said. We need to make those differences or changes."
However, Stocker found that it wasn't all bad.
He said the only thing that benefited from the cold, wet spring was his Christmas tree farm.
The cold spring helped his trees thrive.
https://www.king5.com/article/news/local/washington-weather-highs-lows-present-challenges-famers/281-2eb5778a-7b8f-481a-8cfa-ab0de2505ded Extreme heat, heavy rainfall challenges for Washington farmers