Ezricare eye drops CDC warning: Linked to US bacteria outbreak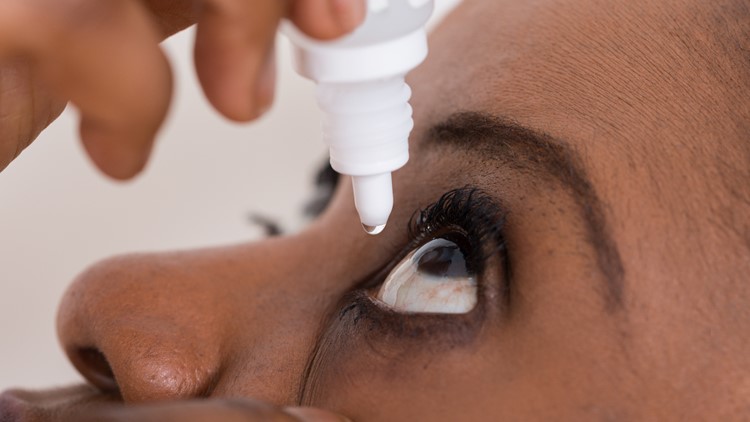 The outbreak, which includes at least 55 people in 12 states, is particularly worrisome because the bacteria that cause it are resistant to standard antibiotics.
NEW YORK — U.S. health officials are advising people to stop using over-the-counter eye drops linked to an outbreak of drug-resistant infections.
The Centers for Disease Control and Prevention on Wednesday night sent out a health alert to doctors, saying the outbreak includes at least 55 people in 12 states. One person died.
Epidemiologists have linked infections, including some found in blood, urine and lungs, to EzriCare Artificial Tears. Many patients report using this product, a lubricant used to treat irritation and dryness.
All infections are caused by a bacterium called Pseudomonas aeruginosa. Investigators detected that bacterium in opened bottles of EzriCare, but further tests are underway to see if the strains match.
EzriCare said it doesn't know of any evidence that is definitively linked to the outbreak of the product, but it has stopped distributing the eye drops. It also has a notice on its website urging consumers to stop using the drops.
"To the greatest extent possible, we have reached out to customers to advise them not to continue using the product. We have also immediately contacted both the CDC and FDA and expressed our willingness to cooperate with any request they may have of us," the company said.
Two weeks ago, the CDC warned professional health organizations about a possible link between the drops and infection. Wednesday's warning was a broader, more public one.
The infection was diagnosed in patients in California, Colorado, Connecticut, Florida, New Jersey, New Mexico, New York, Nevada, Texas, Utah, Washington and Wisconsin. One patient — in Washington — died of sepsis. At least five others lost their vision permanently.
The outbreak is considered particularly worrisome because the bacteria causing it are resistant to standard antibiotics.
The investigators found the bacteria were not sensitive to any of the antibiotics routinely tested at public health laboratories. However, a newer antibiotic called cefiderocol seems to work.
How can eye drops cause an infection in the blood or lungs? The eye connects to the nasal cavity through the tear ducts. Bacteria can travel from the nasal cavity into the lungs. In addition, bacteria in these parts of the body can cause infections in other locations, such as in the bloodstream or wounds, CDC officials said.
The product is manufactured in India by Global Pharma Healthcare Pvt Ltd., said EzriCare.
The Associated Press Health and Science Division receives support from the Howard Hughes Medical Institute Science and Media Education Group. AP is solely responsible for all content.
https://www.king5.com/article/news/nation-world/cdc-warns-ezricare-eyedrops-may-be-linked-to-infections/507-a33ae27a-6aae-44a4-9ee9-617c8385d92a Ezricare eye drops CDC warning: Linked to US bacteria outbreak