Faith leaders speak out against 'toxic' Christian nationalist conference arriving at Trump's Miami resort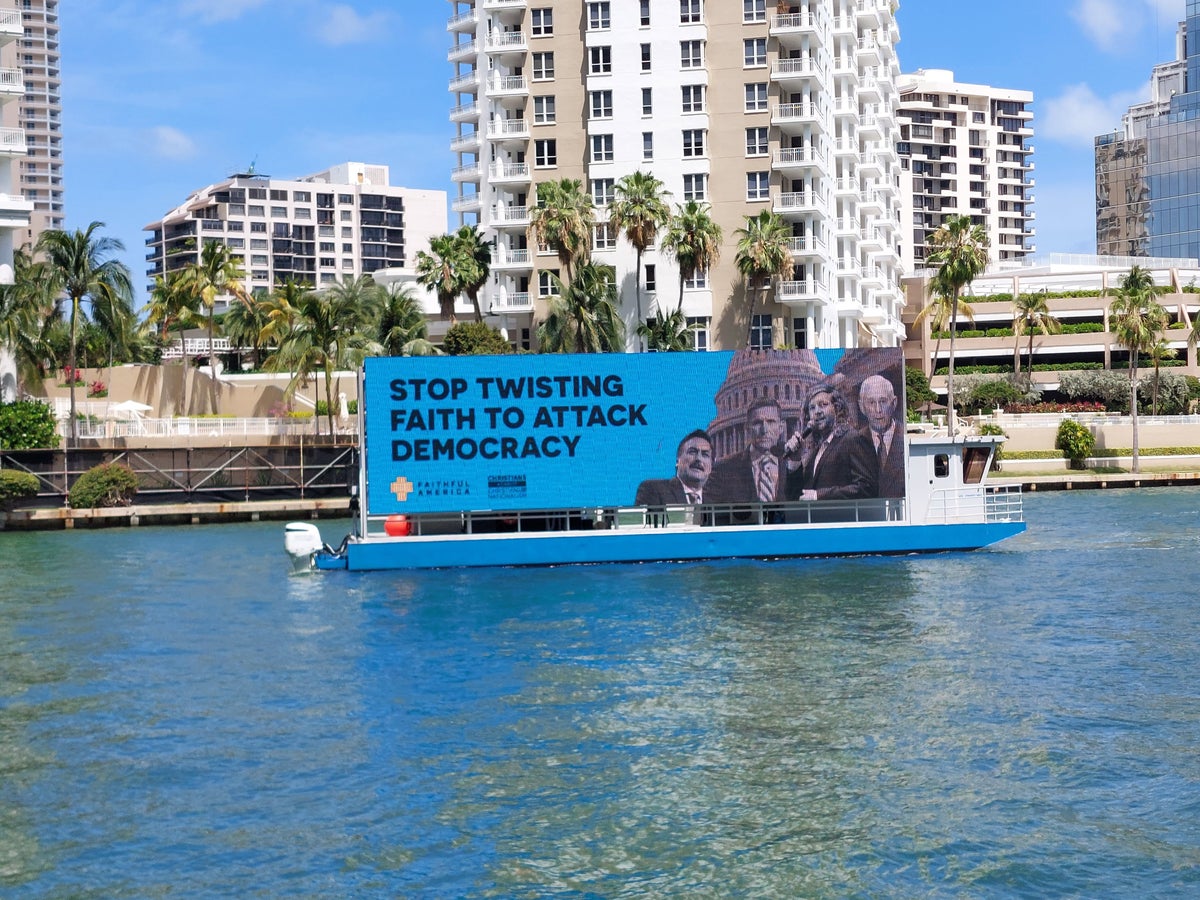 A far-right Christian nationalist campaign amplifying conspiracy theories and political violence in a message cloaked in Bible prophecy has gotten to one of them donald trumpsignature properties.
The ReAwaken America Tour has kicked off a three-day event at Trump National Doral Miami This weekend, far-right figures and Trump-supporting pastors are coming to a conference modeled on tent-revival preaching and trading in far-right conspiracy theories and anti-democracy attacks.
The tour was created by Covid-19 conspiracy theorist Clay Clark and supported by a former prominent Trump administration official QAnon figure Michael Flynn, has held more than 20 conferences in more than a dozen states over the past two years. The events often come from or are hosted by mega-churches with large congregations.
At the same time, a coalition of Christian leaders including Faithful America, Christians Against Christian Nationalism and Faith in Public Life Action have warned their communities of the dangers posed by ReAwaken events and the broader threats to faith communities and democracy posed by Christian nationalist campaigns.
Tens of thousands of Christians — including leaders of the Episcopal Church and the Evangelical Lutheran Church in America — have also signed petitions and statements rejecting Christian nationalist ideologies and the ReAwaken America Tour.
The groups also put up mobile billboards on boats and cars in Miami and around Doral to warn of what faith leaders and clergy have called the ReAwaken America Tour's pernicious perversion of faith that attacks democracy.
"Christians across the country are fed up with seeing our faith being hijacked and abused by Christian nationalist leaders for their extremist political agenda of hate and division," said Rev. Nathan Empsall, executive director of Faithful America, during a news conference on May 20 May 12 in Florida.
The "toxic mix" of baptisms and comparisons to Trump as a Christ-like figure, coupled with rampant denial of the 2020 presidential election result and the proliferation of anti-Semitic QAnon conspiracies, poses further risks that incite political violence, he said.
Speakers at the Trump-Doral event include political activist Roger Stone and prominent election conspiracy theorists Mike Lindell and Sidney Powell.
Before the start of the event, far-right figures Scott McKay and Charlie Ward were dropped from the lineup after reports of their history of anti-Semitic remarks were highlighted.
Eric Trump told CNN that organizers withdrew speakers from the event at his request.
As The Independent previously reportedMr. McKay has previously said that "Hitler actually fought the same people we are trying to take down today," a nod to the anti-Semitic conspiracy theory that Jewish people control the world's banks, and has suggested that Jewish people planned the terrorist attacks September 11th and the assassination of Abraham Lincoln, William McKinley and John F. Kennedy.
Mr Ward has also denied the Holocaust and suspected Jewish people were behind the virus outbreaks.
Speakers at a Pastors for Trump event. According to Amanda Tyler, executive director of the Baptist Joint Committee, Christians Against Christian Nationalism, with Trump, Doral "added scriptures and prayers to their political speeches, labeled the election a 'spiritual war,' and used violent and militaristic language."
"They claimed to have heard prophecies that Donald Trump would be re-elected and encouraged the crowd that they were put in this moment to ensure it happens at all costs." "This violent rhetoric is incredibly irresponsible and dangerous ' she said on May 12.
Faith in Public Life Action Rev. Jennifer Butler warned that Christian nationalism is fueling not only Trump's ambitions for 2024, but also legislation across the country, from threats to abortion rights to policies protecting LGBT+ people and access to restrict ballots.
"We must reclaim our faith and write a new vision for our communities based on love, justice and respect for human dignity," she added.