Fan hits George Kirby with baseball during Mariners-Astros game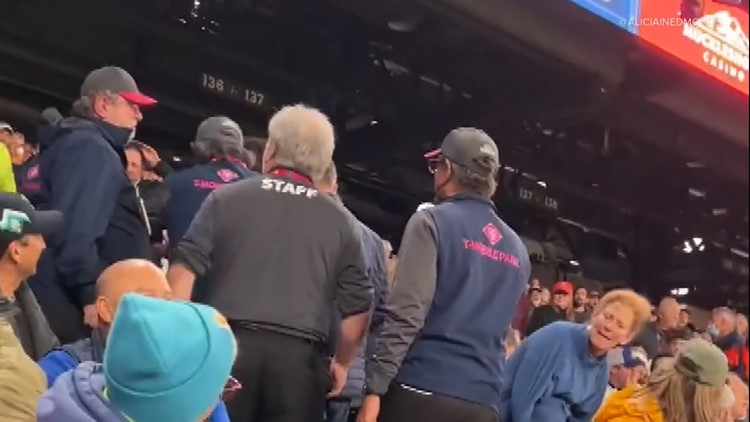 The fan appeared to be escorted out of the game after hitting the ball at Kirby.
SEATTLE — George Kirby had one of his best starts of the season Tuesday night, but appeared to draw the ire of a young fan at T-Mobile Park during the Mariners' win over Houston Astros.
Kirby was hit by a baseball during halftime Tuesday night, a ball that appeared to have been thrown from the stands.
"That surprised me," Kirby said after the game (h/t Seattle Times). "I thought it was the referee because I raised my hand for the ball. I thought he threw it. I mean, that's an impressive throw. I'll give him that."
The fan appears to be a teenager wearing a Mariners jersey. Video shared on social media and broadcast on national television showed fans appearing to be escorted out of the match by stadium staff.
Mariners manager Scott Servais told reporters after the game that the young fan caught an Astros foul ball and thought he should throw it back on the field. Traditionally, home team fans at some ballparks around the country throw back home runs hit by the opposing team, even though baseballs almost never hit one of the players on the field.
Kirby didn't let the bizarre incident affect him, however, as he went six scoreless innings in one of the most important games of the season as the Mariners clung to their playoff aspirations.
Seattle can move ahead of the Astros with a win over Houston on Wednesday night at T-Mobile Park. The Mariners are half a game behind the Astros in the AL Wild Card race and the Texas Rangers are three games behind in the AL West. Seattle's final four games of the season will all be at home against the Rangers.