Father of Texas cheerleader Payton Washington gives health update after shooting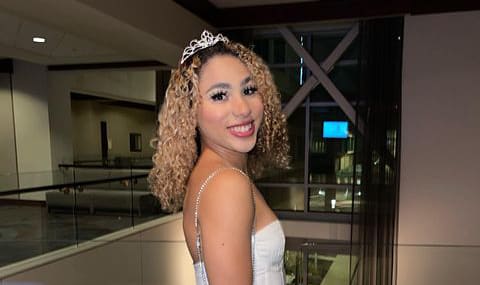 The Texas cheerleader, who was shot after a friend accidentally got into the wrong car in a supermarket parking lot, is now recovering in intensive care, her father said in an interview on Wednesday. Born with only one lung, the top athlete is described by her father as "tough as they come".
Payton Washington, 18, was shot in the leg and back in the gunfire that broke out around 12:15 a.m. Tuesday at an HEB parking lot in Elgin, her father Kelan Washington said.
Payton, a cheerleader with Woodlands Elite Cheer Co., was walking home from practice with three other friends when they were shot at by a 25-year-old suspect who has since been arrested.
Washington said a girl was grazed by a bullet and treated at the scene and released, but Payton sustained more serious injuries. She was helicoptered to a hospital in critical condition, Elgin Police said.
Payton's father said doctors removed Payton's spleen and she is now stable in the intensive care unit at Dell Seton Medical Center at the University of Texas at Austin.
"Payton has accomplished everything she has with just one lung [from] when she was born. She's as tough as it gets," he said.
the shoot
The shooting unfolded when four cheerleaders from Woodlands Elite Cheer Co, on their way home from practice, pulled into a HEB lot where some of the members had parked their cars, gym owner Lynn Shearer told Austin-based NBC affiliate KXAN.
Washington said the HEB is a "designated carpooling agency." He said his daughter Payton has been going to Woodlands Elite in Houston for almost 10 years and is very familiar with the commute from Houston to their Round Rock home, about 170 miles away.
At the HEB, one of the girls accidentally tried to get into the wrong car, Shearer said.
At that time, she said, a "guy got out and they saw he had a gun. And so they tried to speed and he shot his gun about five times in the car."
Payton's father confirmed Shearer's account of the mistaken car.
"He raised his hands and then swung his gun and then just started shooting at the girls," Washington said, noting that the gunman didn't exchange a word.
He expressed shock at the suspect opening fire.
"You saw her run to your door by mistake, it's a girl in a happy outfit," he said.
Elgin Police said, "Information indicates an altercation broke out in HEB's car park and multiple shots were fired at a vehicle." Two of the girls in the car were shot.
Suspect Pedro Tello Rodriguez Jr., 25, was taken into custody and charged with fatal conduct. The investigation is still ongoing, police said.
Washington said the other girls were "doing fine" after the shooting and supported Payton.
"You're part of the family. These girls are basically Payton's sisters in spirit and team camaraderie," he said. "Of course they are very worried about their sister, they are very worried about their leader. Payton was the leader of that cheering group in Houston."
A leading cheerleader who won a tumbling scholarship
Since news of the shooting, there has been a flood of support for the cheerleaders affected on social media.
A prayer organized by Woodlands Elite was held on Tuesday. Meanwhile, a GoFundMe page organized by the Woodlands Elite Generals to raise money to cover their hospital costs had raised more than $71,000 as of Wednesday.
Payton has been a star athlete since she was a child and is always looking for the next challenge, her father said.
She started gymnastics at the age of 18 months, but then "she wanted more dynamic movement".
"She tended to watch cheers and falls and just felt like she had to do it. She had to go over there and learn how to do this stuff. She really had to learn how to do all the moves that she can do as a left-hander. And she did it on her own," Washington said.
She is currently a senior in high school and has already secured a scholarship to attend Baylor University after graduation.
Payton has to undergo another operation. Despite being heavily sedated and "on and off," she was able to talk to her many visitors when awake, her father said.
He said the family is currently leaning on their faith and "Payton's undeniable will to never settle for anything."
The family is also grateful for the support they have received from the community and beyond.
"Just everyone gathering around Payton, that's pretty refreshing," he said.
He called his daughter "beautiful inside and out. She makes everyone around her a better person, a better athlete, a better student, a better Christian. All of it."
Of the suspect, Washington said his family "wants to be sure to be accountable."
"This young man has to deal with the next call, his own remembrance and reflection of what he did and whatever God has for him. That's a sentence in itself that he needs to work through," he said.