Fatimah Asghar on 'When We Were Sisters' & Orphanhood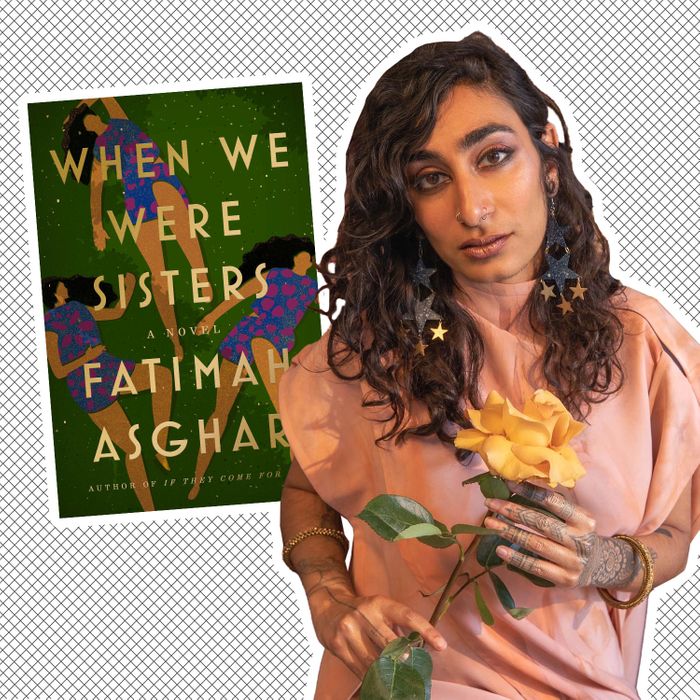 Photo-Illustration: The Cut; Photo: Mercedes Zapata, One World at Penguin Random House
In the opening pages of Fatimah Asghar's When we were sisters, An immigrant father left home to get bunk beds for his three children and was murdered on the street. His body was sent to Pakistan. His "children" – the eldest, Noreen, followed by Kausar and Aisha – were orphaned and watched his funeral on VHS. The three were brought in by an uncle so terrifying that his name was crossed out. He steals their father's inheritance and their government's checks, passing it all on to his two white sons in a wealthy suburb. Under the inconsistent tutelage of their often cruel but sometimes warm uncle, the siblings raise each other as painful and imperfect "mother-sisters".
Asghar is a poet and screenwriter best known for their poetry collection If they come to us (about the 1947 Partition of India and Pakistan), co-creator of Emmy Award-nominated web series Brown skin girls, and more recently writer and co-producer for Ms. Marvel. When we were sisters is their first novel, but they learn about orphanage, orphaned by both parents before they are 5 years old (their mother fled Jammu and Kashmir after the violent Partition). They wrote the novel from a place of pain and isolation, but the finished work pays homage to makeshift families and alternative communities. "One thing that I have learned through my life is that community is beautiful and transcendent. It transforms. It changes. It grows," Asghar said. Infused with vignettes and poetic interweaving, the novel constantly transforms the shape of Kausar's new families – whether with temporary "aunts and uncles", sisters, cousins ​​in the tender moment or their lover. No structure, even between siblings, is fixed. Asghar wanted to pivot away from the prevailing orphan tales, in which ragtag siblings come together and form an "ideal family."
There is no idealism in When we were sisters. Shared hurt destroys relationships as much as it strengthens them. Monsters are not only monster; they are the object of their own devil. Asghar said: "I wanted to show how close brothers and sisters can be, how dysfunctional they can be, and what happens when they break up. "As older characters, they need each other but in a way they are almost strangers. Yet they know each other so deeply and deeply."
In the book's afterword, you mention that you wrote it during an isolated period. What is your inspiration?
I started writing the book in 2018. I went through a period of extreme rejection and felt a lot of heartache for abandonment. In this super low moment, I started going to the page and writing. I don't know what I'm writing. I let the characters and textures reveal themselves to me. It was a dark moment in my life. All I have is writing. It really helped me move out of that space. Exploring the wounds I went through as an orphan, I had to explore the question of how lonely I was of my own making. What does it look like to you in a story about your own loneliness? The book helped me get out of that for a bit.
You are a poet and have written a web series, produced and written for television. What's it like to switch to the format of a novel?
Honestly, it was one of the hardest artistic endeavors I've ever done. I wrote a lot of genres but never fiction. Poetry and even screenwriting have elements that I've always felt very collaborative about. When you write poetry, you read; you do with open mic for your community or publish them individually. This process is not that. Very few people have laid eyes on this novel, and creating something that requires such tranquility and isolation is distinct and difficult. But it's one of the most productive art projects I've ever worked on. Basically, I felt like a different artist by the end of the process.
Throughout the novel, Kausar searches for new configurations of family and love. You have written about being orphaned in previous works. What are the challenges of the makeshift family and are Kausar's experiences synonymous with yours?
This book addresses both the beauty and the dangers of the makeshift family. You see Kausar struggling with inconsistency: There are moments, Oh my God, we're a family, and it's beautiful! But then, like, Wait, this is really hard and I can't rely on anyone here. Kausar realized that they couldn't rely on their aunt and uncle there, because they had already left. They can't really rely on their uncle, their guardian, because he's so inconsistent. Then there is excessive trust in siblings, but what happens when siblings fall out or get stuck?
What you see is a character that exists in an extreme situation trying to figure out how to live in this world, how to be and how to love, when there is so little in your life. they are consistent. There are a lot of people who don't know that struggle. But there are others who have experienced different systems of care, whose families are not traditionally recognized by the state as "family" – creators of alternative structures. That's what the main character is up against. Sometimes they can access feelings of love, care, and community, and sometimes they feel distant from them. There is definitely an overlap between my life in this book. It is fictional, and these siblings are not my brothers and sisters, but there are certain facts and sentiments that are deeply true.
Complicated sibling relationships, including motherly sisterhood, are at the heart of the story. We see the traumatic breakup in three ways between Noreen, Kausar and Aisha. We felt the ghosts of the uncle's children – brothers and sisters who benefited from that grief. How did you develop those relationships?
Many of my relationships are complex, and very few of them are static or set in a conceivable society. Talk to any weirdo, and they have a bunch of friends with whom they may have been in a relationship. Our friendships, communities, and relationships flow more smoothly in ways that traditional society has not fully adapted or understood. For me, this book is about all sorts of fuzzy and layered relationships. I already have the silhouette of my parents in my brothers and sisters. I predicted it on them, and they acted that way. I had friends who were like siblings and related to people who were not related by blood but treated me like their own child.
These things are correct in my world but there is no "legitimacy" in society. Even with the uncle and niece relationship – they are not his children, but they are his kind of children. His sons are the beneficiaries of their grief, but humans are the beneficiaries of their ancestors' decisions. It's hard, because it's not really their decision or fault, it's theirs to be beneficiary. What do you do with it? It happens to all of us in different ways. What we inherit and what we don't inherit is an interesting question to ponder.
Tell me about your decision to remove your uncle's name from the text and about his creation. He has a lot of duality: He can be abusive and exploitative, mysterious and scary, but gentle and small. He then opens up to Kausar about his Partition injury.
A lot of times, when we think of people who are potentially abusive or have caused harm, we talk about them as if they were monsters and level them. What we really miss is bad. I don't want to speak for anyone, but I don't think that monstrous idea does any good. It's a way of dehumanizing. That doesn't mean that abusers deserve all of this humanity, especially when they are not held accountable for what they have done or have hurt vulnerable people, but it is important. The important thing is that this character is not one-sided. I wanted to evoke his fear, but I didn't want that to be his only tone. It was important to me to include his tender moments with Kausar. He's alluding to a larger history that Kausar doesn't know about and they never will.
In most of my experiences with abuse, the really complicated experiences include bad moments but also good moments that feel like, Oh, maybe I can root for this person. If someone was just a useless person, you could easily become someone like this, I don't want to have sex with them. But if they show you good possibilities, you can stay in the relationship longer, believing something can happen when it really hurts you. That's the tension I'm trying to capture. Kausar is really trying to get family together, and this person is, in some ways, closest to that, even if he's horrible to them and their siblings.
The uncle called the children "prostitutes" when they were young and was seen talking to the boys, embarrassing them sexually before any of them discovered their identities. What do you think the impact of that shame is?
They're being embarrassed before they know what's going on. The uncle was asking Noreen about having sex, and Kausar was watching, like, I don't know what this is, but I know it sucks. I don't know how to fully talk about it. When someone is shamed too soon, it quickly leaves them vulnerable to sexual violence and at risk. There is no way out to grab or even know what your body is, what is touchable and what is not. Kausar doesn't have the language for it when they get into situations that don't feel right, but they've been so embedded in shame that they can't even talk to people to help realize it.
The book explores how makeshift families and even biological families end up and fall apart. In the end, Noreen, Aisha and Kausar are somewhat alienated from each other. How did you approach that?
For me, the experience of having siblings is one of the Damn, at one point we shared the same skin. Then you grow up and have your own life, even if you're still together. There is an element of, Oh my God, it feels like we're the same person, and now we're not the same person anymore. You make a decision that I disagree with. I make decisions with which you disagree. It's part of being a sibling and growing old. These relationships are fascinating and complex, multi-layered, and unbelievable in their breadth. When you think about the effects of trauma, it's the response: I don't want to deal with this that has happened to all of us. I will remove anything that reminds me of it. I just want to be able to live my life the way I want.
There are many stories of Western orphans where brothers and sisters, despite all difficulties, stick together and make it successful and become this ideal family. I wanted to explore what happens when you're not taught what family means and try to do just that. A lot of the time, it's not ideal. It messed up. It's complicated. They both end up having really different relationships, but that's okay. You can feel how much love they have for each other. Love seems different to different people. You don't always have to care about each other.
This interview has been edited and condensed.
https://www.thecut.com/2022/10/fatimah-asghar-when-we-were-sisters-book-interview.html Fatimah Asghar on 'When We Were Sisters' & Orphanhood