FDA approves new drug to treat menopause hot flashes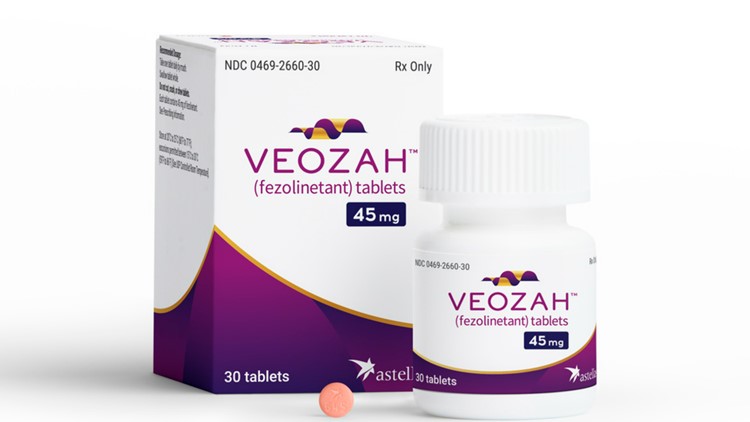 Drugs are not hormones. It uses a new approach that targets brain connections that help control body temperature.
WASHINGTON — U.S. health regulators on Friday approved a new drug for women to deal with uncomfortable hot flashes caused by menopause.
The Food and Drug Administration has approved Astellas Pharma's once-daily medication to treat moderate to severe symptoms, which can include sweating, flushing, and chills.
Astellas' drug, Veozah, uses a novel approach that targets brain connections that help control body temperature. The FDA said the drug would provide "a safe and effective complementary treatment option for women," in a statement.
The FDA notes that more than 80% of women experience hot flashes during menopause, when the body gradually produces lower levels of reproductive hormones between the ages of 45 and 55.
The most common treatment includes hormonal drugs that aim to increase estrogen and progestin levels. But this treatment isn't right for some women, including those with a history of strokes, blood clots, heart attacks, and other health conditions. Large studies have found that hormones can increase the chance of those problems recurring, although the risks vary based on a number of individual factors.
The new pill is not a hormone. It carries an FDA warning about the potential for liver damage. Women will need to be screened for liver damage or infection before receiving a prescription, then have blood tests every three months for nine months to monitor for safety issues, according to the FDA's label.
Astellas said the drug would cost $550 for a one-month supply. That's the price excluding insurance and other discounts typically negotiated by insurance companies and pharmaceutical benefit managers.