Fentanyl exposure study finds no 'health risk' for transit riders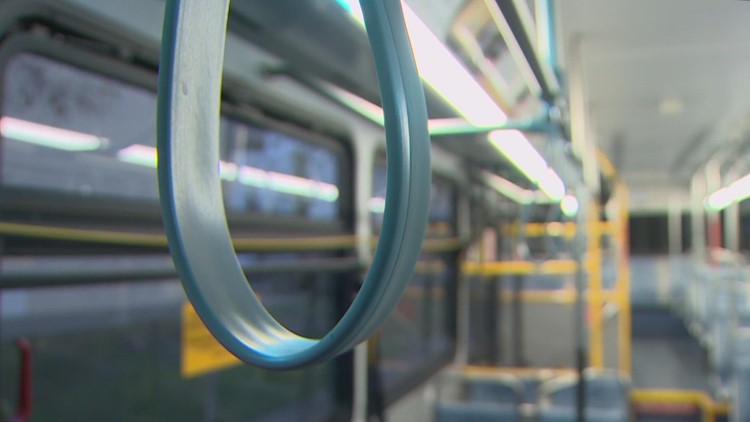 A UW research team collected air and surface samples for fentanyl and methamphetamine from a total of 11 buses and 19 train cars over a 28-day period.
SEATTLE – University of Washington (UW) released Thursday its final report in a first-of-its-kind study of the potential impact of drug use on the transportation system in western Washington.
According to the report, a UW research team collected air and surface samples for fentanyl and methamphetamine from 11 buses and 19 train cars.
The four participating transit agencies identified routes, runs and times of day when controlled substance use is most likely to occur, the report said. Samples were collected over 28 nights from March 27 to June 22.
UW researchers analyzed results from 78 air samples and 102 surface samples. According to the report, of the 78 air samples, 20 (25%) were detectable for fentanyl and 100% were detectable for methamphetamine. Of the 102 surface samples, 47 (46%) had fentanyl detected and 100 (98%) had methamphetamine detected.
Overall, the levels of methamphetamine and fentanyl found were unlikely to cause acute, short-term physical health effects in cyclists, the report said. The report said it remains unclear whether long-term, continuous exposure poses risks to worker health – such as operators working 40 hours a week may face.
The UW research team concluded that although there are no enforceable state or federal regulations for exposure to methamphetamine or fentanyl in the workplace, occupational health and safety standards Related actions may be applied.
For example, the Environmental Protection Agency's occupational exposure guideline for airborne fentanyl is 0.1 micrograms of fentanyl per cubic meter of air, which was exceeded by one in 78 air samples collected.
The Washington State Department of Health's methamphetamine decontamination guideline is 15 nanograms of methamphetamine per square centimeter, which two of the 102 surface samples collected exceeded.
The research team has made recommendations to help reduce the risk of indirect exposure, including improving ventilation and air filtration systems, increased cleaning measures and additional operator training.
The researchers emphasized the mental health of operators, especially for those in recovery or who may have experienced trauma related to drug use.
"Work environments that include drug use and drug smoke can make it difficult for trucking operators to do their jobs," said Marissa Baker, a UW assistant professor of environmental and occupational studies. them more safely and effectively, regardless of the level of exposure operators may encounter." health sciences co-chaired the review. "This study is important because it draws attention to the stressors and exposures these essential workers face."
Participating transit agencies said they have begun making changes to reduce the risk of indirect exposure for drivers and operators.
Sound Transit says it is taking a number of steps to enhance safety and security, some of which are already underway, including enforcement of a transit code of conduct, routine cleaning more advanced and improved filtration on light rail vehicles.
"We are all relieved to hear from public health officials that the study results show there is no public health risk to transportation and we will continue to issue regulations," said Julie Timm. measures to continuously, proactively and equitably improve our safety and environmental conditions". , CEO of Sound Transit.
King County Metro said its transit security staff is budgeted to increase to 140 people and will work to prevent or deter drug use. The agency said it is in the process of converting the remaining 448 buses from MERV-11 to MERV-13 ventilators in the coming weeks. The agency's goal is to increase its cleanup activities.
Community Transit and Everett Transit say they are making similar changes in air filtration and cleaning methods.
The study was commissioned by Sound Transit. King County Metro, Community Transit, Everett Transit and TriMet following operators' concerns about exposure to methamphetamine or fentanyl.