Fernando Villavicencio: Ecuador presidential candidate assassinated ahead of elections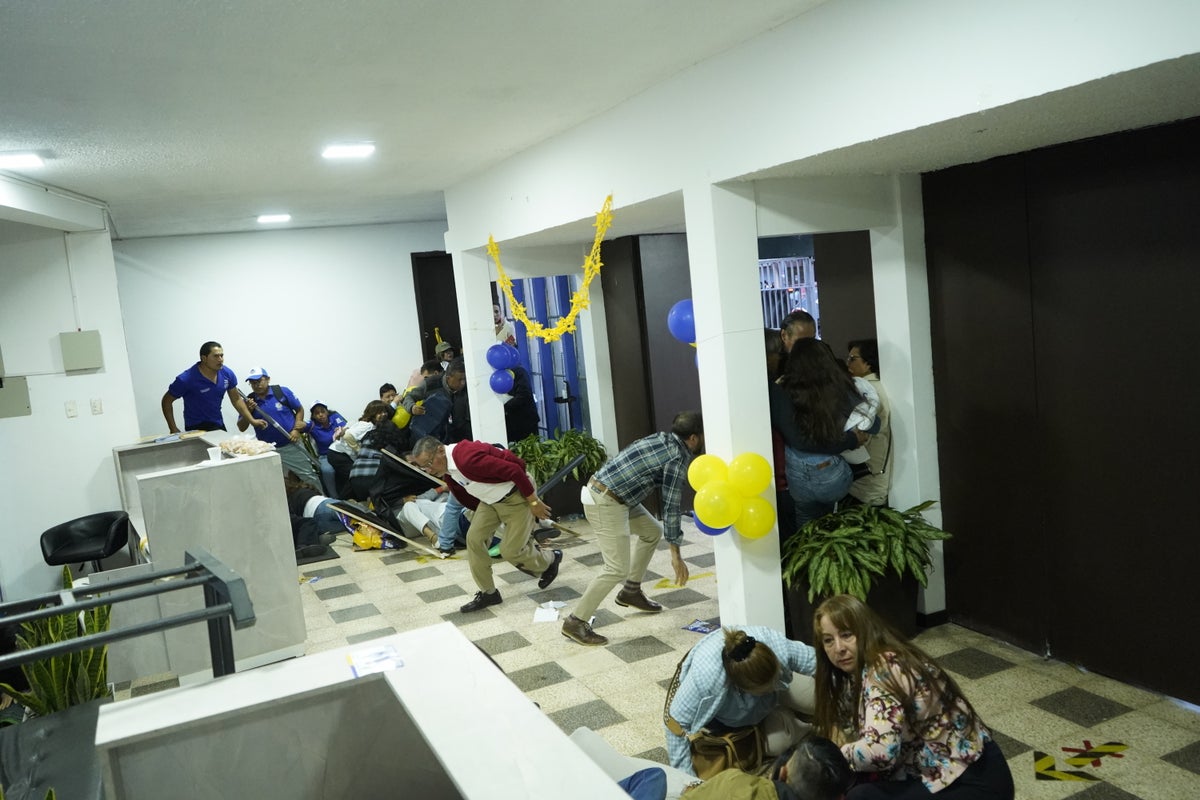 Ecuador's presidential candidate Fernando Villavicencio was shot dead as he walked out of a political rally in the capital just days before the elections amid rising gang violence in the South American country.
The latest video showed Villavicencio, 59, surrounded by supporters and being escorted to a vehicle by security guards when shots rang out.
Several shots were fired as panicked people ducked for cover screaming.
President Guillermo Lasso said he was "outraged and shocked by the assassination" and blamed organized crime for the killing.
"I assure you this crime will not go unpunished," Lasso said in a statement. "Organized crime has gone too far, but it will feel the full brunt of the law."
"For his memory and his struggle, I assure you that this crime will not go unpunished," he said.
A suspect in the assassination was killed in police custody from wounds sustained in the gun battle that followed the killing, Ecuador's Attorney General's Office said.
Around six suspects linked to the murder were also arrested during raids in Quito.
At least nine other people were injured in the shooting, including officials and a congressional candidate in what authorities described as an "act of terrorism."
The killing of Villavicencio, a former journalist known for speaking out against drug cartels and corruption, comes amid a shocking rise in violent crime in Ecuador, where rival drug trafficking gangs continue to carry out mass killings in prisons and homicide rates have more than doubled recently 2 years.
Days before his assassination, Villavicencio alerted authorities that he had received multiple death threats, including from affiliates of Mexico's Sinaloa cartel.
The cartel is one of many international organized crime groups currently operating in Ecuador.
In his last speech before his assassination, Villavicencio vowed to a cheering crowd to root out corruption and jail the country's "thieves".
He had said his campaign posed a threat to organized cartel groups.
"Here I show my face. I'm not afraid of them," Villavicencio said in a statement, calling jailed crime boss José Adolfo Macías by his pseudonym "Fito."
His uncle Galo Valencia gave an emotional speech at the scene of the shooting and accused the state of not giving his nephew enough security.
He said he initially believed the gunfire was firecrackers fired by his supporters, until "we saw there was wounded, blood and people hurt."
"What we saw was like a horror movie. The death of my relative. I have no words for what is happening in the country. They just killed democracy," he said.
"The uncertainty we live in… when a man who has fought for more than 20 years, who is most likely to win the election, is silenced. Is that the way to win elections?"
Villavicencio was one of eight candidates running in the August 20 presidential election. While not the frontrunner in the race, he had emerged as one of the country's most critical anti-corruption voices, particularly during President Rafael Correa's 2007-2017 administration.
Following Mr Lasso's decision to dissolve the National Assembly by decree in May, a snap election was called to avoid a possible impeachment hearing over allegations that he failed to take the necessary steps to fix a flawed contract between a state-owned oil transport company solve companies and a private tank company.
Villavicencio's fellow candidates and politicians expressed remorse, while his supporters lost hope for a country free of corruption and drug cartels.
Former Vice President and candidate Otto Sonnenholzner said in a press conference following Wednesday's murder: "We are dying, drowning in a sea of ​​tears and we don't deserve to live like this. We demand that you do something."
One of his supporters, Ida Paez, said Villavicencio's electoral campaign gave the country hope to overcome the gangs.
At the rally, she said: "We were happy. Fernando even danced. His last words were: If someone messes with people, they mess with my family."
Edison Romo, a former military intelligence colonel, said the anti-corruption complaints made Villavicencio a "threat to international criminal organizations."
Villavicencio leaves behind a wife and five children.