Film review: 'The Beanie Bubble,' with Zach Galifianakis, plunges into a plush toy '90s craze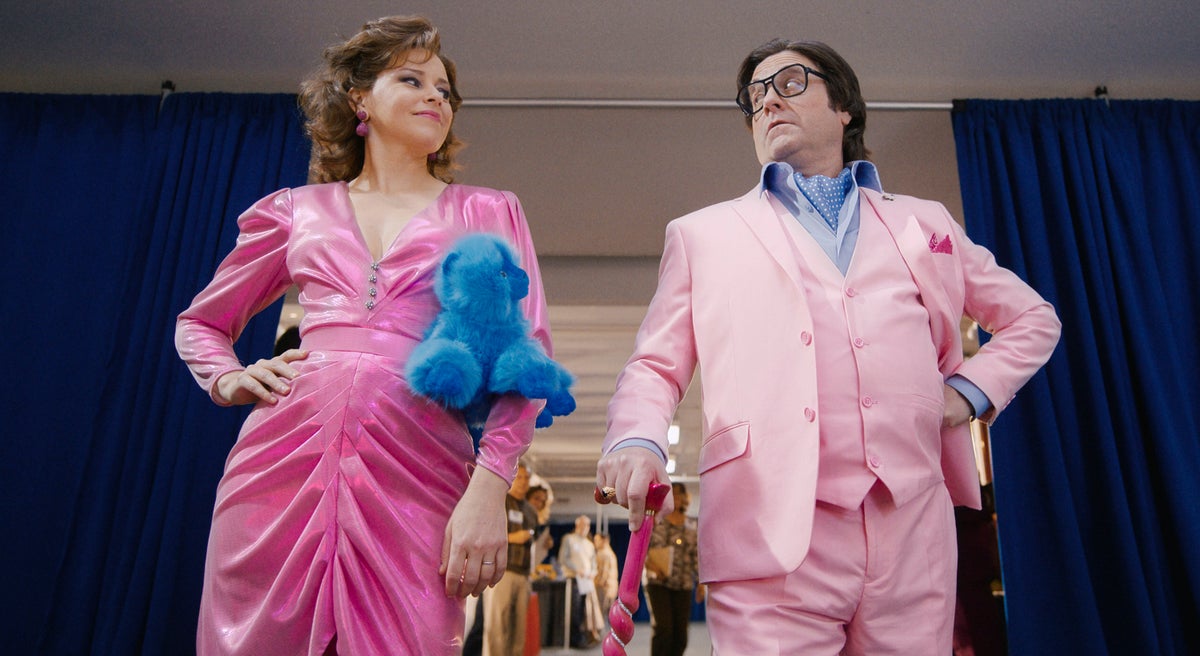 Who knew so many movie ideas could be found while rummaging through your attic?
This year we've had movies on Tetris ( "Tetris" ), Nike ( "Air" ), Blackberry ( "Blackberry" ) and Cheetos ( "Flamin' Hot" ). The latest is "The Beanie Bubble," a comic drama about the Beanie Baby craze of the 1990s.
We once debated the ethics of product placement in movies — now the product IS the movie. It may not say entirely wonderful things about our capitalistic society that we're pumping out big-screen movies and streaming-service content that exalts the stories behind snacks, sneaks and stuffies.
"The Beanie Bubble," which lands on Apple TV+ Friday, may be part of a '20s trend but its interest is unpacking a late-20th century phenomenon and the some of the women exploited along the way. Zach Galifianakis plays Ty Warner, the chief executive of Ty Inc., the maker of the stuffed animals that — thanks to a few ingenious innovations and lucky twists of fate — became, as one character says in the film, "little plush lotto tickets."
With a softer, under-stuffed design, limited editions to drive up demand and the help of the then-nascent online second-hand market of eBay, Beanie fever took hold before, a few years later, dissipating as fast as it began. "We didn't set out to make America lose its mind, but that's what happened," says Warner's business partner Robbie (Elizabeth Banks).
The backdrop is full of Clinton-era kitsch. But "The Beanie Bubble" — a first feature by a pair of people with first-hand experience with the early days of the internet: Kristin Gore, daughter of Al, and Damion Kulash, lead singer of the band OK Go — is most concerned with a triptych of stories about the women who helped foster the Beanie craze but whose contributions were co-opted by Warner.
They unfold in parallel storylines. There's Banks' Robbie, a friend and Ty Inc. co-founder who finds herself pushed out once success arrives. There's Sheila (Sarah Snook), a single mother of two who's initially won over by Warner's charisma and playfulness with her children, only to eventually discover a warped, immature side to him. And there's Maya (Geraldine Viswanathan), a young Ty Inc. hire who presciently leads the company's lucrative dive into the internet yet is kept on an hourly wage.
The script, by Gore, comes from Zac Bissonnette's 2015 book, "The Great Beanie Bubble: Mass Delusion and the Dark Side of Cute." (Warner was convicted of tax evasion in 2013.) In mixing up the Beanie Baby timeline to play out each storyline simultaneously, "The Beanie Bubble" needlessly complicates itself. But it also makes a compelling reflection of history repeating itself.
Robbie, Sheila and Maya all follow the same arc: Initial infatuation followed by the harsher onset of reality. It's the same story for the Beanie craze, and, as the film notes in a montage, countless other bubbles that have come and gone. America, it's said in the film, is "the land of comebacks and second chances." Here, that means an excuse for betray one woman after another.
While those historical corollaries are neat enough, it also makes "The Beanie Bubble," well, kind of repetitive. Gore and Kulash's film is far from the first to follow such ups and downs. Outside of some easy irony given the cuddliness of the product at hand, there may not be enough that makes this iteration of such a familiar cycle especially interesting.
What keeps "The Beanie Bubble" from bursting, though, is the likability of its central performers. Banks, Snook and especially Viswanathan are all terrific comic actors who individually capture the exasperations of women fed up with an egotistical adolescent executive. And Galifianakis gives perhaps the best non- "Between Two Ferns" performance of his career. His Warner is a man whose charm, and face lifts, steadily peel away. In Galifianakis' long line of man-children, he's the biggest baby of them all.
"The Beanie Bubble," an Apple Studios release is rated R by the Motion Picture Association for language. Running time: 110 minutes. Two stars out of four.
___
Follow AP Film Writer Jake Coyle on Twitter at: