Fin Smith targets England debut next year having caught Steve Borthwick's eye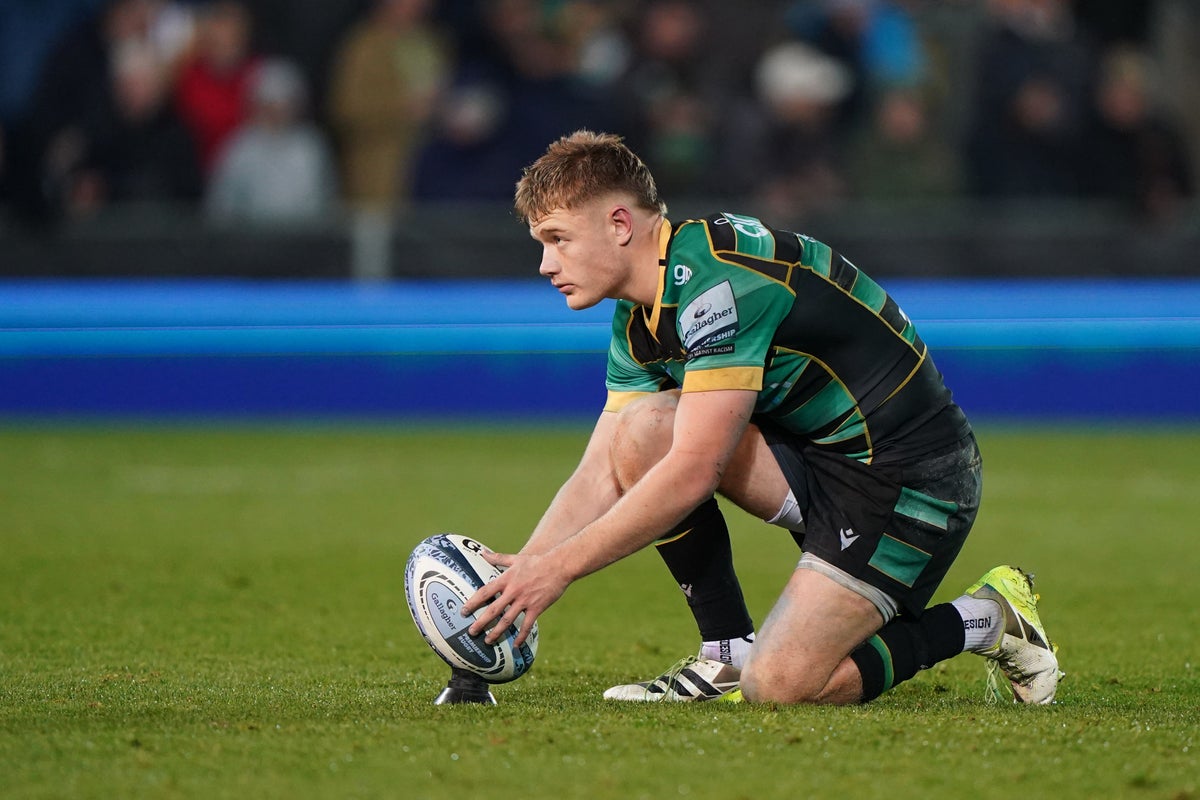 Fin Smith has his sights set on making his England debut next year, knowing he has already caught the eye of Steve Borthwick.
Head coach Borthwick was in attendance at Franklin's Gardens to see Smith orchestrate Northampton's 34-19 Gallagher Premiership victory over Exeter on Sunday with a classy man-of-the-match display.
The 21-year-old's pain, battered and bruised from attacking the Chiefs' defence, was eased by the recognition of the man he had to convince.
"At one point I saw Steve on the big screen and thought 'Oh shit!' "He sent me a nice message after the game saying he thought it went well, which was good," Smith said.
"I set myself a few goals at the start of the season and at the top of that list was to play one cap for England this season.
"It's a cliché answer but I have to make sure I'm doing well for my club and hopefully the recognition will come from Steve."
Smith is also eligible for Scotland through his parents but is keen to play for England having been included in the extended training squad for this year's Six Nations and World Cup.
Although his first cap is his immediate goal, he realizes the presence of Owen Farrell, George Ford and Marcus Smith means competition for the Red Rose's number 10 jersey has never been greater.
"I have some brilliant fly-halves ahead of me in Owen, George and Marcus, but if the opportunity arises I would be delighted and more than willing to go," said Smith, who joined following Worcester's financial collapse last season switched to the Saints.
"I have to keep working on so many things to get to the level of Owen, George and Marcus.
"I just have to concentrate on playing well. If I am selected the selection would be great, otherwise I will just keep working hard. Hopefully I can do it at some point."
Smith completed three weeks of World Cup training camp before being left out of the squad due to staff reductions, but he left with a clear picture of what he must do to challenge the current pecking order.
"Steve gave me feedback that I have a strong kicking game and can manage a game quite well," he said.
"The way we play at Northampton traditionally is to move the ball and run a lot.
"Steve felt he hadn't seen as much of my kicking game when I played for Northampton, so he challenged me to find ways to control games with my kicking while continuing to find space, which is what he thought according to one of my greatest strengths.
"So I've worked really hard this season to find a balance between the timing of running and the things people associate with Northampton, but also when the opportunities are lacking, leaving the opponent a chip behind or one Trying to pressure myself to find grass with my boot."