Final review of the Eurovision Song Contest: Poe couldn't have written it better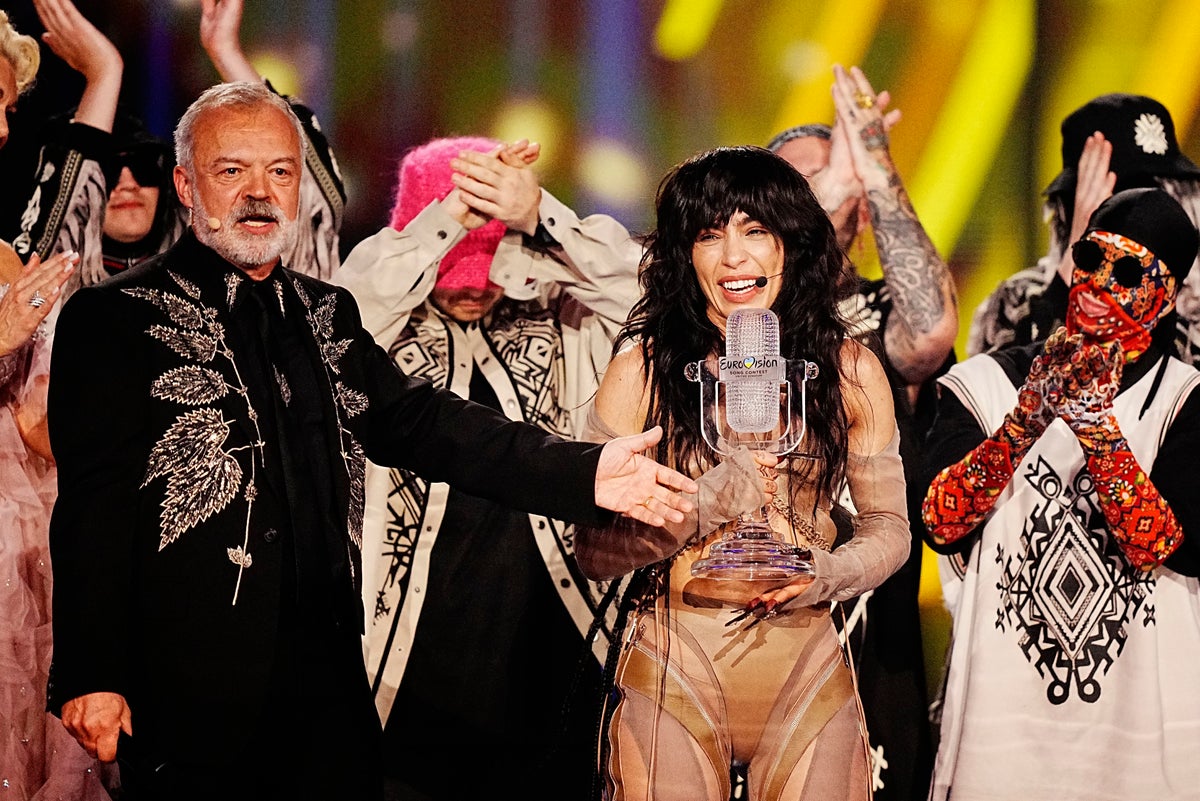 As the bucket hat-clad Yetis of the Kalush Orchestra open the event by re-enacting the winning song of 2022 'Stefania' and adding the Princess of Wales piano on video, there's that smell in the air, could it be… optimism? Because the rocket-voiced British hero-pop Afghan Hound, Sam Ryder, has (almost) exceeded this cynical author's expectations and (in a roundabout way) brought home the Eurovision Song Contest for 2023, the arrival of music all his own Crazy races comes with a rare sense of national celebration.
Apparently it suffers enough from its escalating isolationism – and its government is looking more and more like a special edition The wheel for self-serving incompetents – Britain has mercifully finally been rid of the bottom of the Eurovision chart. And the cheese-pop addicts of Liverpool's M&S Bank Arena, hosts for Ukraine, welcome the arrival of this year's contestant Mae Muller during the parade of flags like the second crowning glory of the month. "It hit me," says Mel Giedroyc as he watches as Graham Norton finally gets his turn on camera. "I'm emotional."
If Liverpool is the official musical epicenter of Britain, one would probably never have expected such aftershocks. The real competition begins with Austrians Teya & Selena strutting off an operatic rave pop song called "Who the Hell is Edgar," which is about being possessed by the ghost of Edgar Allen Poe, but still not in the Being able to pay the rent for the songwriting. Despite a masterfully deft nod to Spotify's cent-per-stream rate ("zero, dot, zero, zero, three"), Poe is unlikely to have had much impact on lyrics like "His brain is in my hands and it really moves." fast". However, he may well have curated much of the first half of the bill.
Serbian Byronesque Luke Black poetically rises from a grotesque mushroom patch to play out a battle in a tech-pop video game. With Albina & Familja Kelmendi, Albania have sent a hammer horror victim scene reworked as a Balkan anthem to divorce. Alika from Estonia tries to summon Adele's spirit 19 Album with the help of an enchanted piano. And Sweden has shipped in a secure box a female named Loreen, Earth-named, who appears to be the result of human crossbreeding with an EDM predator. "Blood on the head of your god, you cannot steal our souls," sing Vesna, the Czech Republic's fearsome electro-gothic coven, characterized by their yoga-friendly uniform and braids of hair so long you can walk with them on the floor can whip around the stage. Come back Subwoolfer, take that banana, all is forgiven!
Seriously, when did the Eurovision Song Contest get this far? dark? Most of the first participants are heartbroken, war-torn and/or actively longing for death. Andrew Lambrou, representing Cyprus amid catastrophic roof leak, 'bleeds to death' Another tormented great ballad singer, Swiss Remo Forrer, sings about a child who plays with toy soldiers only to end up growing up in a real war zone. "I don't want to be a soldier, I don't want to have to play with real blood," he howls, possibly out of solidarity with Ukraine or possibly here to encourage more Swiss neutrality in an upcoming Europe-wide conflict.
Over her chest-pounding, rock-fluttering flamenco show song Ai Coração, Portugal's mimicat translates as patient zero for a new Covid mutation: "My chest is burning, my mouth is dry…I'm dizzy and it's getting worse every day". And the French La Zarra, electropop musician Edith Piaf explains: "My heart, my hands, my eyes, my kidneys are no longer mine' as if she had recently been robbed for her vital organs.
The Spaniard Blanca Paloma stands out with "Eaea", a stunning performance that breaks countless Eurovision rules: ungoogleable title, art-pop staging, total lack of catchiness, lyrics as her grandmother's message full of symbolism (Monde). , Shrines, Death Again), inspired by the Spanish poet Federico Garcia Lorca. It's as if St. Vincent had become flamenco and arguably ushered in a new genre: post-vision. Otherwise, these translated lyrics act as a comedic counterpoint to all the soul baring. The impassioned bellows ballad "Due Vite" by Italy's Marco Mengoni – "the last song before the moon bursts" – has a refrain that appears to read, "We're a book on the floor in an empty house that resembles ours… We." screwed up another night out 'a club/thank goodness'. Which all sounds rather… I'm sorry, where is the moon going now?
Luckily the sight of Finland's rave-pop freak Käärijä – Keith Flint attitude, Hulk arms, Gavin out The office Haircut marks the arrival of that traditional part of Eurovision where you start to think the TV has been on drugs. Did we really catch a glimpse of Giedroyc from behind during a hookup, dressed as a Scandinavian milkmaid, pumping at a butter churn? Yes, yes we have.
New worlds are created from minute to minute. Australian band Voyager take us back to a cyber-metal future with rolled-up blazer sleeves, keytars and 1980s sci-fi sports cars. Possibly ringing in the first EDM track about a pagan wedding, Moldova's Pasha Parfeni is a Vlad the Impaler guy who rules over a Mordor full of horn-headed women and a dwarf Pan. In Alessandra, Norway has managed to find a mix of Charli XCX and Penny Mordaunt to sing their electropop Viking plunder song Queen of Kings, while Germany brings Lord of the Lost to Hell's supreme harpy and its thrash metal goblins has sent. And if someone can tell me what the hell am I doing during Croatian "anti-war song" Mama ŠČ! have seen? – the military-style drag queens! The rocket-wielding Rasputin! The piece in her pants! – My DMs are open.
In my opinion, the most likely to do a maneskin would be Joker Out, a bunch of camera-loving indie rock poses and Slovenia's most-streamed band, who appear to have forgotten their outfits and been forced to perform their souped-up Arctic Monkeys homage Carpe Diem dressed up into anything they could find in Eurovision's Lost Wardrobe section. But Liverpool's hopes of a home win are dashed by Mae Muller's tiger-tiger rendition of 'I Wrote a Song'. A harmless Latin pop tune, it's outclassed by the night's other pop artists like Israel's Noa Kirel, Poland's budget-friendly Britney Blanka, or Armenia's Brunette, whose Billie Eilish-esque Future Lover is lost like a happy hour hinge date changes to shrill lust and back again.
Indeed – after an intermission show featuring a 1993 cabaret performance by British representative Sonia and a borderline sacrilegious medley of Liverpool songs by previous contestants – it is indeed Sweden's pop xenomorph, making two hours of music that spans an impressive range of mainstream pop, winning the second time with Loreen. Poe couldn't have written it better.