Finland's Eurovision participation 2023: What do the lyrics to Käärijä's song "Cha Cha Cha" mean?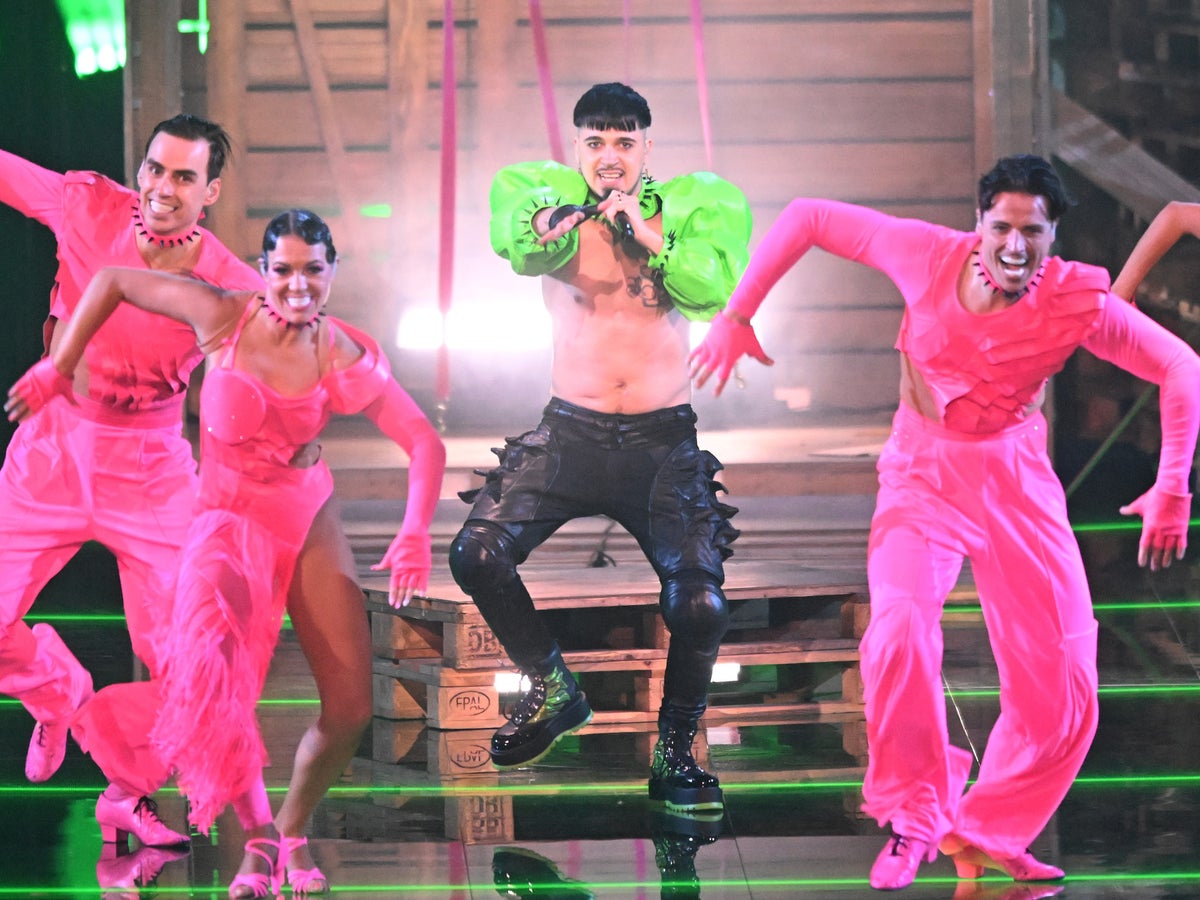 Finnish rapper, singer and songwriter Käärijä took second place in the 2023 Eurovision Song Contest.
Sporting a fashionable bowl cut and a neon green bolero, the experimental artist was one of 26 musicians to perform in the grand finale in Liverpool on Saturday (May 13).
After a thrilling showdown in the voting phase that saw Finland temporarily rocket to the top of the rankings, it was bookmakers' favorite Loreen who finally secured victory for Sweden for the second time. Loreen already triumphed in the 2012 competition with her hit "Euphoria".
Viewers are unlikely to forget Käärijä anytime soon, however, as the Finnish star delivered one of the most memorable moments of the evening – which also included a royal cameo for Kate Middleton.
Käärijä's crazy rendition of his song 'Cha Cha Cha' – performed with a cohort of pink-clad dancers – won over fans and earned Finland an exceptional 376 points in the public vote.
Follow our live blog for the latest Eurovision 2023 updates
Käärijä – real name Jere Pöyhönen – has been making music since 2014 and gained more fans after the release of his debut album fantasy in 2020. (Beware of doubles; the BBC awkwardly mistook a Eurovision superfan for the Finnish singer.)
His Eurovision entry, titled 'Cha Cha Cha', is characteristic of his cross-genre approach that blends rap, electronic music, metal and pop. Celebrating delicious pina coladas and refreshing pints, the track is a surefire party anthem.
"Cha Cha Cha" was co-written with his two friends, multi-platinum producer and songwriter Johannes "Kiro" Naukkarinen and producer Aleksi Nurmi.
If you are interested in what the Finnish text means in English, you can look at both the original text and the English translation (Courtesy of the official Eurovision website) under.
"Cha Cha Cha" (English)
This exhausting week and the many long days are behind us
All I can think of is bars and piña colada
There's still some time for a few, the night is young
I have to tear off this icy shell
//
Holding the drinks, both hands tied to it like a
Cha-cha-cha-cha-cha-cha-cha, no
There's no tomorrow when I'm grabbing a pint fest like a
Cha-cha-cha-cha-cha-cha-cha, no
I want to mess my head and clear my mind of fear like a
Cha-cha-cha-cha-cha-cha-cha, no
And I'll stay in this seat until I have to get off it
//
A few piña coladas that I devoured
But the look I have on my face is sour, yes, yes, yes, yes, yes
There's still some time for a few, the night is young
I have to tear off this icy shell
The ground is calling me when I'm not so frozen anymore
Like a cha-cha-cha I approach
//
Holding the drinks, both hands tied to it like a
Cha-cha-cha-cha-cha-cha-cha, no
There's no tomorrow when I'm grabbing a pint fest like a
Cha-cha-cha-cha-cha-cha-cha, no
I want to mess my head and clear my mind of fear like a
Cha-cha-cha-cha-cha-cha-cha, no
And I'm staying in this seat 'til I gotta get off it like a wow
//
I'm going to the dance floor
Like a cha cha cha
And this world doesn't scare me anymore
Like a cha cha cha
When I pour myself champagne, I pour it
//
Cha Cha Cha
One eye keeps turning too far
And talking is so hard when this other side of me is doing its part
Cha Cha Cha
I don't usually drop my guard, not me
But now I'm that guy, now I'm that guy
I go to the dance floor
Like a cha cha cha
And this world doesn't scare me anymore
Like a cha cha cha
When I pour myself champagne, I pour it
//
Like a cha cha cha
Cha-cha-cha-cha-cha-cha-cha-cha-cha
Like a cha cha cha
Cha-cha-cha-cha-cha-cha-cha
Cha-cha-cha-cha-cha-cha-cha
"Cha Cha Cha" (Finnish)
Rankka viikko ja paljon pitkii päiviä takan,
Mielenkiintona pina colada ja rata,
Ilta on many new and aikaa kumota,
That's all you need
//
You can't wait to do this
Cha-cha-cha-cha-cha-cha-cha, egg
En mieti huomista ku tartun tuopista niinku,
Cha-cha-cha-cha-cha-cha-cha, egg
It took so long for the time to pass
Cha-cha-cha-cha-cha-cha-cha, egg
Yes, I can't wait to bother my mom
//
Muutama Pina Colada on Jo Takana,
Silti mul on vielä naamataulu vakava, yes, yes, yes, yes
Ilta on many new and aikaa kumota,
Tää jäinen ulkokuori on aika tuhota,
Parqueti kutsuu mua ku en oo enää lukossa,
Niinku cha cha cha mä oon tulossa
//
We will help you to enjoy your vacation,
Cha-cha-cha-cha-cha-cha-cha, egg
En mieti huomista ku tartun tuopista niinku,
Cha-cha-cha-cha-cha-cha-cha, egg
We've been thinking the whole time that time's up
Cha-cha-cha-cha-cha-cha-cha, egg
Yeah you can't wait to change your mind
//
It ain't easy cha-cha-cha-cha-cha-cha-cha-cha-cha-cha-cha-cha-cha-cha-cha-cha-cha-cha-cha-cha-cha- Cha-cha-cha-cha-cha-cha-cha-cha-cha-cha-cha-cha-cha-cha-cha-cha-cha-cha-cha-cha-cha-cha-cha-cha- Cha-cha-cha-cha-cha-cha-cha-cha-cha-cha-cha-cha-cha-cha-cha-cha-cha-cha-cha-cha-cha-cha-cha-cha- Cha-cha-cha-cha-cha-cha-cha-cha-cha-cha-cha-cha-cha-cha-cha-cha-cha-cha-cha-cha-cha-cha-cha-cha- Cha-cha-cha-cha-cha-cha-cha-cha-cha-cha-cha-cha-cha-cha-cha-cha-cha-cha-cha-cha-cha-cha-cha-cha- Cha-cha-cha-cha-cha-cha-cha-cha-cha-cha-cha-cha-cha-cha-cha-cha-cha-cha-cha-cha-cha-cha[…]-Cha Cha…
Niinku cha cha cha kun ma kaadan päälleni samppanjaa,
//
Cha cha cha toinen silmä jo karsastaa, ja puhe sammaltaa ku tää toinen puoli must vallan saa,
Cha cha cha and oo arkena tää lousy laisinkaan, and oo mut tänään on se lousy, tänään on se lousy
//
It ain't easy, cha-cha-cha-cha-cha-cha-cha-cha-cha-cha-cha-cha-cha-cha-cha-cha-cha-cha-cha-cha-cha-cha-cha -Cha-cha-cha-cha-cha-cha-cha-cha-cha-cha-cha-cha-cha-cha-cha-cha and cha-cha-cha-cha-cha-cha-cha-cha-cha -Cha-Cha-Cha-Cha-Cha-Cha-Cha-Cha and
Niinku cha cha kun ma kaadan päälleni samppanjaa,
Niinku cha cha
Cha-cha-cha-cha-cha-cha-cha-cha-cha-aah
Niinku cha cha
Cha-cha-cha-cha-cha-cha-cha
Cha-cha-cha-cha-cha-cha-cha