Fisher-Price Rock n' Play, Kids2 sleeper recalls reannounced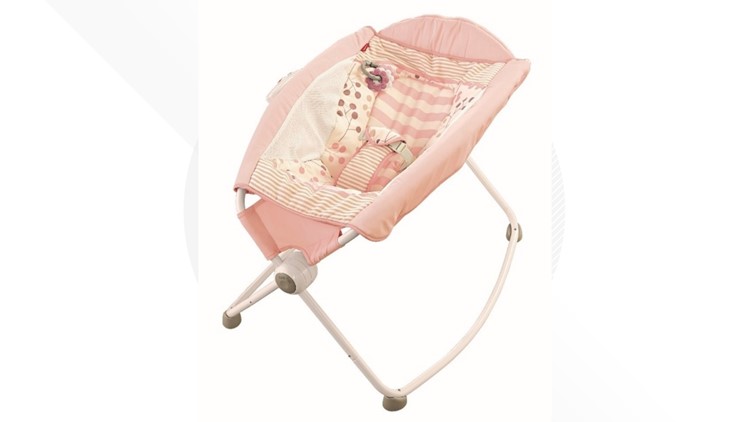 One recall, Fisher-Price Rock n' Play, is currently linked to about 100 deaths.
WASHINGTON — Consumer safety officials again warned parents on Monday of two 2019 infant sleeper seat recalls — Fisher-Price Rock n' Play and Kids2 Rocking Sleeper — for More deaths were reported after the recalls were announced.
Consumer Product Safety Commission Chairman Alexander Hoehn-Saric said in a statement: "We are making this announcement because, even though they are removed from the market and banned from being sold, children continue to continue to die in these products". He warned families still sleeping to stop using them immediately.
A new CPSC announcement says about 70 infant deaths have been reported since Fisher-Price's recall of 4.7 million Rock n' Play cribs in 2019. Most of those cases. occurred before the recall and reported afterwards, but some occurred later — when the products were already on the shelf.
Another announcement re-announced a smaller recall of the Kids2 Rocking Beds in 2019, covering a total of 694,000 beds. It said 11 reported deaths occurred before the recall and another four occurred after the recall was announced.
"Unfortunately, today's announcement highlights the fact that these products are still in too many families and babies continue to be at risk," says Hoehn-Saric.
Both recalls cover all bedding models sold online and at major retailers like Walmart and Target for years through April 2019.
According to the announcement, infants died in their sleep after they "rolled from a supine position to a prone or side-lying position when uncontrolled or under other circumstances."
It is illegal to sell or give away recalled consumer products such as bedding. Hoehn-Saric urged dealers and donation centers to ensure that they do not distribute the recalled products.
https://www.king5.com/article/news/nation-world/fisher-price-rock-n-play-kids-2-sleeper-recalls/507-a98b940c-2da7-472e-9626-ee365a3e74dc Fisher-Price Rock n' Play, Kids2 sleeper recalls reannounced