Fitbit Versa 3 review | Live Science
Fitbit has evolved its lineup of fitness trackers and smartwatches over time to offer a little something for everyone, and its Versa 3 has the potential to hit a great spot for most. everyone.
That's thanks to its very attractive price tag around $179.95 / £169.99, as well as a host of sensors that make it the ideal first smartwatch or fitness tracker. Sure, the Charge 5 is smaller (check out our Fitbit Charge 5 review to learn more), but the 1.58"/4cm display makes the Versa 3 much easier to read for just about anything.
Specifications
Software: Fitbit OS
Compatibility: iOS and Android
Battery life: About six days
Display: 1.58″ (AMOLED)
GPS: It's correct
Water proof: 5 ATM
A heart rate monitor: It's correct
Sleep tracking: It's correct
Plus, if you're less concerned with the stress tracking setup on the Fitbit Sense, it's a bit cheaper for almost the same set of features.
The Versa 3 can track your heart rate, temperature, blood oxygen level, and of course, your steps, calories burned and more, all for half the price of the Apple Watch Series 7. In fact, you can put those savings into a Fitbit Premium Membership, which can make a huge difference to your fitness goals and plans.
However, the Versa falls victim to the main shortcoming we have with other Fitbit-powered devices, which is that the offline music streaming feature isn't available unless you're using Deezer or Pandora.
Is it enough to earn a spot in our roundup of the best Fitbits? Here's what we made of it, after a few weeks of testing.
Price and release date
Released in September 2020
Cost $179.95/£169.99
The Fitbit Sense was launched in September 2020. It retails for $179.95 in the US and £169.99 in the UK, but can be found for slightly less. It comes with a free six-month trial of Fitbit Premium, which we will cover in this review.
Design and display
Easy-to-read 1.58″ AMOLED display
No physical buttons – only touch controls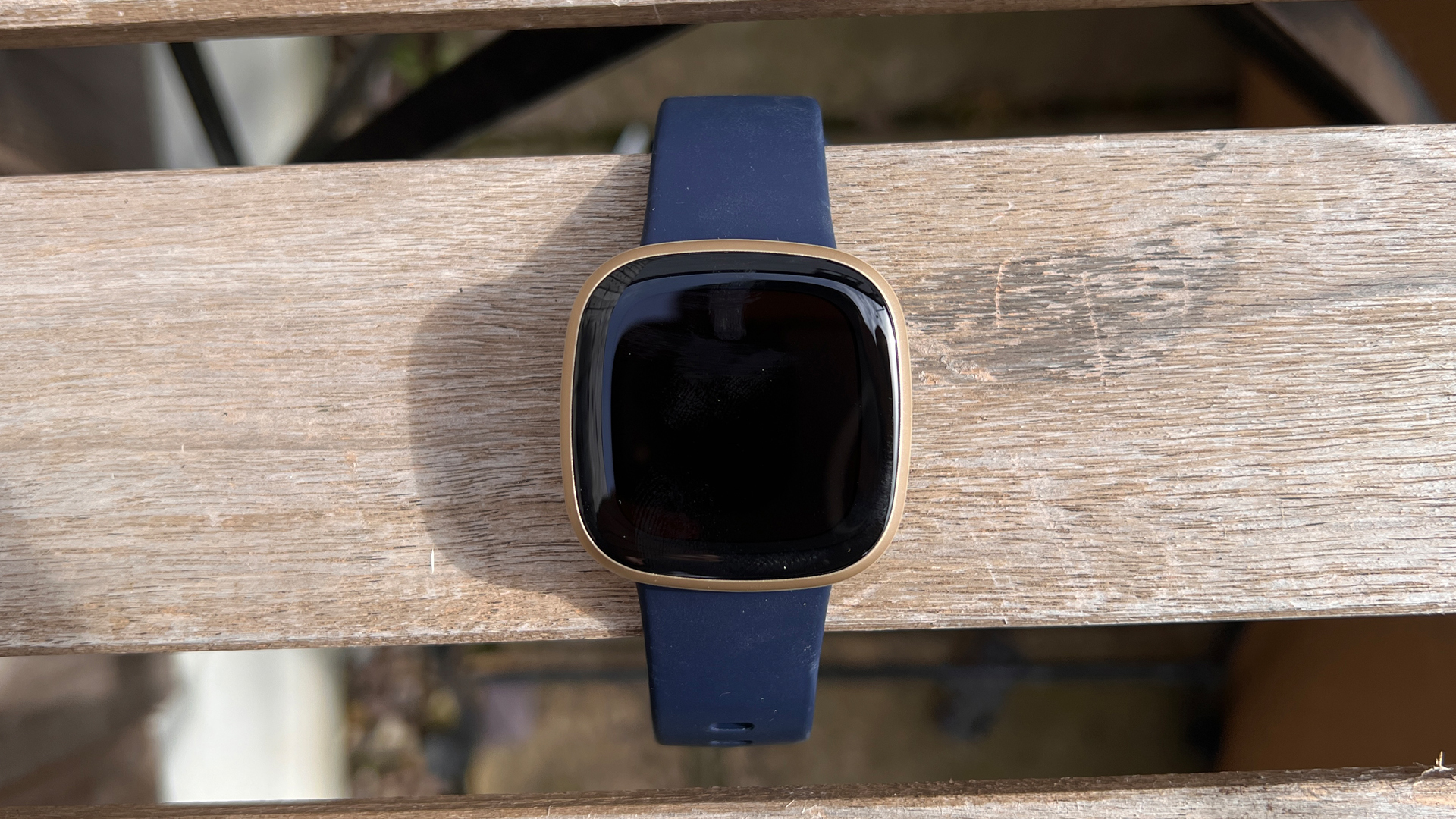 If you're coming to the Versa 3 from the Versa 2, you'll be surprised how familiar the design is. The two look almost identical, with the square design carried over to the Fitbit Sense by the manufacturer.
However, that's not a bad thing. The design is still low profile, which is impressive given the sheer number of sensors buried beneath its 1.58-inch display – which, by the way, offers a higher resolution than the Versa 2.
In terms of color, you'll be able to choose from Soft Gold aluminum (our review) or black aluminum. That may sound limited, but keep in mind that you can also customize your strap color and there are longer straps included in the box.
Straps can come in a variety of materials and colors, but the basic option included is an "infinity strap" that's essentially similar to Apple's "sports band." It's comfortable (we had to choose a larger option) and once you adjust it, it's comfortable enough to wear day and night.
As with Sense, there are no physical buttons. Instead, there's a touch-sensitive button that can invoke Alexa, which with a double press brings up four shortcuts to selected activities or data for you to use.
Fitbit may have started with a slim display, but the square panel here shows more information at a glance – be it steps, heart rate, or notifications from your connected phone.
It's also AMOLED, offering better contrast than the LCDs found on some fitness trackers, making it easier to read in direct sunlight.
Featured
Stress monitoring and SpO2 . monitoring
Daily readiness points available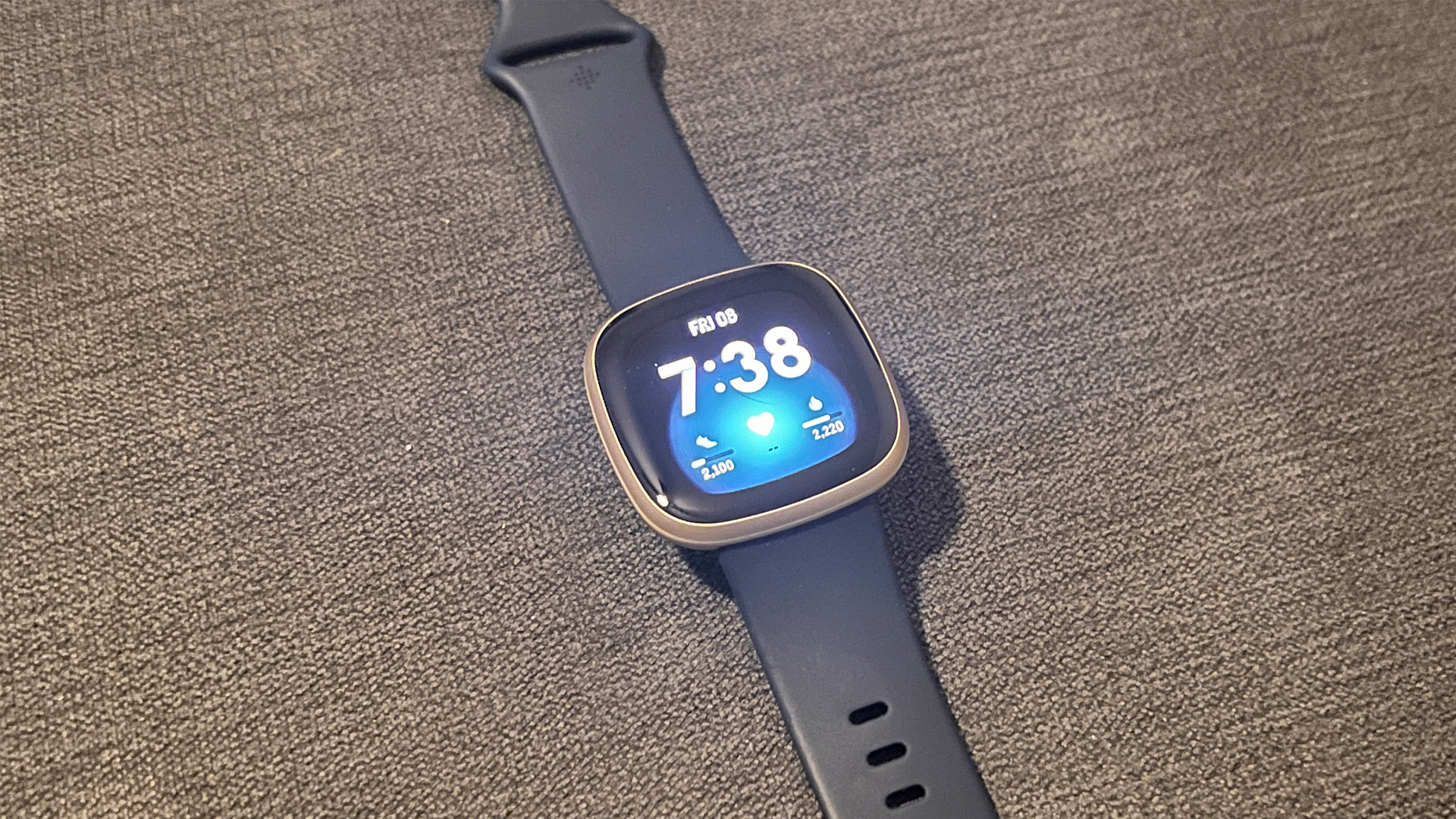 The spec sheets for the Versa 3 and Sense are, perhaps surprisingly, almost identical. That means almost everything from Fitbit's pricier model is available in the mid-range model, including water resistance and an impressive six-day battery life.
Downloading the Fitbit app on your iPhone or Android device will give you access to Alexa (there's no native support for Siri and it looks like Google Assistant is only available on Sense) and enable the bar feature. Fitbit math via Versa 3's NFC chip.
In terms of sensors, there's a fair amount to be involved. The Fitbit Versa 3 can track your daily activity, including workouts that are triggered manually or by automatic detection. Whether you're running, walking, hiking, swimming, cycling or otherwise, you'll be tracked calories burned, distance traveled and more.
There's also an SpO2 sensor, which allows you to monitor your blood oxygen levels while you sleep, as well as the opportunity to track your menstrual cycle.
You can also track stress levels, although the Versa 3 lacks Sense's EDA scanning feature to track stress through physiological means. Instead, it provides a questionnaire and tracks your sleep and heart data to build a stress score. While it works with less data than Sense, it can still be useful for identifying stressors.
Sense's electrocardiogram is also missing, but sleep tracking is also excellent. Fitbit really leaves a lot of competition, including Apple, behind, thanks to the device's excellent battery life and the way you don't necessarily check your sleep data, as it makes it to the Daily Readiness Score. your day (as part of Fitbit Premium).
Six months of Fitbit Premium are included in the box, which means you can take advantage of guided programs that not only include exercise but also sleep and diet. It's a solid option that retails for $9.99 / $7.99 per month or $79.99 / $79.99 per year after the trial period ends.
One of the best features, as mentioned before, is Daily Readiness Score. It eliminates some of the guesswork when making a choice between exercise or recovery, and is great for setting you up for success while also being able to adjust predictions if you're having a rough night.
Fitbit Premium isn't a prerequisite at all, but six months is more than enough time to see if it's worth your investment.
Performance
Good GPS tracking and heart rate monitor
Stable battery performance for six days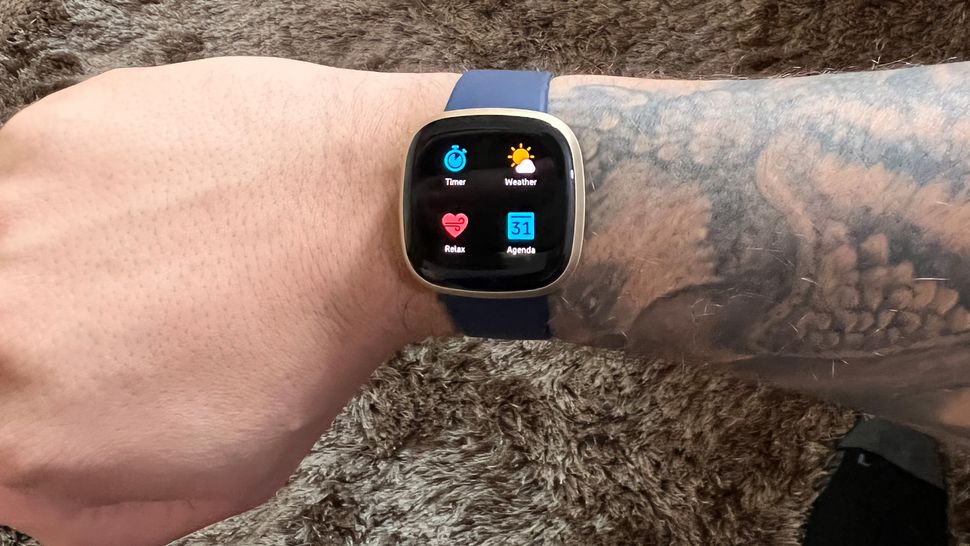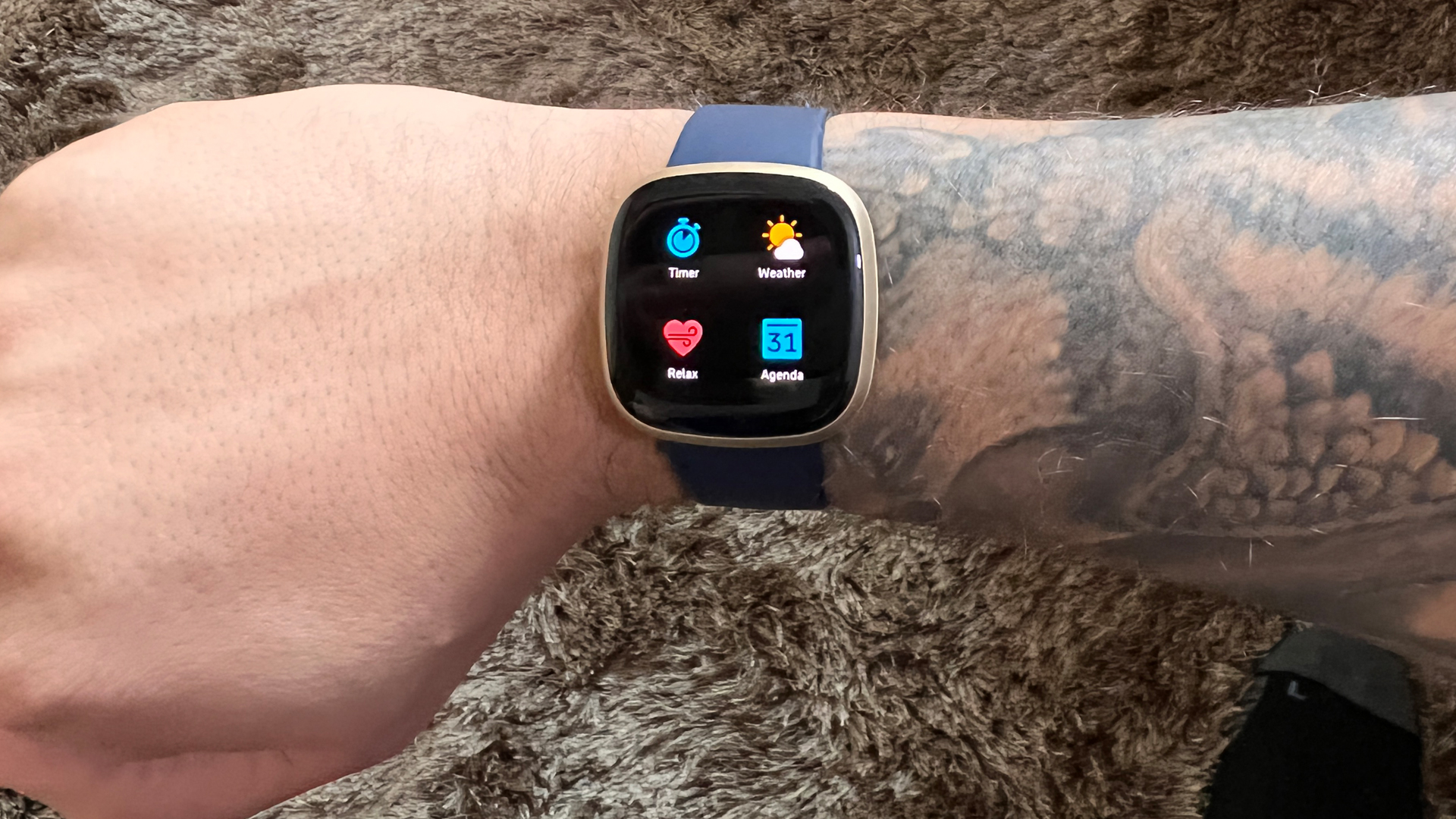 The Versa 3's big advantage over its predecessor, the Versa 2, is that (again, like Sense) it includes a built-in GPS. That means it can track a run, walk, bike or sack race (ok, we're kidding with that last race) automatically, without the need for an iPhone or Android device. by my side.
While there have been reports at launch of some confusing tracking numbers, we're happy to say that these appear to have been finalized. We tracked runs with the Apple Watch Series 7 (which costs significantly more) and found the steps tracked were almost identical, both walking and running.
When it comes to heart rate monitoring, the Fitbit tracks well both at rest and during workouts. The data generated matched that of the Apple Watch, and although there was no electrocardiogram, it did notify us when our heart rate dropped lower than anticipated. In fact, it told us before the Apple Watch did.
However, as we mentioned earlier in the review, you may still want to bring your phone. That's because the Versa 3, like the Charge 5 and Sense, doesn't offer the option to download music to it unless you're subscribed to Deezer or Pandora.
That means Apple Music or Spotify users, or even those who just want to listen to a podcast or two, will sadly have to carry their phones with them for the foreseeable future. Which is also a real shame, because without this caveat, we wouldn't hesitate to award the Versa 3 five stars. Music can be such an important motivator that its absence here (or at least limiting it to just two services) feels short-sighted. Thankfully, you can still skip tracks using the Versa 3's on-screen controls.
Finally, a note on battery life. Both the Versa 3 and Sense advertise a battery life of six days, and while the more expensive Sense's additional sensor range meant it got around five to five and a half days in our testing, the Versa 3 did lasts up to six days. Depending on your usage, that could be a big boon in favor of the Versa 3.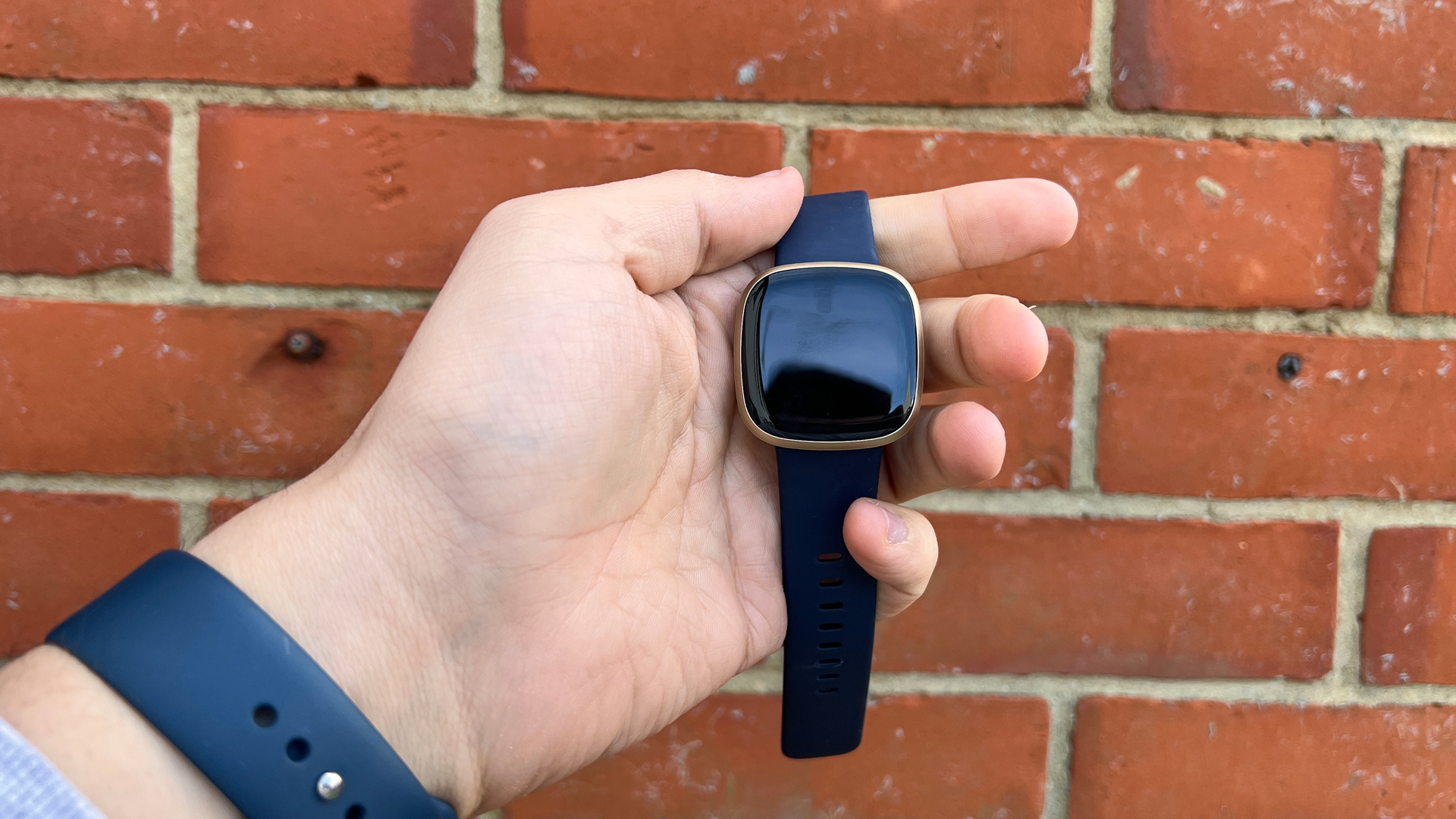 Identify
Music aside, it's hard not to recommend the Fitbit Versa 3 as a versatile smartwatch and fitness tracker. It's supposed to fall more into the second camp, focusing on sensors and data and a thinner all-in-one app suite than the likes of watchOS offers, but for the price it's really a great choice. .
Its battery life is exceptional, the display is bright and easy to read, and offers the GPS that was lacking compared to its predecessor to take things to the next level.
If this is not for you
If you're looking for even more data about your body, especially an EAC or stress-monitoring ECG feature, Sense might be for you.
However, if you're using an iPhone, you might want to invest in the Apple Watch because of more apps, Siri integration, and a larger screen (at least on the Apple Watch Series 7). However, doing so comes with a hefty price tag, and we'd still recommend the Versa 3 instead of the Apple Watch Series 3 not long for this world.
https://www.livescience.com/fitbit-versa-3-review Fitbit Versa 3 review | Live Science