Five Labour mayors join forces to derail Sunak's plan to axe HS2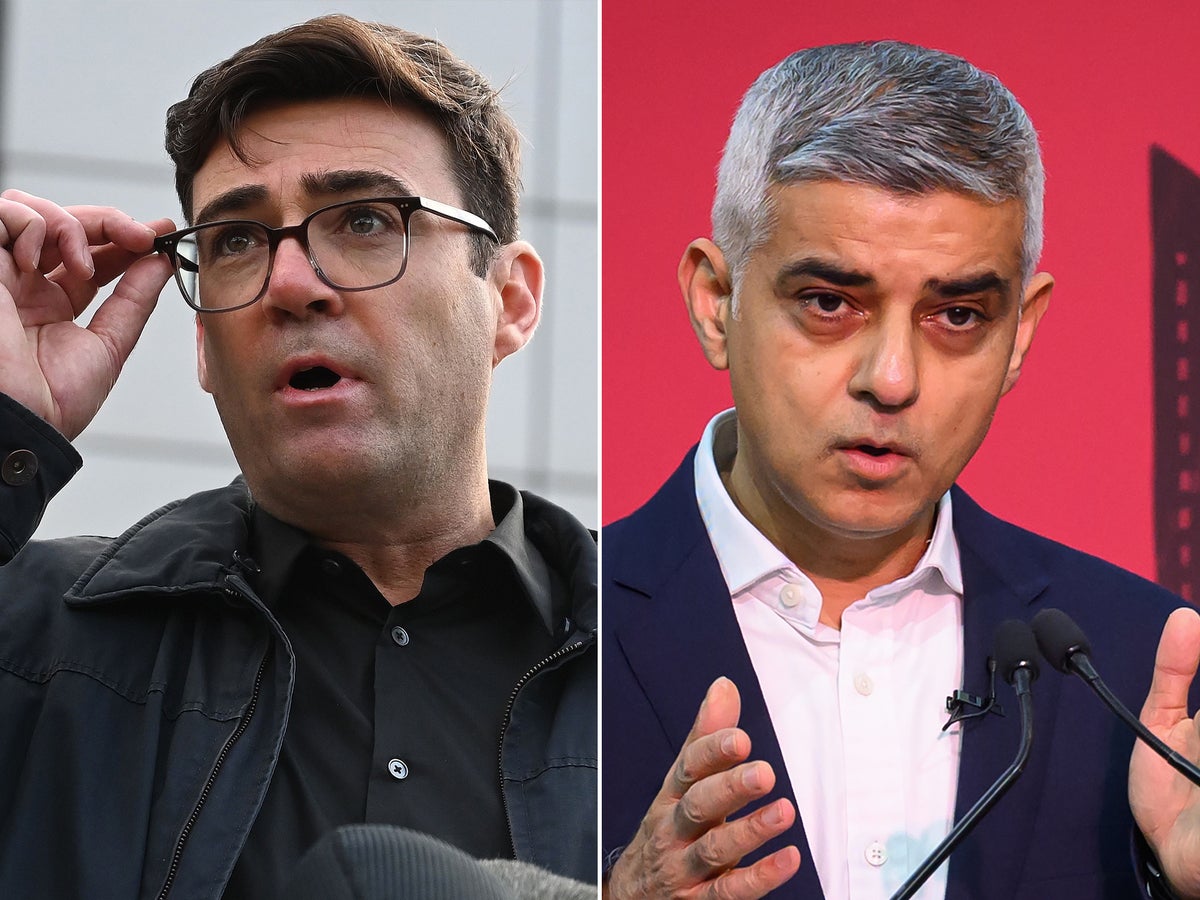 Five Labor mayors have joined forces to scuttle Rishi Sunak's plans to scrap or delay the northern section of HS2 – warning of huge "economic damage" across the country.
The Independent first revealed that the Prime Minister was in secret talks with his Chancellor Jeremy Hunt – the so-called "Project Redwood" – about scrapping the second phase of the project.
Labor mayors Sadiq Khan, Andy Burnham, Tracy Brabin, Oliver Coppard and Steve Rotheram jointly appealed to the Prime Minister not to make any further cuts to the ground-breaking high-speed rail line.
Local leaders – who are meeting with transport chiefs in Leeds on Wednesday to organize the opposition – warned that failing to deliver on HS2 would "leave large parts of the north with Victorian transport infrastructure that is no longer fit for purpose".
A joint statement revealed the five mayors have been "inundated" with concerns from voters about the potential "economic damage that will result from the decision not to fully proceed with HS2 and Northern Powerhouse Rail".
Mr Burham has already warned the government that his Greater Manchester authority could sue if the northern section of HS2 is axed, stressing: "We are not going to sit back."
Mr Sunak has faced major political backlash over reports he is considering axing the Birmingham-Manchester section of HS2 amid rising costs – with Boris Johnson and George Osborne among senior Tories warning the Prime Minister he should abandon the project not "mutilate".
The Prime Minister and Chancellor are reportedly considering the possibility of stemming the Conservative backlash by shaking up the Birmingham to Manchester route and delaying it by up to seven years.
There were signs he could announce a range of regional transport improvements to limit the political fallout – including bringing forward the Northern Powerhouse Rail between Manchester and Leeds.
Despite his rhetoric, Mr Burnham has suggested he might be okay with a delay if the Government commits to building an east-west route and a section of HS2 between Manchester Airport and Manchester Piccadilly.
Senior Red Wall Tories in the influential Northern Research Group have signaled they are prepared to accept a delay to the northern section of HS2 – as long as the Prime Minister commits to east-west rail projects known as Northern Powerhouse Rail.
Like Labor Mayor of Greater Manchester Andy Burnham, the NRG may reluctantly accept a delay to Phase 2 if the government commits to building the part of HS2 between Manchester Airport and Manchester Piccadilly, which would encourage east-west projects .
John Stevenson, chairman of the NRG, said The Independent: "HS2 is very important, but probably even more important is the east-west connectivity in the north of England." Both are growth drivers. In the best case scenario, both will be built, but if we have the choice, our priority is east-west."
"It is important that legislation continues to allow Northern Powerhouse Rail. This would allow HS2 to be carried out at a later date. I invested my tuppenceworth [with the chancellor]. I don't think final decisions will be made until after the conference."
Meanwhile, Transport for the North, the government-appointed body, passed a motion on Wednesday calling on the Sunak government to fully commit to HS2 and Northern Powerhouse Rail.
Henrietta Brealey, chief executive of the Greater Birmingham Chambers of Commerce, warned that ending the project would put 8,000 jobs at risk in the city. "It would be a colossal waste of money, undermining investor confidence and scuppering transport and redevelopment plans," she said The guard.
Several senior Conservatives, including former chancellor George Osborne and former deputy prime minister Lord Heseltine, have warned that scrapping the Manchester part of HS2 would be a "gross act of vandalism" and would "abandon" the north and Midlands.
On Wednesday, Culture Secretary Lucy Frazer said Mr Sunak and Mr Hunt were "listening to a variety of voices" on HS2. She told Sky News that the Chancellor "always takes the costs to the public sector into account when it comes to major infrastructure projects".
Ms Frazer also said Mr Hunt was considering high salaries for HS2 top bosses after it emerged more than 40 staff earn £150,000 or more a year. "It is important that we ensure taxpayers' money is used wisely," she said.
Mr Sunak has reportedly been warned that the price tag for the high-speed line could have risen to over £100 billion – although ministers have already decided to pause parts of the project and have even scrapped the Leeds line.
The Tories' London mayoral candidate Susan Hall said she would "obviously prefer" HS2 to go all the way to Euston rather than stopping in the capital's western suburbs.
Asked in an LBC phone call whether the Old Oak Common stop is what she wants for London, she replied: "No, that's not the case. And I want this to continue. Of course I do."
"But equally the government has to pay attention to how much it costs, and if they try to negotiate now with everyone saying, 'It doesn't matter how much it costs, it has to go on,' it said it would put it in a difficult position. "
In October the government estimated the Manchester leg would cost up to £71 billion. In June they reported that £22.5 billion had already been spent on the first leg to Birmingham.
All of these figures were calculated based on 2019 prices and would have increased significantly due to inflation reflecting rising material and labor costs.