Flooding in New York: NYC braces for 'worst flooding since Ida' as rains damage roads and trap drivers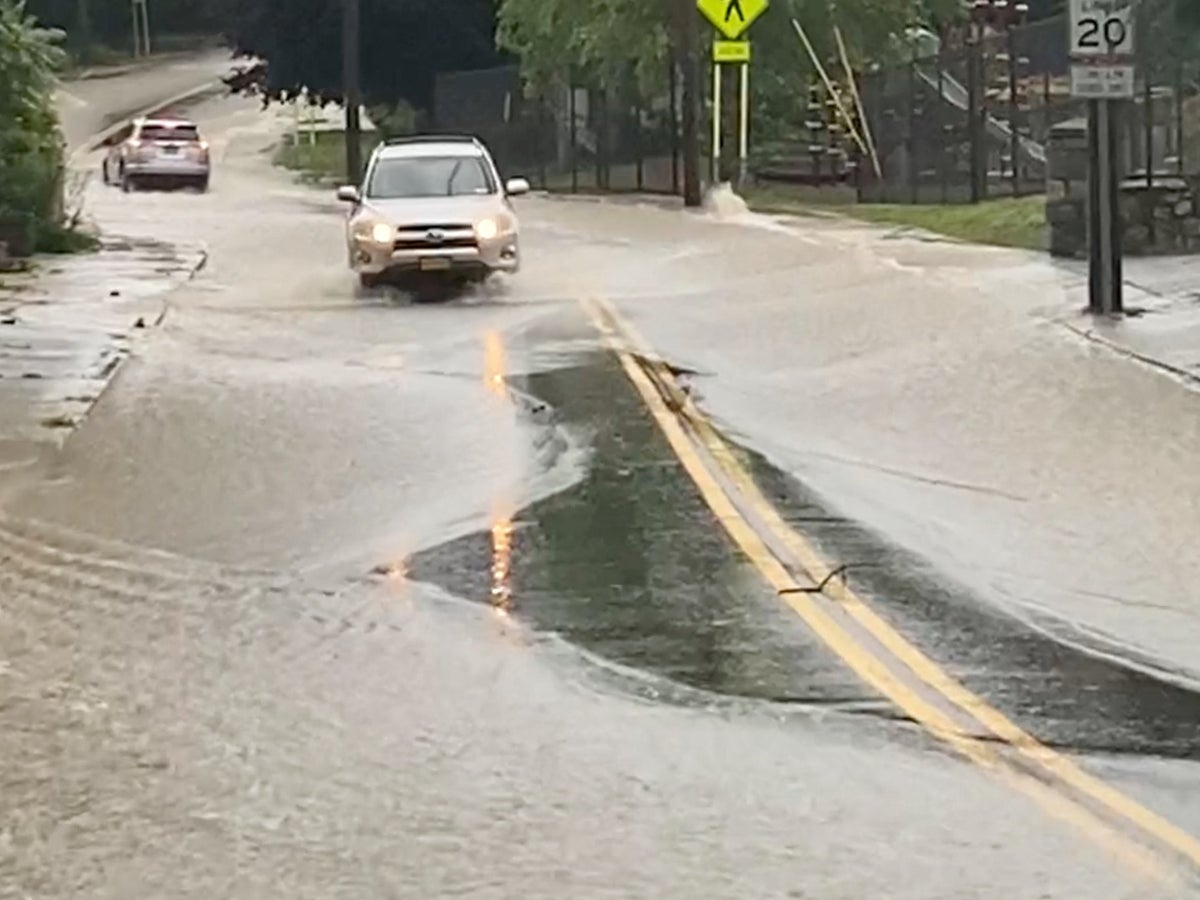 New York is bracing for what may be its worst flooding since Hurricane Ida in 2021, as violent thunderstorms swept across the northeastern United States, killing at least one person.
Flash flood warnings and emergency orders are in place for several parts of the Northeast United States. People were reportedly trapped by rising floods over the weekend.
At least one death has been confirmed by authorities when a woman, in her 30s, was swept away by torrential water while trying to flee to higher ground with her dog in upstate New York.
The force of the flash flooding dislodged boulders that rammed into the woman's home and damaged part of a wall, Orange County executive Steven Neuhaus told The Associated Press.
"Their house was completely surrounded by water," he said. "She was trying to get through the flood with her dog," he added, "and was overwhelmed by torrential waves."
The National Weather Service has issued flash flood warnings and forecasts more torrential downpours in the coming days, which could trigger even faster flooding and threaten the safety of local residents.
All weekend, torrential rains inundated parts of the Lower Hudson Valley, causing flooding on roads and battering drivers in their cars. Rescue workers were actively involved in rescue operations and debris removal in affected communities.
Gov. Kathy Hochul has declared a state of emergency for Orange County, which experienced "life-threatening flooding" within hours.
"The amount of water is extraordinary and it's still a very dangerous situation," Ms. Hochul said. "We're going to get through this," she said, but added, "It's going to be a tough night."
"My biggest concern is the fact that most of the people who die in floods are because they are in their vehicles – not in their homes, but in their vehicles. And I want people to be very careful not to drive onto a road that's closed or when they see running water," she says called.
The city's emergency department warned residents not to travel.
"TRAVEL IS IMPOSSIBLE," according to the bureau called on twitter. "Go to a higher level. IF YOU ARE SAFE, STAY WHERE YOU ARE."
Some videos posted on social media showed the extent of the flooding: brown torrents poured right past houses and streets were washed away by fast-flowing water.
Preliminary data from the National Oceanic and Atmospheric Administration (NOAA) suggests West Point experienced over 7.5 inches of rainfall in a six-hour period Sunday afternoon.
Experts warn that the situation could worsen in the coming days. Flood researcher Jacob Feuerstein warned late Sunday that New York "could experience its worst flooding since Ida in the next 48 hours."
A A flood watch was set up as of 6 a.m. Monday Conducted by the New York authorities tomorrow, with particular emphasis on low-lying areas, sites with poor drainage systems, and those near creeks, streams, or rivers.
City officials have urged residents in these vulnerable areas to take precautions and consider moving to higher floors to protect themselves, as heavy rain "can cause rapid, life-threatening basement flooding."
The storms have caused power outages that have affected around 13,000 homes in the region. In response to the situation, rescue workers are conducting search and rescue operations.
Several residents told local media that their towns were cut off as floods washed away streets or filled them with debris.
"Our city is completely cut off from the rest of the world right now due to mudslides, sinkholes, washed away roads, flooding, crumbling brick walls and more," Fort Montgomery resident Kristen Dyroff O'Dell told NBC News.
"I am currently being separated from my children in Monroe at a friend's house after spending five hours trying to get to Fort Montgomery by various means. Every route was impassable."
The extent of the destruction is still unclear, officials say. More information will be provided after sunrise, when residents and officials can begin assessing the damage. However, the authorities estimate that the thunderstorms have already caused damage in the tens of millions.