Florida detective weeps on stand as he says Parkland school police officer who failed to react could have saved lives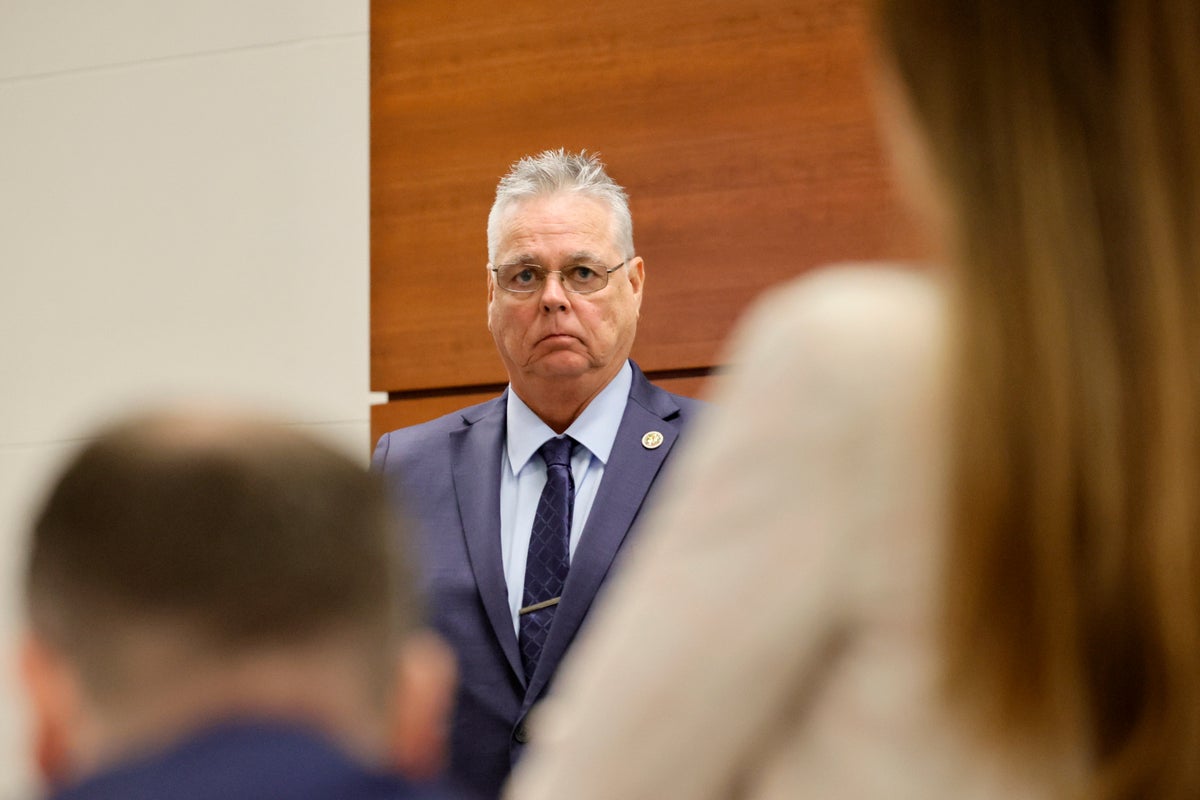 A homicide detective wept on the witness stand while testifying at the trial of a Parkland school official who allegedly did not intervene in a mass shooting that killed 17 people.
Broward County detective John Curcio, a 25-year-old war veteran and the last witness for the prosecution, spent two hours testifying during Deputy Scot Peterson's trial. When asked what MEPs should have been aiming for in the shooting, Mr Curcio was cautious.
"The goal is to stop him [Cruz] from killing people. That doesn't mean killing him, but slowing him down. It means distracting him. "It means doing everything to help children find safety," the detective said, his voice broken.
Mr. Peterson is accused of being outside Marjorie Stoneman Douglas High School and failing to take action to stop Nikolas Cruz from being inside the facility and shooting at students and staff.
Prosecutors argue that Mr Peterson pleaded guilty to child neglect because he failed to protect the students killed and injured in the shooting Associated Press.
Mr Peterson claimed he followed prescribed procedure and did not enter the school because he could not tell from the sound of the gunfire where the shooting took place.
After approaching the building's doors, he backed away and, pistol drawn, took cover near a neighboring building. He stayed at that spot for about 40 minutes, well after the shooting stopped.
He is the first police officer to be charged with alleged inaction during a school shooting.
Mr Curcio testified in an interview he conducted with Me Peterson two days after the shooting.
He also acknowledged that police response to the shooting was hampered by outdated radio equipment, which led to communication problems. Information from 911 calls reporting the shooting never reached Mr. Peterson or other Broward County officials on the day of the attack.
Mr Peterson's lawyer, Mark Eiglarsh, said he would present about two dozen witnesses who will testify that they too were given confusing information and were unable to determine where the shots came from.
His lecture began on Wednesday, June 21st.
If convicted, Mr. Peterson could face nearly 100 years in prison and lose his $104,000 annual pension. He retired shortly after the shooting and was retrospectively fired by the department after allegations arose about his alleged inaction.
Cruz, 24, pleaded guilty and was sentenced to life in prison last year.