Following the money: How the Washington Supreme Court changed how the state funds education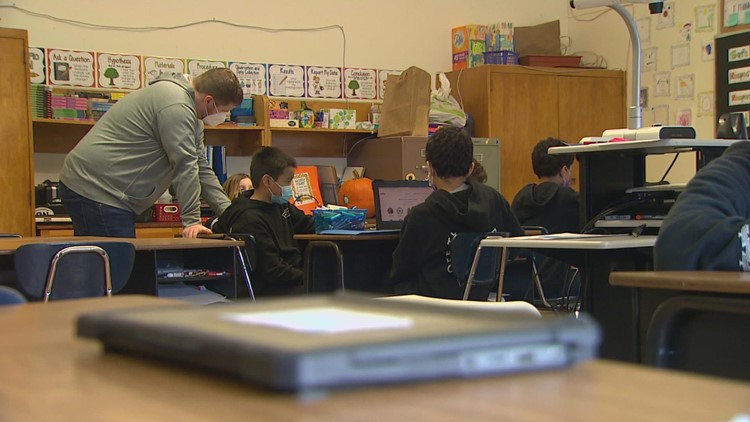 In what became known as the 2012 "McCleary Decision," the Washington Supreme Court ruled that the state failed to properly fund education.
That's despite a years-long legal battle that forced lawmakers to create more money for education.
To understand how we got here, we need to look back more than a decade:
Constitutional obligations
Education funding in Washington state begins with state constitution. Article IX, section 1 reads, 'It is the supreme duty of the state to provide adequate educational services to all children residing within its borders, without distinction or bias because of race, color skin, class or gender.'
Attorney Tom Ahearne took that verdict all the way to the Washington Supreme Court.
"Abundant means not just adequate, but more than adequate," Ahearne said.
For decades, schools have complained that they are underfunded by the state and fill the gap with local tax dollars. That has created an unfair system in which students in asset-rich districts receive a better education than students in poor districts.
Ahearne represents two families and a group of school leaders who have accused the state of failing to fulfill its constitutional duty.
Leading the lawsuit is the McCleary family.
Stephanie McCleary, an employee in the rural Chimacum School District, joined the legal battle when her son, Carter, was in second grade.
"I went to his high school graduation before the case ended," Ahearne said. "That's how long this has been going on."
The plaintiffs won their case before the Supreme Court, in what became known as the 2012 'McCleary Decision'.
The court fined Washington state $100,000 per day for more than five years.
It asks the legislature to come up with a plan to increase teacher salaries, reduce class sizes and reduce reliance on local taxes to fund schools.
"Our state Constitution promotes equality in that sense and fairness," said Rep. Sharon Tomiko Santos, chairwoman of the Education Committee of the Washington State Legislature.
"The court basically said that when you have a school district doing that, the state is shirking its obligations," Santos said.
A new formula
In 2017, the state introduced a new formula that poured billions of dollars in new funding into education. McCleary's fines were stopped.
The formula, called the 'Prototype Model', sets the resource and staffing standards each school must have, then adjusts that funding based on student enrollment. The more students a school district has, the more money it receives.
School districts can still use local tax dollars to some extent for additional programs or activities. Counties are required to report to the state how they spend state money, but they do not lose control over spending.
Congressman Santos said: "We send money out, the way we spend it is completely within the discretion of the local government."
Room for improvement
State educators say this system is better.
"Before McCleary, it was always a struggle," said Jared Kink, president of the Everett Education Association.
Kink co-chairs the Washington Teachers Association's legislative strategy committee. He said after 2017, school districts started to see more consistency in funding, especially around salaries.
Union leaders say schools still lack the funding needed for transportation, paraprofessionals and federally mandated special education services.
"They have to use local dollars or state dollars to meet the special education requirement," Kink said. "For one-on-one conversation[educator]that gets really expensive quickly."
In the next budget cycle, education funding increased by more than a billion dollars, to 28.3 billion USD. But although the dollar amount increased, it represented a smaller portion of the total budget (about 48%).
"The dollar total has gone up a little bit," Kink said. "But that is a lie. Because the cost of everything has gone up from everything from shipping to [the] Cost of living."
Declining student enrollment has forced some school districts to make difficult decisions, such as consolidating schools in Bellevue.
"Closing a school is shocking to the community," Kink said. "It's hard to recover."
In the post-COVID world, state lawmakers are looking at how schools can be better equipped for the future:
"We know that learning can happen anytime, anywhere," said Congressman Santos. "So how can we measure whether students are learning?"