Former NFL player leaves $1,000 tip at Knoxville IHOP ahead of Tennessee vs. Kentucky game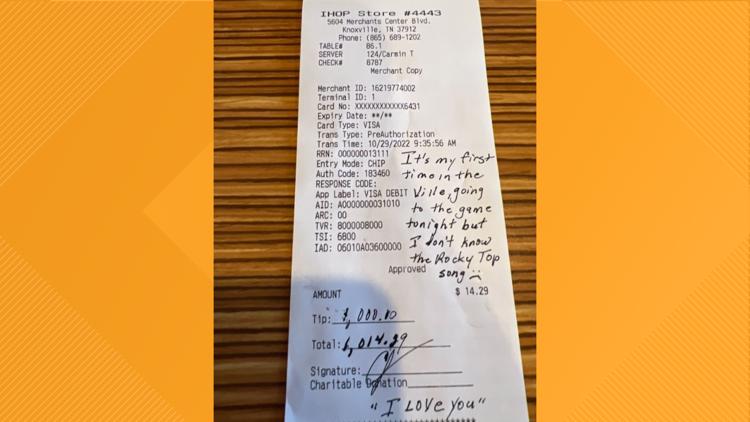 KNOXVILLE, Tenn. — A former NFL player left a generous tip at an IHOP in Knoxville Saturday before Tennessee's matchup with Kentucky.
Chad Ochocinco left a $1,000 tip for his $14.29 meal at IHOP on Merchants Center Blvd.
He was in town to watch the soccer game with his daughter.
Ochocinco tweeted, "Proverbs 11:25 (Knox Edition)" along with a photo of the receipt. On the receipt, Ochocinco wrote, "First time in town. I'm going to the game tonight, but I don't know the Rocky Top song," followed by a drawing of a frowning face.
https://www.king5.com/article/sports/college/former-nfl-player-leaves-1000-tip-at-knoxville-ihop-ahead-of-tennessee-vs-kentucky-game/51-e34063ec-ea9d-435c-a0f4-1f472ff9adf4 Former NFL player leaves $1,000 tip at Knoxville IHOP ahead of Tennessee vs. Kentucky game