News
Foundation helps people of color succeed in education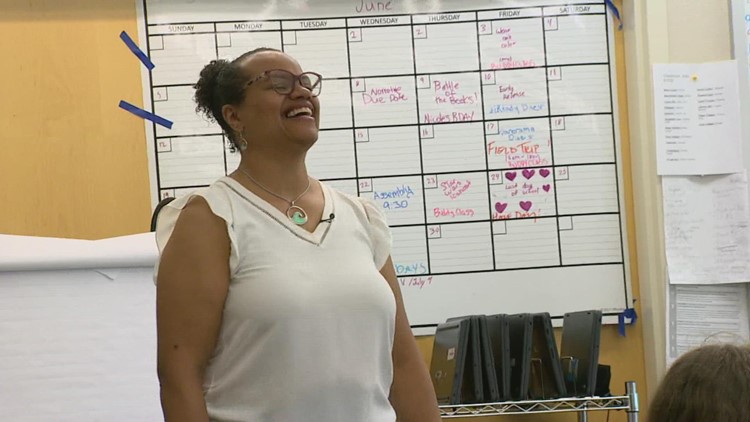 Justine Locke moves from the school cafeteria to the principal's office.
EDMONDS, Wash – The school year is drawing to a close at Chase Community School in Edmonds.
It is Justine Locke's last as a teacher as she continues her unique educational journey.
For the last three years she has been living the dream she had as a little girl.
"When I was little, I kept my stuffed animals in a circle," she said. "We had a snack. We had lessons."
Achieving that dream wasn't easy, however, with so few teachers who looked like the mixed-race youth acting as role models.
"It was learning to navigate a world where you're constantly the 'other'. In every room I was in, I was often the only black kid, the only black girl," Locke said.
She began her career in education in a school cafeteria as a humble lunch lady.
Locke worked for four years and took the opportunity to get her foot in the door of the school district, and she relished the chance to be with the students.
"I saw all the kids every day and I took this one moment to connect with them," Justine said.
From those humble beginnings, Justine, a single mother of two, not only became a teacher but earned a master's degree in education from the University of Washington earlier this month.
She was chosen by her peers to give the opening speech.
"When I tell (my) story with people, I often hear, 'You started at the bottom.' If you are considering being a lunch lady, I invite you to re-imagine what education looks like to you, because education needs us all.
Justine owes much of her success to the Edmonds School District's Teachers of Color Foundation.
It gives scholarships and support to people of color who want to become teachers.
At Edmonds, more than 50% of the students are non-white, while about 90% of the teachers are.
"The numbers don't lie. They really show you what the injustices are," said Foundation President Diana White. "If you look at the data, our students of color don't make the same graduation rate. They face higher disciplinary rates than their peers. If we don't address the differences that exist, public schools will not thrive."
This is Justine's last year in a classroom as the former mess maid moves to the principal's office.
Next fall, she will be the new assistant principal at Lynnwood High School.
As she says goodbye to her children, Justine is grateful to each and every one of them for helping this little girl achieve her dream.
"Every single student was part of this journey with me. I want to open doors for every student. I want them to know that they are heard, that they are seen, that their voice matters, that their feelings matter. I've dreamed of being a teacher for so long that it feels premature to leave the classroom, but taking the lead feels like destiny."
https://www.king5.com/article/news/education/foundation-helps-people-of-color-succeed-education/281-4805c97d-1778-4926-870b-ba27a68373b0 Foundation helps people of color succeed in education