FOX43 Weather Forecast | fox43.com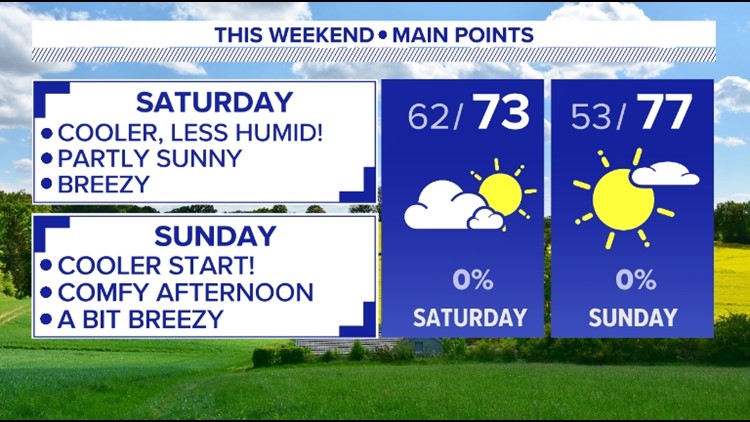 PENNSYLVANIA, USA — LET'S DO IT AGAIN TOMORROW: After a cooler start today is nice and windy with partly sunny skies in the afternoon. Enjoy the cooler temperatures with lows in the low 60's and highs in the low to mid 70's. The humidity is much lower and more comfortable! Low temperatures drop even cooler and into the lower 50's for Father's Day morning as skies are expected to remain clear. The afternoon will be slightly warmer with mostly sunny skies. Highs are in the mid to high 70's! Take advantage because with July just around the corner this could be the last time we get a weekend like this until fall!
FIRST WEEK OF SUMMER: Monday is still beautiful, but some warming is beginning! Highs are seasonal in the upper 70's to low 80's. Tuesday, the first day of summer, brings highs in the low to mid 80s. A few showers or a thunderstorm are possible, but there should be plenty of dry season. Dew points are also starting to rise on Tuesday, humidity readings are heading higher and more summery. A chance of a few showers and storms remains for Wednesday with highs in the upper 80s to low 90s. A similar forecast of hot and humid weather continues for next Thursday and Friday, with the chance of some showers and thunderstorms.
Stay Weather smart with FOX43! Enjoy the nice weekend!
– Meteorologist Greg Perez
https://www.fox43.com/article/weather/forecast/harrisburg-york-lancaster-lebanon-pa/521-b2c50775-cbad-4f4b-b64d-3f39cb3f32f5 FOX43 Weather Forecast | fox43.com