France riots: Cities brace for fifth night of violence despite police reinforcements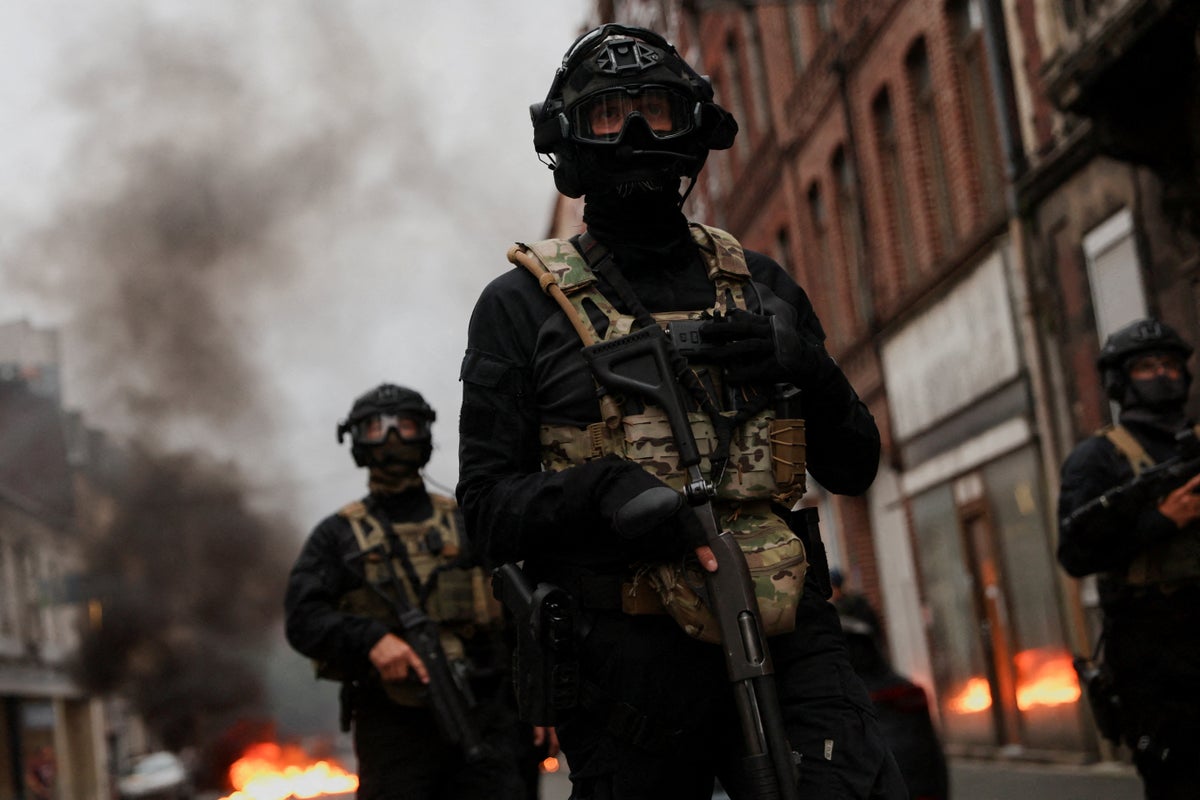 Riots broke out in France for the fifth time on Saturday evening. Police reinforcements have been sent to cities to contain the unrest that has swept the country since a 17-year-old was shot dead by police in Paris.
Emmanuel Macron announced the cancellation of his planned state visit to Germany after more than 1,300 arrests were made in the capital Marseille, Lyon and Toulouse on Friday night – almost a third of them under the age of 18.
According to Interior Minister Gerald Darmanin, more than 200 police officers were injured.
In Nanterre, thousands came to the funeral of Nahel Merzouk, who died in a Paris suburb on Tuesday night.
Outside the Ibn Badis Mosque, Therese, 60, a family friend who lives next door to Nahel's grandmother, paid tribute to the "friendly and smiling" teenager and said the community was completely shocked.
She added: "He helped me with my groceries. When he was younger I gave him pocket money. I am devastated, all of us – especially as a mother with children living in this neighborhood – we are scared and very sad."
Nahel's mother told a crowd of women at her son's funeral, "It is finished. Now he is in heaven."
In response to the teenager's death, looters have looted dozens of shops and set fire to 2,000 vehicles since the riots began, which have spread to cities including Marseille, Lyon, Toulouse, Strasbourg and Lille.
45,000 police officers were deployed to quell the riots and reinforcements were sent on Saturday night. Specialized tactical police officers were dispatched to the southern city of Marseille, where rioters looted a gun shop and stole hunting rifles but no ammunition, police say.
Reinforcements were also sent to Lyon after officials asked for further assistance. To curb the violence, public transport was stopped after 7pm in Marseille and 8pm in Lyon.
Macron has been forced to postpone the first state visit by a French president to Germany in 23 years. The French leader's office said it had spoken to German President Frank-Walter Steinmeier and told him that "given the internal security situation, the President said he wanted to stay in France in the coming days".
Macron has held back from declaring a state of emergency, an option last exercised in 2005.
British holidaymakers have been warned against traveling to France by the Foreign Office and French football star Kylian Mbappé has called for calm.
In a statement shared with teammates from the France national football team on social media, the forward said: "As many of us come from working-class neighborhoods, we also share these feelings of pain and sadness." But that suffering is offset by helplessness , of witnessing a process of self-destruction is reinforced. Violence solves nothing."
Nanterre Mayor Patrick Jarry said the death meant authorities "needed to think about the police's operating conditions".
The 17-year-old, of Algerian and Moroccan descent, was shot dead by police during a traffic stop on Tuesday.
The 38-year-old officer involved in the shooting was charged with first degree murder and taken into temporary custody. He said he fired the fatal shot because he was afraid someone might be hit by the car.
The unrest has brought back memories of a nationwide riot in 2005 that forced then-President Jacques Chirac to declare a state of emergency after two young men hiding from police were electrocuted at a power substation.
Macron has denied there is systemic racism in French law enforcement, but people in the North African French community have voiced their anger.
"If you're the wrong color of skin, the police are a lot more dangerous for you," said a friend of Nahel's, who attended his funeral but declined to be named.
Nahel Merzouk was buried on Saturday along with Abdelmadjid Benamara, the family's lawyer. He said, "Saturday, July 1st, is a day of meditation for Nahel's family."
Additional reporting by agencies.