Furious Trump rant about Mark Meadows widely shared – but it's fake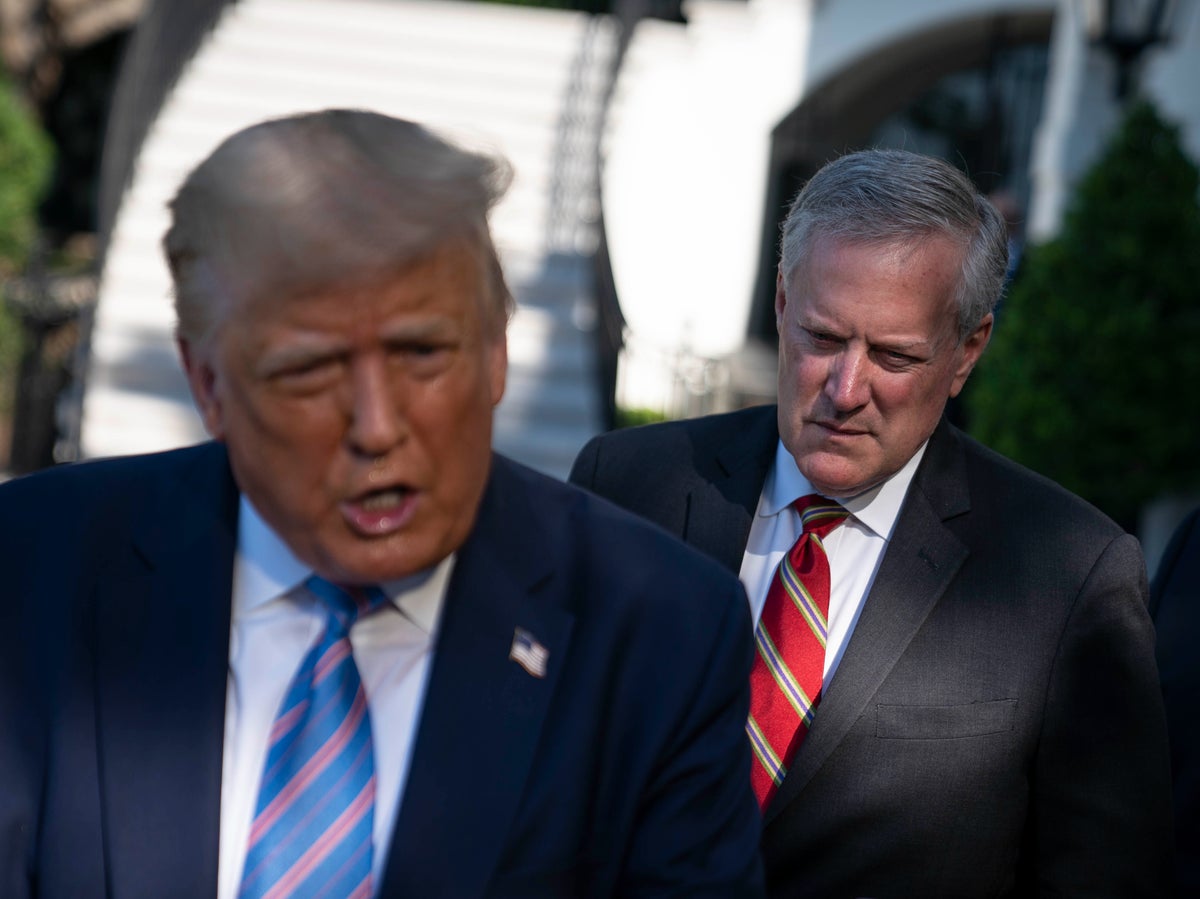 Former Republican Rep. Adam Kinzinger was among those who appear to have believed a fake social media post that allegedly shows Donald Trump infuriating his former White House Chief of Staff, Mark Meadows.
"OH MEADOWS TURNS," Mr. Kinzinger tweeted along with a screenshot of the fake Trump post before deleting it shortly after.
The post was manipulated to resemble Mr Trump's routine rants on Truth Social. However, a quick look at the former President's social media page confirmed that the post was not actually shared by Mr Trump.
"When Mark Meadows crawled over to me with tears in his eyes and said sir I need a job please help me I felt very sorry for him," the fake post read in all caps.
"I knew he was intensely hated by most of his Republican colleagues in Congress, but I had just fired my previous chief of staff like a dog, so I decided to audition Mark for the job apprentice-style."
Mr Kinzinger deleted his post and provided clarification after being told the alleged rant was fake.
"The very credible but potentially false Trump social media post has been deleted," he wrote, adding, "We'll see if Meadows turned around or not."
MSNBC host Joe Scarborough also reportedly posted the same fake Trump tirade, which has now been deleted.
The fake post started circulating after a New York Times The report revealed Mr Meadows had testified before a federal grand jury as part of the Special Counsel's investigation into the former president.
According to CNN, Mr. Meadows spoke to the grand jury about both the Jan. 6 investigation, which reportedly includes Mr. Trump's larger effort to overturn the 2020 election, and the investigation into whether the Trump team was illegal during it confidential records of the President kept her excerpt from the White House.
It's not clear exactly when Mr. Meadows, Mr. Trump's last chief of staff, testified or if investigators questioned him about either or both cases.
In a statement on JustMr Meadows' attorney, George Terdlinger, said: "Without commenting on whether or not Mr Meadows testified before the grand jury or at any other proceeding, Mr Meadows has maintained his obligation to tell the truth when he is legally." is obliged to do so."
Mr. Meadows' testimony is among those that Mr. Trump sought to use legal means to quash after leaving the White House. The ex-president's lawyers claimed that Mr Meadows was protected by leadership privilege.
A judge dismissed that argument and ordered the former Trump adviser to speak to the grand jury.