GCSE results day 2023: Grades in your area as top results fall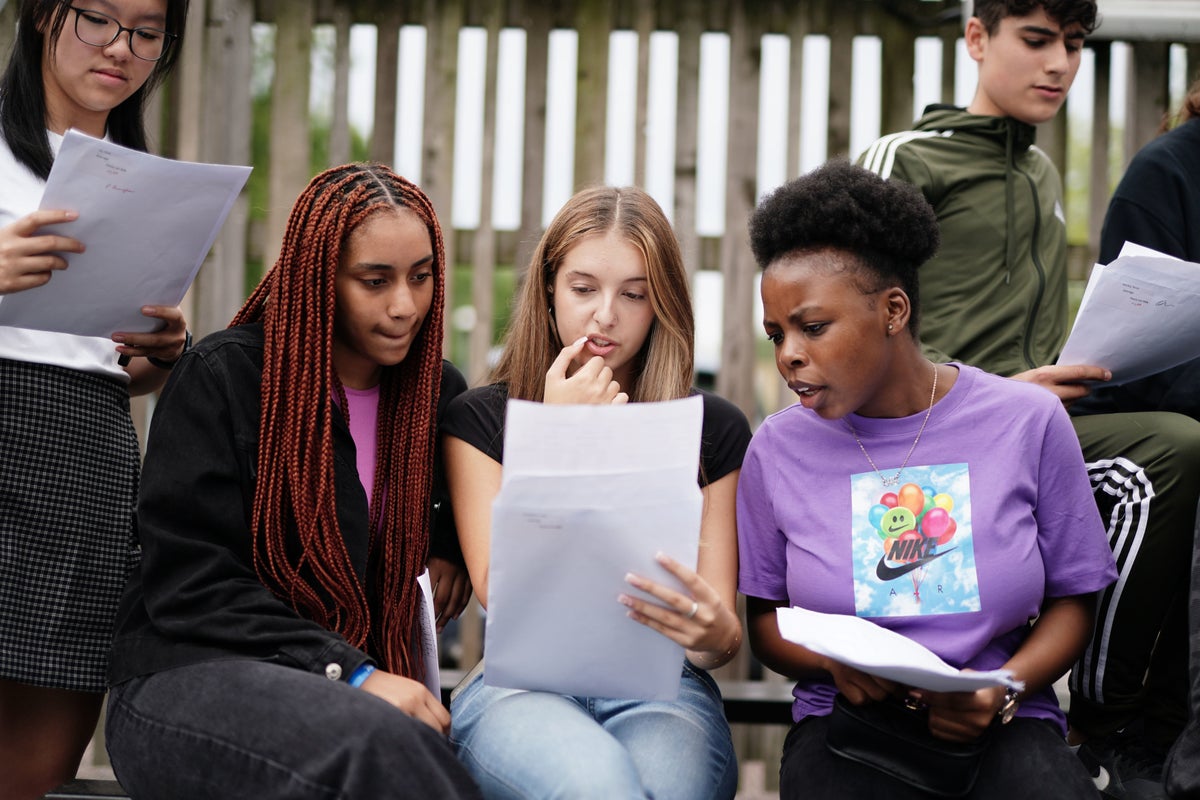 The proportion of GCSE submissions that received top grades has fallen year-on-year but is higher than before the Covid-19 pandemic, national figures show.
Hundreds of thousands of teenagers across the country received their GCSE exam results on Thursday – in a year that has seen efforts in England to bring grades back to pre-pandemic levels.
More than a fifth (22.0 per cent) of UK GCSE entries received the top grade – at least a grade 7 or grade A – this year, down 4.3 percentage points from last year's 26.3 per cent of the submissions achieved the best grade.
However, that figure is still higher than the corresponding figure in 2019 – before the pandemic – of 20.8 percent.
Figures published by the Joint Council for Qualifications (JCQ) include GCSE entries from students from England, Wales and Northern Ireland.
In total, there were around 203,000 fewer top marks (7/A) compared to the previous year, but this year 142,000 more top marks were awarded than in 2019.
Here we take a look at the percentage of GCSE students who received the top grade (7/A or higher) by country and region, with the corresponding figures for 2022 and the year before the 2019 pandemic:
– North East England 17.6% (2022: 22.4%; 2019: 16.4%)
– North West England 18.6% (2022: 23.1%; 2019: 18.6%)
– Yorkshire & the Humber 18.2% (2022: 22.4%; 2019: 17.8%)
– West Midlands 18.4% (2022: 22.8%; 2019: 18.1%)
– East Midlands 18.5% (2022: 22.5%; 2019: 18.3%)
– East of England 21.9% (2022: 26.2%; 2019: 20.5%)
– South West England 20.8% (2022: 25.3%; 2019: 20.4%)
– South East England 24.4% (2022: 29.2%; 2019: 23.5%)
– London 28.4% (2022: 32.6%; 2019: 25.7%)
– England 21.6% (2022: 26.0%; 2019: 20.7%)
– Wales 21.7% (2022: 25.1%; 2019: 18.4%)
– Northern Ireland 34.5% (2022: 37.0%; 2019: 30.5%)
– All 22.0% (2022: 26.3%; 2019: 20.8%)
Here is the GCSE pass rate (4/C or higher participants) by country and region:
– North East England 65.3% (2022: 71.2%; 2019: 63.8%)
– North West England 64.8% (2022: 70.3%; 2019: 64.9%)
– Yorkshire & the Humber 64.4% (2022: 69.6%; 2019: 64.1%)
– West Midlands 63.9% (2022: 69.9%; 2019: 63.8%)
– East Midlands 65.8% (2022: 71.5%; 2019: 65.8%)
– East of England 68.6% (2022: 73.7%; 2019: 67.1%)
– South West England 69.2% (2022: 74.2%; 2019: 68.3%)
– South East England 70.7% (2022: 75.5%; 2019: 70.2%)
– London 72.6% (2022: 76.7%; 2019: 70.6%)
– England 67.8% (2022: 73.0%; 2019: 67.1%)
– Wales 64.9% (2022: 68.6%; 2019: 62.8%)
– Northern Ireland 86.8% (2022: 90.0%; 2019: 82.2%)
– All 68.2% (2022: 73.2%; 2019: 67.3%)