German customs finds slime, bags of giant African snails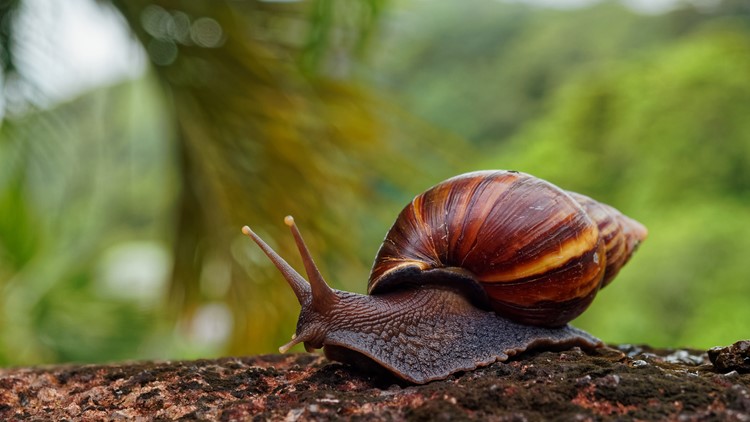 The snails weren't the only unexpected thing found at the airport.
BERLIN, Germany — German customs officials say a trail of slime led them to a hideout of nearly 100 giant African land snails and other items hidden in bags at Dusseldorf Airport this month.
In a statement on Friday, authorities said officers tripped over one of the snails on a luggage trolley and initially mistook it for a toy until it started moving. Following the trail left by the 8-inch snail, they found a pocket with a hole from which another snail was already peeping – possibly preparing to leap to freedom.
In all, officers found six bags containing 93 giant snails, 62 pounds of fish and smoked meat, and a suitcase full of rotting meat. All were imported from Nigeria and destined for an Africa warehouse in West Germany.
The snails were handed over to an animal rescue service in Düsseldorf and the meat was destroyed, customs officials said.
"Never in the history of the Düsseldorf customs office has a slime trail led us to smuggled goods," said spokesman Michael Walk.
OTHER NEWS: Australia airport to fine man who flew with McDonald's sandwiches
Giant African snails, which grow up to 8 inches long and 5 inches wide, are known to be an invasive species in various warm areas. Thousands of miles from Dusseldorf, the Florida Department of Agriculture describes them as "one of the most noxious slugs in the world," eating "at least 500 different species of plants."
The snails, which have been eradicated multiple times in Florida over the years, are known for destroying crops, eating stucco from houses, and transmitting disease. They were spotted back in the state this summer.
RELATED: Beagle duo sniff dangerous giant slugs at Atlanta airport
RELATED: Florida officials have collected 1,400 invasive giant snails — and counting
https://www.king5.com/article/news/nation-world/giant-snails-germany/507-36f61886-65d7-4e85-9df4-bba54ce4fe16 German customs finds slime, bags of giant African snails