Girl stabbed to death on busy bus outside Croydon shopping centre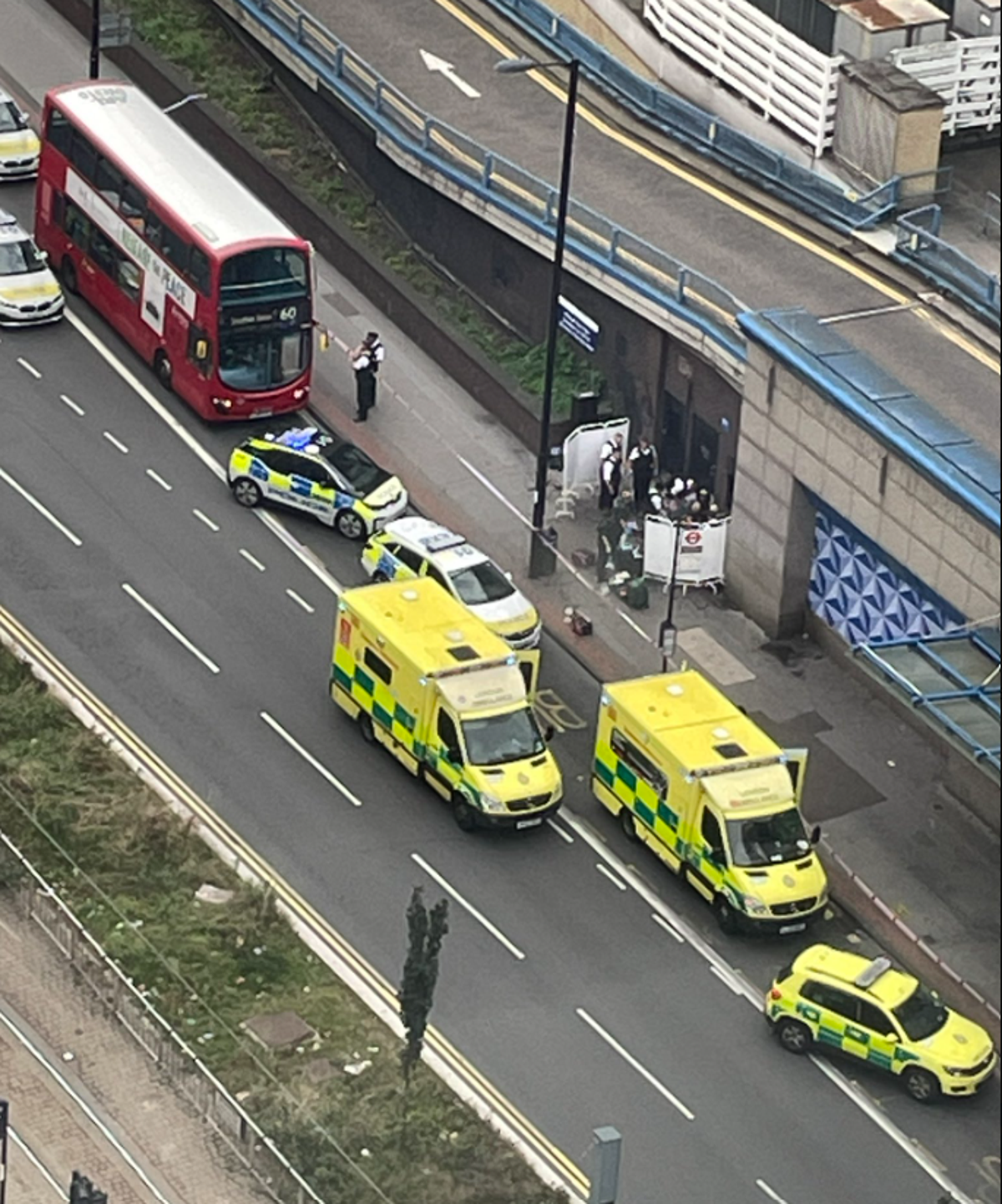 A girl has been stabbed to death in south London as she and other teenagers were on their way to school.
The Old Palace of John Whitgift School, a private girls' school in Croydon, confirmed that the victim was a "much loved and valued friend and student" and sent its condolences to her family.
A 17-year-old boy was arrested not far away in New Addington and remains in custody.
Police and paramedics were called at 8.30am this morning to reports that a 15-year-old girl had been stabbed on Wellesley Road, near Whitgift Shopping Centre.
A bus driver and a passerby initially fought to save their lives, while two other schoolgirls, believed to be friends of the victim, tried to get through the police cordon.
Her family was reportedly informed by the girl's family and are "devastated" by the news.
A TfL bus was cordoned off by emergency services while resuscitation efforts continued for 40 minutes.
Despite the best efforts of the London Ambulance Service and London Air Ambulance, she was pronounced dead at the scene at 9.21am.
Did this story touch you? If so, email holly.evans@independent.co.uk
A statement from the Old Palace of John Whitgift School said: "We are deeply shocked by the senseless and tragic death of our beloved and valued friend and student."
"It will take time for the Old Palace community to come to terms with this terrible news and we will support our students as they do so.
"Above all, we extend our love and deepest sympathy to the girl's family at this unimaginably stressful time." A mother of two, who only wanted to be identified as Bridget, said: "I was on the bus and got off earlier than me When I went back downstairs, I saw them resuscitating her. The driver held her and a lady.
After receiving information from the scene, officers from Scotland Yard and British Transport Police tracked down a teenager linked to the stabbing and he was arrested in the Croydon area at around 9.45am.
It is assumed he was known to her.
A white tent has been erected on the pavement while pictures and videos from the scene show a line of police cars surrounding the number 60 bus as it headed towards Streatham Station.
About three police vehicles and a dozen officers remain, while a bouquet of flowers has been placed next to the forensic tent.
The road between the Whitgift Center and St Michael's Road northbound has been closed and a number of buses, including routes 60, 407 and 455, are currently being diverted.
James Watkins from Mainz World, which runs prevention and intervention projects for children and young people, said he met the family at the scene between 9 and 10am and they were "devastated".
He added: "I came here to support the family and some of the young people.
"We were with the family this morning. They were devastated, and more importantly, I don't think it felt real to them."
Mr Watkins said the girl's family had been contacted by one of the girl's friends.
In conversation with the Independent, Katia Brito, 22, said: "I arrived at the scene of the accident at 9.02am and the two buses had stopped. The tent was up and rescue workers were trying to keep them alive. Children were running under the underpass."
An estate agent, Michael Fyfe, 40, came running from his job on the high street and also witnessed efforts to revive the teenager.
Jennifer, 35, who has a 15-year-old daughter, said her heart sank when she heard the news. "I ran to the scene and tried to call them," she said. "I panicked, I felt sick. I called her school but it wasn't her.
"You send your child to school and expect them to come home. This child didn't even come to school. The government must take care of these children."
A witness, who did not want to be named, reported The sun: "Someone attacked a young girl. The victim was a student and was probably only of secondary school age. She was wearing a green school uniform.
"When it happened, everyone ran off the bus."
Community activist Daniyel Thomas described it as a "hotspot area" and said: "This is a travesty. "We need to galvanize the community.
"We need local patrols and community fathers to monitor the streets, this is a hotspot area."
Chief Superintendent Andy Brittain, in charge of local policing, said: "Our thoughts are first and foremost with the family of this young girl as they are faced with the most tragic news. "Our officers are with the girl's family to support them.
"I am in contact with the local community who are obviously as concerned about this tragic incident as we are. I will continue to update throughout the day.
He added that a crime scene would remain in place for some time while investigations continued.
A London Ambulance Service spokesman said: "We were called to an incident on Wellesley Road in Croydon at 8.33am today (September 27).
"We sent a number of emergency personnel to the scene, including three ambulance crews, an incident commander and a paramedic in a car. We also dispatched the London Rescue Helicopter.
"We treated a teenager but unfortunately, despite our best efforts, she died at the scene."
Reacting to the news, Mayor of London Sadiq Khan said: "I am heartbroken by the death of a 15-year-old girl in Croydon this morning.
"My thoughts and prayers are with the family and friends of this young girl and the entire community at this unimaginably terrible time.
"An arrest has been made in relation to this incident and I am in close contact with the Met Commissioner."
Croydon Mayor Jason Perry wrote on Council is in contact with the police and will fully support their investigation. The thoughts of our entire community are with the victim's family and friends."
The student is the 16th teenager murdered in the capital this year, 13 of whom were stabbed.
Anyone who witnessed the attack or has information that can help officers is asked to contact police on 101, quoting reference number CAD 1601/27. to call September. To remain anonymous, please contact us crime fighter on 0800 555 111.
More information on this breaking news story will follow