GM Brian Cashman continues to 'believe strongly' in Aaron Boone, New York Yankees amid struggles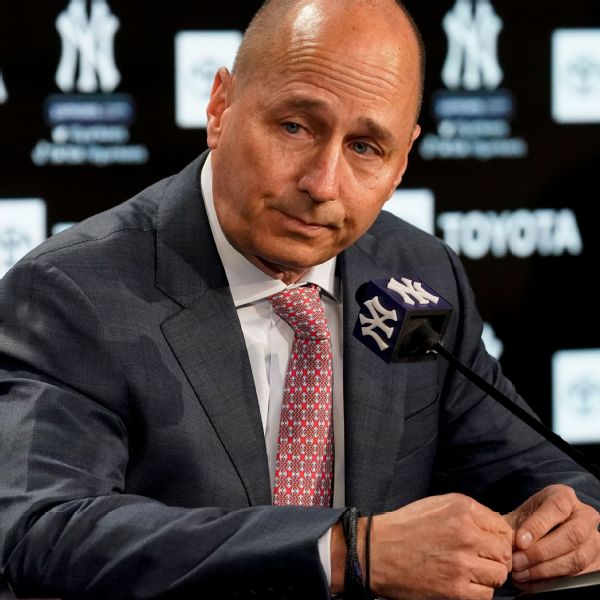 NEW YORK — Standing 5-14 in August, the New York Yankees are drawing the ire of their entire fan base, while manager Aaron Boone is publicly showing his frustration by banging on tables in press conferences.
But Yankees general manager Brian Cashman didn't hesitate to get behind the slumping club on Monday.
"The group has my faith," Cashman said. "I have a lot of faith in them and I think they are still capable of everything we ever hoped and dreamed of, but we have to weather the storm first."
In recent days, Yankees fans have made both Cashman and Boone the subject of their anger after the club's struggles. In addition to the offense struggling to perform, right-hander Frankie Montas has posted a 9.00 ERA allowing 14 runs in 14 innings since the team traded him from Oakland. Meanwhile, the team traded Jordan Montgomery, who posted a .54 ERA in three starts, allowing for a 16⅔ innings run for the St. Louis Cardinals. Harrison Bader, who came to New York from St. Louis, has one game left due to injuries.
Still, Cashman stood by Boone's performance over the past few weeks.
"I think he did a great job," Cashman said. "I think he managed his players very well. … He's balanced. It's important for our players to see that because if he can maintain his temper, for the most part they don't see panic. It doesn't mean he can't lose his cool, which he will from time to time when the need arises."
Montas' struggles early in his tenure with the Yankees, contrasted with Montgomery's success in St. Louis, have put the Yankees' approach to deadline under scrutiny. Cashman said Montas, who has sustained a shoulder injury in addition to the recent death in his family, has affected his game on the field.
"They wouldn't change the attempt to acquire it, but we didn't know it was out of pocket," Cashman said. "So add you're 10-12 days away before his next start after he's rebuilt for some time and now he's moving to another club, he just hasn't come out of the gates either."
Cashman also compared this Yankees team's struggles to the seasonal disappointment of the 2021 team, which came in with World Series expectations. Cashman said this team expected adversity but the group had already shown they could perform at the highest level.
"I believe in this group," Cashman said. "I know Aaron Boone believes in this group. I know our owner believes in this group. It's a good crew that's committed, hungry and really talented that just played badly for a little longer than we might have expected coming out of the gates in the first three months. But I won't just forget that.
https://www.espn.com/mlb/story/_/id/34443807/gm-brian-cashman-continues-believe-strongly-aaron-boone-new-york-yankees-amid-struggles GM Brian Cashman continues to 'believe strongly' in Aaron Boone, New York Yankees amid struggles