Gonzalo Montiel the penalty hero again as Sevilla win seventh Europa League title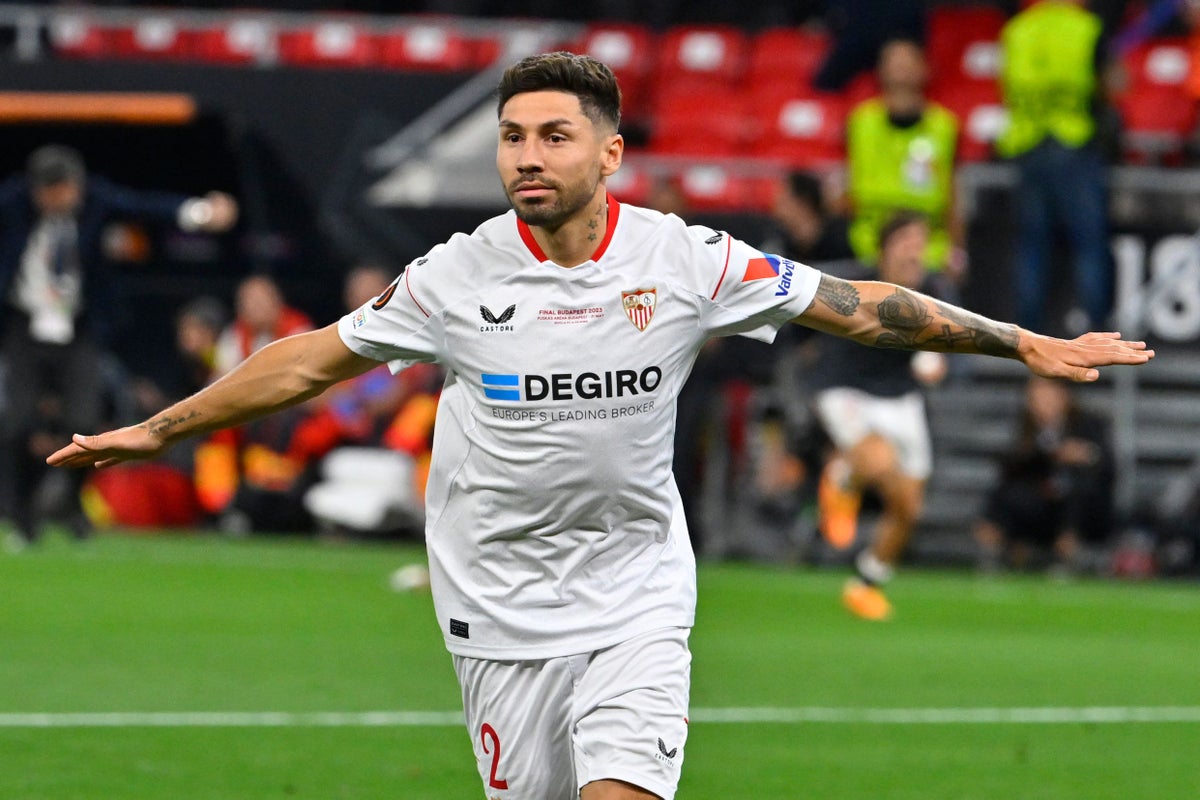 Gonzalo Montiel was once again the penalty hero as Sevilla scored a superb sevens in the Europa League and handed Roma coach Jose Mourinho his first defeat in a European Cup final.
Mourinho was on course to become the most decorated European manager in history with six trophies as Paulo Dybala recovered from an ankle injury he had sustained a month ago and put the Serie A side ahead in a difficult affair in Budapest brought.
Gianluca Mancini, who had provided the assist for Dybala, fired into his own net as the game ended 1-1 after 120 minutes but then missed the penalty spot, as did Roger Ibanez, before Montiel took the decisive penalty in a 4-1 final victory for the Spaniards.
The Argentine, who scored the winning penalty in last year's World Cup final, initially missed from 12 yards but when Rui Patricio went off his line before the ball was hit, he was forced to repeat the ball and Montiel made no mistake this time.
Sevilla may have secured a record-breaking seventh Europa League title and qualified for next season's Champions League, but have had to do so in an ugly way, with regular stoppages in play and players and coaches on both sides being swayed by referee Anthony Taylor and fourth were approached or warned by official Michael Oliver.
Opportunities were few as both teams started hesitantly while stoppages were a regular occurrence, with both benches nervous from the start, knowing what was at stake and keeping Taylor on his toes.
The England referee made his first key decision when he checked the VAR after his compatriot Tammy Abraham suffered a blow to the head but Nemanja Gudelj won the ball meaning no penalty was awarded.
The game came to life when Ivan Rakitic found himself without a fight in his own half and Sevilla's defence, apparently expecting a foul, took advantage of Mancini and delivered a through ball for Dybala to cross Bono in the 35th minute. Substitute Rafa Mir was cautioned amid cries of protest from Sevilla.
Lorenzo Pellegrini was cautioned for rushing into the box and the constant stoppages meant that seven minutes were played at the end of the first half when Rakitic's thunderous shot from 25 meters went just wide of Patricio's left post.
Erik Lamela and Suso came on after the break when Sevilla flew out of the box and pushed Roma back in their own half. The pressure showed in the 55th minute when Mancini converted into his own goal and tried to stop Lucas Ocampos from intercepting Jesus Navas' fiendish cross.
Sevilla had plenty of possession but Roma almost scored again when Dybala, on his last appearance the night before he was substituted, scored a free-kick that saw Abraham stab Bono and the ball went offside on an attack on goal fell. Ibanez scored the equalizer, who shot the rebound wide of the goal.
Ibanez's evening could have been even worse when, with fifteen minutes to go, Ocampos went over the Roma defender's hind leg and pointed to Taylor for the penalty spot. While Mourinho and his coaches glowed on the touchline, Taylor overturned the penalty after a VAR review revealed there was minimal, if any, contact.
Shortly after, it was Roma's turn to claim a penalty when the ball caught Fernando's arm in his side. Taylor was unconvinced and then, not for the first time, went to Roma's bench with his yellow card.
As the names piled up in the referee's notebook, Roma almost had the last laugh, but Andrea Belotti, coming on for Abraham, missed a volley from a lovely free-kick over the wall.
Fernando shot wide as the game went on for another 30 minutes in which both sides seemed unwilling to risk.
Mourinho was cautioned for one of several altercations with fourth official Oliver but after little action, Chris Smalling almost clinched the win at the crucial moment, but his header in the tenth minute from a late corner went back off the bar.
The shootout began with Ocampos and Lamela netting for Roma on either side of Bryan Cristante, but it was Sevilla's first goal as Mancini's powerful shot was deflected off Bono's legs.
Then Ibanez saw his shot bounce off the post and while Patricio appeared to have given Roma a spark by deflecting Montiel's penalty to the post, the Portuguese's push gave the LaLiga player another chance he didn't squander.