Great Britain's Josh Kerr wins stunning 1500m gold at World Championships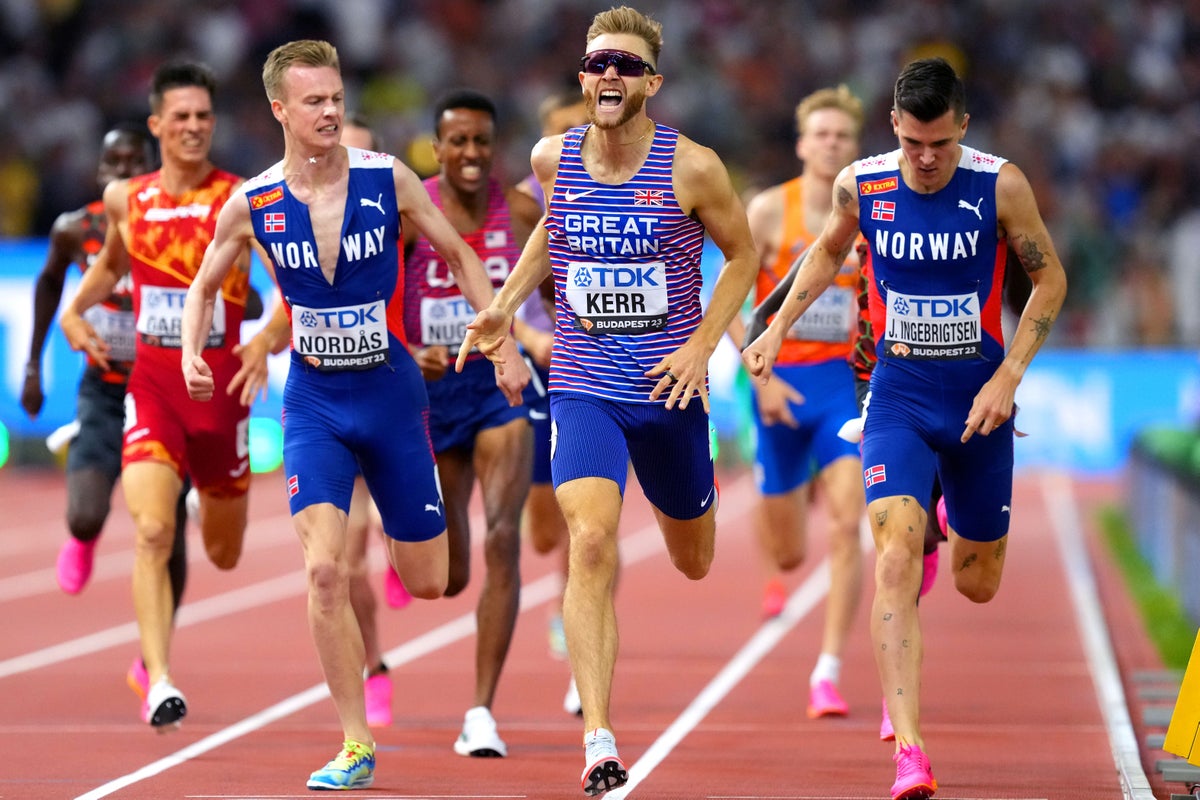 Britain's Josh Kerr stunned Jakob Ingebrigtsen to claim the 1500m title in style at the World Championships.
The Scot ran a tremendous battle with Ingebrigtsen, who finished second in the last 300 metres, with a time of three minutes and 29.38 seconds.
He mimicked Jake Wightman's win at Eugene last year, with Wightman missing this year through injury to once again deny Norway's Ingebrigtsen – who also had to settle for silver in 2022 – the world title again.
Kerr told the BBC: "It's been a long time coming. It's an amazing experience but I'm so proud of myself, my team and my family.
"I've thrown in the last 200m for my entire 16 years. I stayed calm, I just wanted to do a race that I would be proud of today. I am very happy to be able to contribute to this number of medals.
"I fought very hard with Jakob, you can see it on my face, I throw everything at this guy, it hurt me. I've wanted this my whole life. I'm so happy.
"I sort of broke him about 50 meters from the finish and he just kept going from there. I had (Olympic) bronze (in Tokyo 2020) and the gold is much sweeter."
Wightman cheered for Kerr from the BBC studio and congratulated his compatriot.
"Our little club in Edinburgh have had back-to-back world champions," said Wightman. "That's unbelievable. Jakob Ingebrigtsen will start hating us Brits, won't he?
"I think Josh Kerr knew what to do there. You saw it when he got on Jacob's shoulder.
"He has shown promise for so long that the medal in Tokyo was just the beginning. When Josh Kerr gets it right and runs well, he's absolutely successful.
"I think Ingebrigtsen underestimated how well he was doing at the moment.
"I'm so happy for him. Josh is like the terminator. His inner confidence is insane."
Neil Gourley, who finished ninth in the final, said: "I fought for my life to be honest. I was hoping to get past people. I didn't have much left.
"I've been training all year to have some left in the 200m but this week I didn't have it. It happens, it's sport, it's fuel for the next year because I have to work.
"I'm really happy for Josh, I knew this was coming, I knew he was going to be at the top, the margins are okay at this level.
"I knew that he would compete with Jakob this week. The way he acted, the way he looked, he was full of confidence."