Hawaii: At least 36 killed in raging wildfires as locals dive into sea to escape flames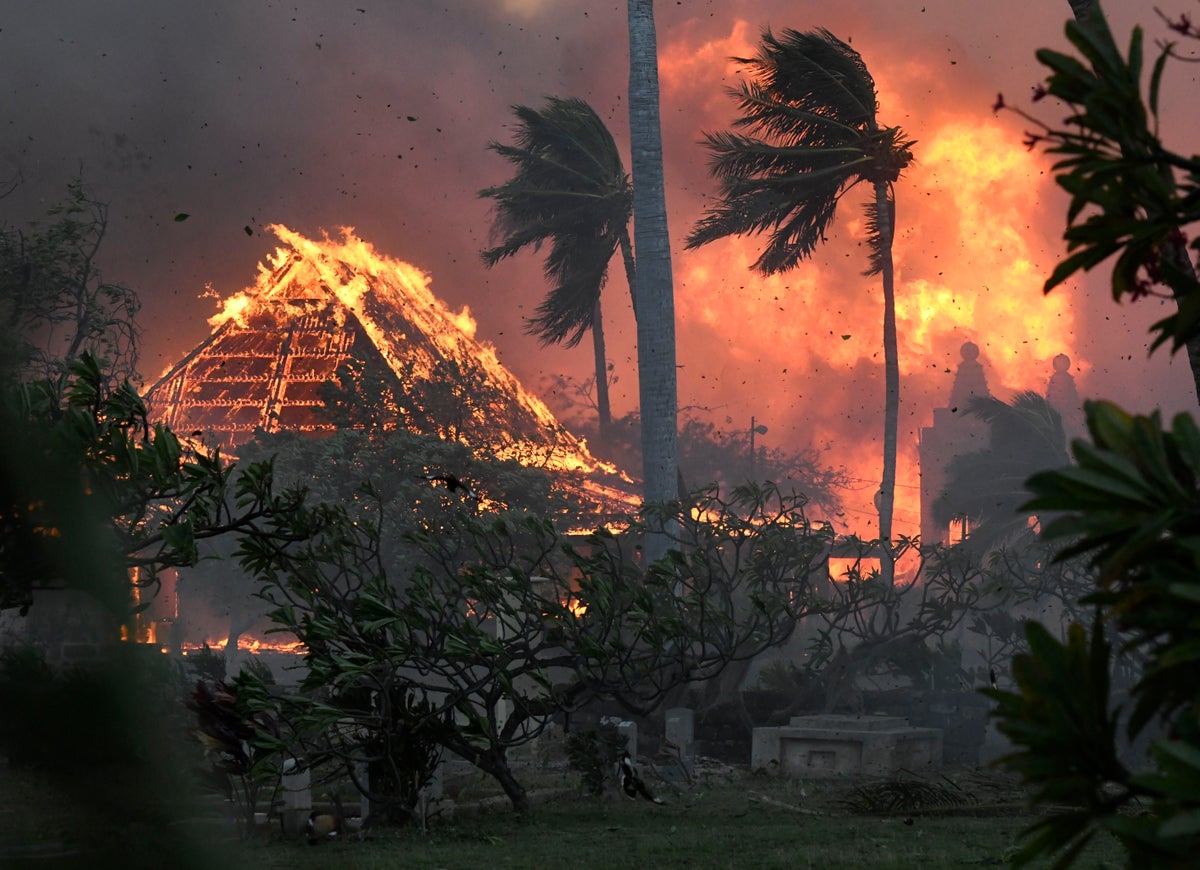 At least 36 people have died after wildfires devastated the historic town of Lahaina, Hawaii, Maui County reports.
Wildfires triggered by high winds from far south-moving Hurricane Dora swept the island of Maui by surprise, leaving burned-out cars on once-busy streets and smoking piles of rubble where historic buildings had once stood.
The flames raged throughout the night, forcing adults and children to jump into the sea for safety.
Follow live updates on Maui's wildfires here.
Officials previously said 271 buildings were damaged or destroyed and dozens of people were injured.
Footage shows locals desperately jumping into the sea as flames and smoke spread across the port.
"We had to push off to escape the heat and ash. The harbor quickly filled with black smoke. We made Lanai safely," said Brantin Stevens, who directed the video.
More than 2,100 people spent Tuesday night in evacuation centers. Another 2,000 travelers found shelter at Kahului Airport after many flights were cancelled. Officials were preparing the Hawaii Convention Center in Honolulu to accommodate thousands of displaced tourists and locals.
Mauro Farinelli of Lahaina said the wind started blowing hard Tuesday and then a fire somehow broke out on a hill.
"It just pierced everything with incredible speed," he said, adding it was "like a blowtorch."
State Department of Education Superintendent Keith Hayashi said in a statement Wednesday that a team is working on contingency plans and preparing for the possible loss of an elementary school that has been in Lahaina for more than a century.
He said: "Unofficial aerial photos show that the campus of King Kamehameha III Elementary School – on Front Street in Lahaina – suffered significant fires and structural damage.
"The Department is committed to maintaining regular school schedules to provide a sense of normalcy, but will keep most Maui schools closed for the remainder of this week."
The Coast Guard said it rescued 14 people who jumped into the water to escape the flames and smoke, including two children.
The fires are the latest in a series of problems caused by extreme weather conditions around the world this summer. Experts say climate change is increasing the likelihood of such events.
As winds eased a little on Maui, some flights resumed Wednesday, allowing pilots to see the full extent of the devastation. Aerial footage from Lahaina showed dozens of homes and businesses being leveled, including Front Street, where tourists once congregated to shop and dine.
Smoking rubble piled high on the shore, boats in the harbor had burned, and smoke hung over the leafless skeletons of charred trees.
"It's terrible. I've flown here for 52 years and I've never seen anything remotely as good," said Richard Olsten, a helicopter pilot with a tour operator. "We had tears in our eyes."