Hawaiians in Washington anxiously await info, calls back from loved ones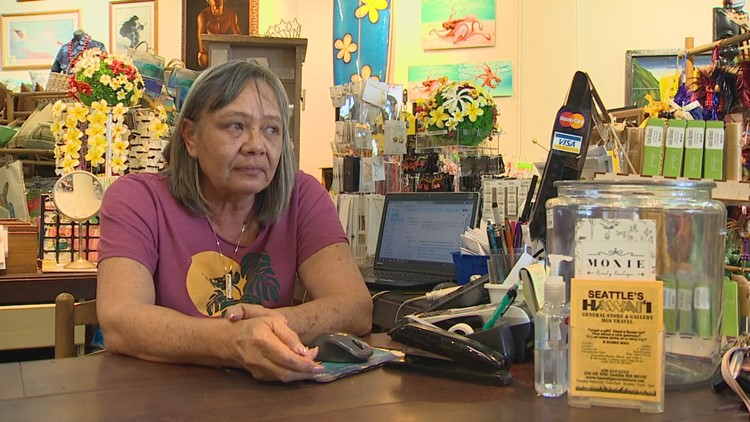 As wildfires ravaged Rainbow State, Hawaiians living in Washington said they felt shocked and helpless.
SEATTLE — As thousands of people in Hawaii scramble for safety, Hawaiians living in Washington are anxiously awaiting news from their loved ones.
At least six people are confirmed dead as wildfires continue to ravage the Hawaiian islands of Maui and Big Island, displacing locals and visitors, according to officials.
The team at the Hawaii General Store in Wallingford said they felt shocked and helpless as they remained glued to their devices.
Roxanne See, who works at the counter, said she is a third-generation Native Hawaiian and today she feels a little more homesick than usual.
"Sometimes you wish you were at home. Not that you can do anything. But… there's family," See said.
The relaxed tropical images that line the walls of the Hawaiian General Store in Seattle are in stark contrast to the nervous feelings of the people behind its counter right now.
"If you call their cell phone right now, there will be no cell service," See said.
Because for each of them, Hawaii is home.
Store owner Gail Stringer said: "I looked at the pictures– tormenting myself– I went online and I saw pictures of the devastation, and I thought 'How can this happen here? Hawaii?'" said Gail Stringer, the store owner.
See has family on Maui. Stringer also had a close friend there. Both grew up in Oahu.
"But a cousin that we finally got the news, they lost everything. House, car," she said.
See is keeping her phone nearby.
"We just look at Facebook and text each other," she said.
There is also an in-store travel agent from Hawaii working there. He said he currently has two clients in Seattle who are staying at the Royal Lahaina Resort.
"I can't reach them. I emailed them, I called their cell phone."
He was told that Royal Lahaina's phone line was also disconnected.
Lahaina is downtown Maui and has been largely destroyed. Stringer said she was shocked.
Stringer said: "Of course, I mean loss of life, but then there is that beautiful Banyan tree. "When I was a kid, it was… magical, you know? And that's gone."
Loyal customers stop by the store throughout the day.
"I can support a business celebrating Hawaii, but also bring a little aloha into my home on a rather sad day," says customer Stephanie Storvik.
And it's the aloha spirit that Stringer says is what sticks with people.
"Anyone who's ever actually been to Hawaii or lived there knows that when people visit, it's really in your heart," says Stringer.
When the time is right, she's planning a trip so Washingtonians can send donations or essentials, and she's partnering with an airline to bring them, Stringer said. they reach the people ravaged by these fires.
Hawaii General Store plans to update the information on its social media pages.