Here's how you can get cash if your flight has been delayed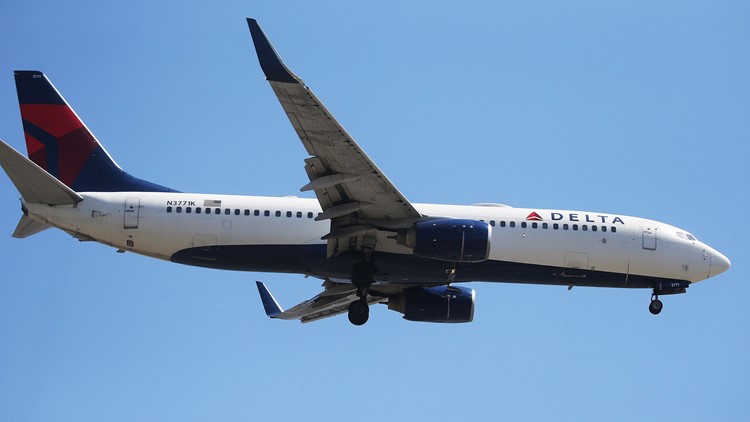 Thousands of travelers have been stranded at airports this summer and experts don't expect the situation to improve anytime soon. FOX43 Finds Out explains your rights.
HARRISBURG, Pennsylvania — Almost every week we report "massive flight delays and cancellations" across the country.
It's annoying and frustrating.
FOX43 discovers that when you buy a ticket you have rights and can benefit from a delay.
All packed and no way to get there. Americans have been stranded at airports in droves over the past few weekends.
Experts believe it will only get worse as the summer progresses.
Scott's Cheap Flights' Willis Orlando says our local airports compare fairly well to other parts of the country. He says on site BWI has the highest rate of delayed flights this week at around 15%.
Philadelphia International Airport has a delay rate of 8-10%, while Harrisburg International Airport has very little delay at around 4%.
But Orlando said if you have a connecting flight or actually want to go home, that might be a different story.
"If you're flying out of a smaller airport, you have fewer backup options," he said.
What rights do I have if my flight is delayed and is there a reason for the delay that I am entitled to compensation?
"If you have a flight that is significantly delayed or canceled and you have chosen not to fly, you are owed a full cash refund immediately, period," Orlando said. "The airlines will try to offer you a voucher, tell them you know your rights and ask for that refund."
However, this "significant" delay can vary from airline to airline.
For example, Scotts Cheap Flights has found that United Airlines considers an hour or more of your original flight time to be significant, while American airlines may not offer anything until you're at least four hours late.
Here are the TSA rules for delays and cancellations and for getting off a flight.
But remember that you only get this money if you decide NOT to fly.
"If you decide to fly, you lose all your leverage," Orlando said. "But if you threaten to walk away, use leverage. Always have this in your back pocket. You don't have to really want to walk away, you might want to take that flight no matter what, but you can use that leverage to your advantage."
You can request a booking on a different flight on a different airline, a hotel stay, a first class ticket on a different flight and much more.
Orlando says if a flight is overbooked and they ask if you're willing to take a setback, volunteer immediately.
"Run to the counter, be the first one up there and say, 'I'm volunteering, but I won't take your first offer, I'll take whatever you offer to the last person off the plane,'" Orlando said . "Because the closer the flight time gets, the more money and other perks the airlines are offering."
Here's how much money you could make if you get kicked off a flight
Then you can make real money, in some cases more than $1,500.
Here's a breakdown of Scott's cheap flights:
No compensation for 0-1 hour delay
If 1-2 hours late, 2x the one-way fare (up to $775)
If 2+ hours late, 4x the one-way fare (up to $1,550)
For international flights:
No compensation for 0-1 hour delay
1-4 hours delay 2x one-way fare (up to $775)
If delayed more than 4 hours, 4 times the one-way fare (up to $1,550)
Of course, this does not work if you are traveling in a large group or with children.
Orlando thinks the bottom line is this: If you're taking a flight this summer, know your airline's policies and research a backup plan, just in case.
"Help them, help you," he said. "So if you want to travel, let them know you're willing to go away and take the money, or say, 'Book me on that flight. I found this flight. Can you put me on this flight and connect me?'
"Often they say 'absolutely' instead of giving you your money back."
If possible, try not to book anything non-refundable on the day you arrive at your destination and on your way home.
If you choose to get a refund, Orlando says major airlines will give you one in about 7-10 business days.
Although, he said, you'll probably be on the phone or online for a few hours to actually get to this point.
If you have a story you want Jackie De Tore to investigate, FOX43 wants to find out. Send her a message on Facebook or email FOX43FindsOut@FOX43.com.
Download the FOX43 app here.
https://www.fox43.com/article/money/consumer/fox43-finds-out/you-can-get-money-back-if-your-flight-is-canceled-or-delayed/521-11f7fd44-9fef-4051-9ca0-c79b0e3fab8d Here's how you can get cash if your flight has been delayed