High-speed police pursuit ends in PIT maneuver on I-5 in Seattle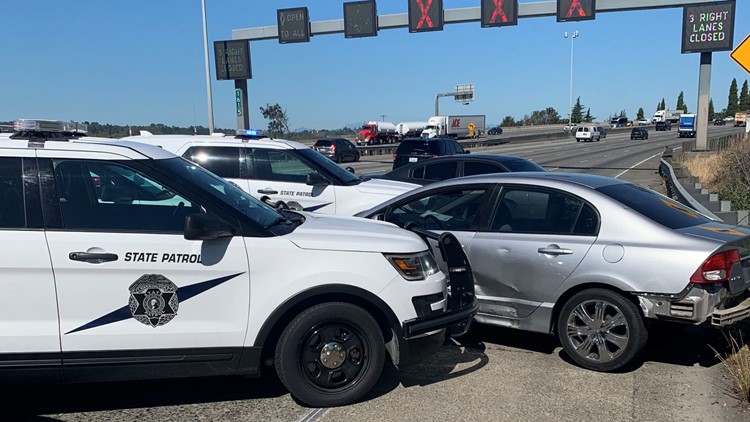 The crash blocked several lanes of northbound I-5 near Michigan Street. Traffic delays are to be expected.
SEATTLE — A high-speed police pursuit on northbound Interstate 5 ended in a PIT maneuver in Seattle Wednesday morning.
Three right lanes of northbound I-5 near Michigan Street were initially closed at approximately 10:35 a.m. The Washington State Department of Transportation (WSDOT) tweeted just after 11:45 a.m. that only two lanes remained closed and that the HOV lane was open to all vehicles.
It is not yet clear when the railways will be reopened. The WSDOT tweeted just after 11 am that the backup of the incident was almost three miles long.
Washington State Patrol (WSP) public affairs officer Rick Johnson said police officers spotted a woman in a vehicle who appeared to be impaired at a Federal Way rest area. The woman reportedly took off at high speed and rammed a patrol vehicle when police officers attempted to approach her.
>> Download KING 5's Roku and Amazon Fire apps to watch live newscasts and videos on demand
Johnson said the soldiers "found obvious signs of impairment before being allowed to pursue the vehicle."
WSDOT cameras captured the chase and showed one vehicle veering into and out of traffic, sweeping several vehicles aside along the way.
The chase ended with several WSP patrol vehicles using a PIT maneuver to stop the driver.
A PIT, or Precision Immobilization Technique, maneuver is a technique used by law enforcement to force a fleeing vehicle to make an abrupt 180-degree turn, causing the vehicle to stall and stop, according to the U.S. Department of Justice.
The WSP said the driver, who has an arrest warrant out for a felony, was taken into custody.
No injuries were reported.
This is an evolving story. Check for updates again.
Download our free KING 5 app to keep up with news from across western Washington.
CLOCK: KING 5's top stories playlist on YouTube
https://www.king5.com/article/news/crime/high-speed-police-pursuit-ends-crash-i-5-seattle/281-c8f4e0c0-0309-48b4-9e5c-35fbac75edbe High-speed police pursuit ends in PIT maneuver on I-5 in Seattle