Holiday air travel rebounding to near pre-pandemic levels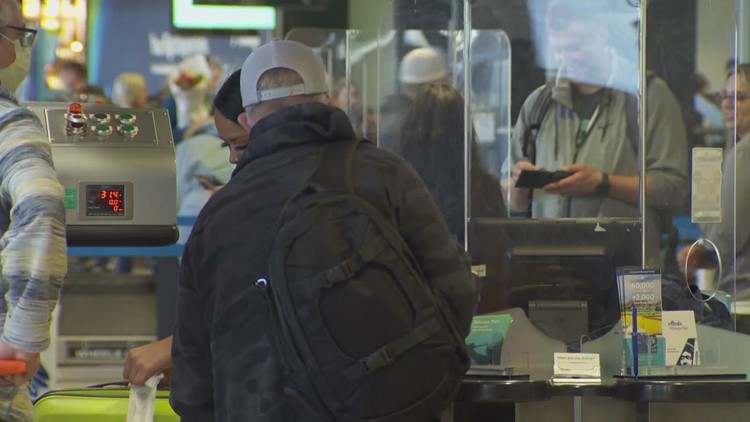 SEATAC, Wash. — While some of the most anticipated travel days of the July 4 weekend wrap up, travelers should continue to expect crowds on Sunday and Monday, according to Seattle-Tacoma International as airports continue to recover from low levels at the airport.
Sea-Tac forecasts full-year passenger numbers to be about 10 percent below 2019 levels. The airport experienced its busiest days since the pandemic during the week of June 20-26, reaching up to 168,000 passengers daily through the airport. This week saw just over 160,000 passengers traveling on Thursday and Friday, with 130,000 and 137,000 expected on Sunday and Monday.
TRAVEL UPDATE: The TSA screened 2,490,490 people yesterday, Friday, July 1. Visit for more travel tips and the latest news.

— TSA (@TSA) July 2, 2022
Ejm Mitchell was one of many passengers traveling on the 4th of July weekend.
"I'm repeating what my parents did for me," Mitchell said. "My parents died last year and they took us to Alaska from Utah about 20 years ago. They left us pennies to spend, so I thought I'd treat my five kids and their husbands and wives to boating like they did for us."
https://www.king5.com/article/travel/holiday-air-travel-rebounds-to-near-pre-pandemic-levels/281-914032af-86ec-419f-99fa-579af58022ca Holiday air travel rebounding to near pre-pandemic levels