Homeless family in Arlington shares struggle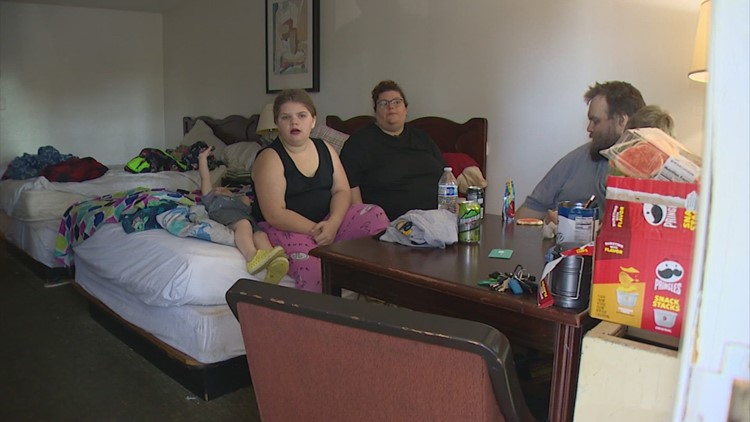 The parents and their five children may soon be living in their van.
ARLINGTON, Wash. – A Snohomish County family's struggle to escape homelessness has exposed the crisis in sheltering families and the difficulties in keeping them together.
The Boucher family — Amanda, Marc, their five children, ages 2 to 10, and their dog — are living in a motel room in Arlington.
"For me, this is not normal. It's very stressful. The unpredictability makes me uncomfortable," said Amanda, a certified nursing assistant.
Amanda was recently diagnosed with epilepsy and has daily seizures. She cannot work. Marc, a computer technician, had to stay home to take care of her and the children.
Without a job, they cannot afford to pay the first and last month's rent as well as the mortgage deposit.
The motel room is the only home some children have ever known.
"This is not home," Marc said. "They don't understand that."
"No one really talks about it," Amanda added. "We're just trying to get by and live as normally as possible."
Bouchers is in a particularly difficult situation. There are shelter beds for men, women and children but very few for whole families.
In Snohomish County, the few beds that do exist are full.
"There is nothing, absolutely nothing for them in Snohomish County," said state Rep. Mary Fosse, who was homeless as a child.
She believes Snohomish County needs to treat homelessness as an emergency like people have done with the COVID-19 pandemic.
"We focused our resources and put things into action," Fosse said. I don't understand why we don't see this as a similar type of problem."
Currently, the district is relying heavily on housing vouchers for families. They are converting two motels into transitional housing, but those won't open until next year.
"The tension is that the more you offer temporary solutions, the fewer resources you have for long-term, long-term solutions," said Snohomish County Human Services Director Mary Jane Brell Vujovic.
Currently, the Boucher family has enough money to stay at the motel for just a few more days.
At that point, all seven of them and the dog will probably be living in their 17-year-old van and all they have is each other.
"We just packed them up with blankets, stuffed animals and pillows and started from scratch," Marc said.