Horse deaths at Churchill Downs cast long shadow on Triple Crown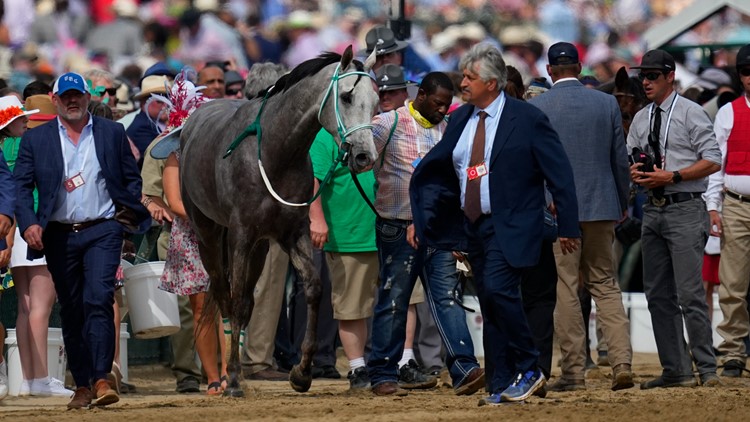 The question, for now, is how the horrifying incidence of fatal injuries at the cathedral of horse racing is affecting the sport.
LOUISVILLE, Kentucky — A raging thunderstorm that wiped out activity at Churchill Downs on Sunday morning symbolized the dark clouds hanging over the Triple Crown following a worrying string of horse deaths.
Seven horses have died at the track since April 27, including Derby entrant Wild On Ice. Freezing Point and Chloe's Dream were euthanized after previous injuries Kentucky Derby on Saturday that was ultimately won by Mage. Five suffered catastrophic leg injuries, while two died suddenly of unexplained causes.
This spate of incidents came four years after more than 30 horses died at the Santa Anita racetrack in California. These deaths shook the industry and led to safety reforms such as the Horseracing Integrity and Safety Act (HISA), which established a similarly named organization that established uniform safety and doping rules for thoroughbreds. A set of regulations are scheduled to come into force on May 22nd.
The question for now is how the horrifying spate of fatal injuries at horseracing's cathedral will impact the sport at the height of its prominence, with the Preakness and Belmont Stakes following over the course of the next month. And how horse racing reacts to it.
"Everyone in the industry wants to make racing as safe as possible," Hall of Fame coach Todd Pletcher said Sunday. "And even in such situations, where everyone is currently doing their utmost to ensure that the horses go out in the safest possible conditions, we still had two fatal mishaps yesterday. As a coach it's something that keeps you up at night."
Churchill Downs said in a statement Saturday night that it is working with the Kentucky Horse Racing Commission and the Horseracing Integrity and Safety Authority to investigate each death. A later statement from the HISA organization said Chloe's Dream and Freezing Point "passed all inspections without incident" while observed in the paddock and after the parade.
An investigation of factors such as autopsies, previous illnesses, training sessions and inspection of the track surfaces will take several weeks. Circuit surface expert Mick Peterson, who has worked with Churchill Downs since 2008 and was once hired by HISA, said Sunday the surface was consistent.
The director of the University of Kentucky's racetrack safety program added that the evaluation is ongoing to keep the track's condition consistent and to make any necessary improvements.
"We have to take every factor into account and work it out in such a way that we keep reducing the risk more and more to protect them," Peterson said. "But we still have more to learn to understand if this consistency will give us the security we need. And we have to keep improving it."
There were still concerns about the 149th Derby, which saw the field reduced to 18 horses after five scratches in the days before. Also included in that list of departures was the Pletcher-trained Forte, the original favorite, who performed Saturday morning due to a foot contusion.
"I think he would have performed well (Saturday)," said the coach. "Unfortunately, that wasn't an option."
Many trainers and owners are faced with the question of running horses in Preakness on May 20th in Baltimore. The second jewel of the Triple Crown is shorter at 1 3/16 miles but takes place just two weeks after the Derby compared to the typical month-long break.
Mage co-owner and blood bank agent Ramiro Restrepo will be observing the colt's training this week and will consult with trainers and other owners before deciding on his immediate plans.
The safety and welfare of his stallion will always come first, especially after a tragic week of loss for the animals he cares about.
"We care more about them than our children," said Restrepo, who offered his condolences to the stables that lost horses. "But we had faith in the horse's reaction. So we can only control what is in our barn and what is in front of us."